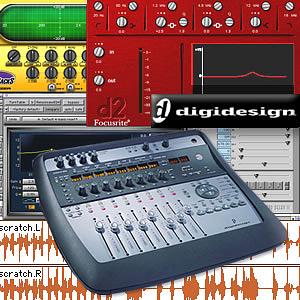 FireWire-based Pro Tools LE 6.7 music production system
Product Code 6490
Retail Price
$2495.00
Sale Price!
$2,195.00
Buy Today and Save $300.00 (12% from Retail)

We're sorry, this product is no longer available.
---
NOW COMPATIBLE WITH WINDOWS XP
AND MAC OS X
Pro Tools LE 6.7 Software

Digi 002 — FireWire-based Pro Tools LE music production system
Working with your computer through a single FireWire connection, Digi 002 pairs Pro Tools LE software with an integrated control surface to provide you with an ideal, finger-friendly music production environment. Record, edit, process, mix and master your projects with hands-on efficiency, then tuck Digi 002 under your arm, take it to a gig, and use it as an 8x4x2 digital mixer complete with EQ, dynamics, delay, and reverb with snapshots. Experience the power of Pro Tools in an all-in-one solution

A single FireWire/IEEE-1394 cable connects the hands-on controller to any compatible Mac or PC, simultaneously conveying up to 36 streams of digital audio, control surface data, and MIDI data (16 channels in/32 out). No PCI card needed. 8 motorized, touch-sensitive faders; 8 rotary encoders; and 8 scribble strips. Full customizable command of Pro Tools LE software. Also works as a standalone digital mixer with EQ, dynamics, delay, reverb, and snapshots. 24-bit/96kHz fidelity and included 32-track Pro Tools LE software. 8 analog I/Os with 4 mic pre-amps, 8 channels of ADAT optical I/O, and 2 channels of S/PDIF I/O. Includes bundled plug-ins such as Maxim and D-Fi. See details of bundle below.
0
0
Single FireWire/IEEE-1394 cable connection
Simultaneously conveys up to 36 streams of digital audio, control surface data, and MIDI data
No PCI card needed
8 motorized, touch-sensitive faders
8 rotary encoders
8 scribble strips
Full customizable command of Pro Tools LE software
Works as a standalone digital mixer with EQ, dynamics, delay, reverb, and snapshots
24-bit/96kHz fidelity
Included 32-track Pro Tools LE software
8 analog ins and outs with 4 mic pre-amps
8 channels of ADAT optical I/O
2 channels of S/PDIF I/O
Bundled plug-ins include:
Digidesign Maxim -- world-class peak limiting and sound level maximizing
Digidesign D-Fi -- analog and retro signal processing
Digidesign D-Fx -- file-based AudioSuite multi-effects plug-in package
Native Instruments Pro 52 -- virtual version of Sequential Circuits Prophet
IK Multimedia SampleTank SE and AmpliTude -- Loaded soft sampler and amp box modeler
Waves Renaissance Collection -- sweetening tools including compressor, EQ, and reverb

Now Included With All Pro Tools Systems —
Reason Adapted, Live Digidesign Edition, SampleTank SE, AmpliTube LE, and T-RackS EQ

Purchase a Pro Tools TDM or LE system and find yourself smack dab in the middle of an unprecedented creative universe. Special versions of Reason, Live, SampleTank, AmpliTube, and T-RackS EQ — all included with new Pro Tools systems — together give you a hearty rack of virtual gear and tools that you can use throughout the production process.

With Pro Tools support for ReWire, you can tap into the sound factory that is Reason or use Live for loop- and sample-based composition and have the audio from both piped directly into your Pro Tools sessions. AmpliTube and SampleTank give you even more room to roam the world of sound design and samples, while T-Racks EQ takes care of sweetening your tracks.

Special versions now included with each and every Pro Tools system include:

Reason Adapted
An easy-to-use studio package providing a virtual rack of innovative synthesizers, samplers, and effects along with a mixer and MIDI support. All sound from Reason Adapted can be streamed directly into the Pro Tools mixer via ReWire for additional processing within Pro Tools.

Ableton Live Digidesign Edition
A flexible, incredibly intuitive sample sequencer applicationthat enables you to both create, modify, and playback loops, phrases, and songs via Ableton's "elastic audio" technology.Multiple samples can be automatically played back simultaneously at a user-defined tempo, and, as with Reason, all audio readily finds its way into Pro Tools via ReWire.

IK Multimedia AmpliTube LE
A guitar processing plug-in, AmpliTube LE gives you easy access to several amplifier and cabinet models as well as classic stomp box and other effects. Use them on guitars and/or experiment with other track treatments.

IK Multimedia T-RackS EQ
The EQ module from IK Multimedia's acclaimed T-RackS analog mastering suite, T-RackS EQ offers Pro Tools users a powerful, tube-modeled parametric EQ to use during mixing and mastering.

IK Multimedia SampleTank SE
A powerful sample playback module providing quick access to a host of included samples and the ability to easily move between them. Acting as a plug-in within the Pro Tools mixer, SampleTank SE enables you to start creating in Pro Tools immediately.
Discounted upgrade options to respective full versions are available for many of these five components.

All features, specifications and prices subject to change without notice. Digidesign reserves the right to terminate this offer at any time.

Whether you work with MIDI, audio, or both, Pro Tools LE 6.7 software offers powerful, flexible new features for music composers. The Pro Tools LE 6.7 release has been developed specifically for inspired musicians who require world-class tools to support and accelerate the creative process. With Pro Tools LE 6.7 software, MIDI sequencing capabilities are more comprehensive than ever, while MIDI recording, editing and mixing features are still as easy to work with as audio.
The audio and MIDI feature set in Pro Tools LE 6.7 has been greatly expanded to deliver tempo-dependent audio placement, tempo-dependent automation, graphic tempo editing, precise control of meter changes, MIDI step input, MIDI Detective, and Beat Detective™ LE. Pro Tools LE 6.7 also brings true cross-platform parity for simplified session transfer with major MIDI functionality enhancements to Windows.

New in Pro Tools 6.7 Software

Support for multiple plug-in outputs enables mixing and processing of individual sound sources from instrument plug-ins.*


Simple yet thorough step-by-step song composition with the MIDI Step Input window; facilitates building complex or difficult MIDI tracks.


New MIDI Detective functionality allows generation of tempo maps and groove templates directly from "free" MIDI performances.


With Beat Detective LE, Pro Tools LE users can now take advantage of many of the Beat Detective features previously only available to TDM users.


The TC/E tool's support for MIDI regions enables operators to expand or contract MIDI passages exactly as they do with audio regions, allowing timing changes of individual MIDI regions without affecting the overall session tempo


Fast and precise drawing and editing of tempo curves are now facilitated through the Tempo Editor pane, including nudging and trimming of tempo segments


Flexible tempo curves, global insertion/deletion of time, and auto-editing of data when changing meter are all now available through the new Tempo and Time Operations windows


Tick (musical tempo)-based Audio, Aux and Master tracks keep audio region start points and automation in perfect sync with MIDI


Straightforward management of external MIDI devices on Windows XP via the MIDI Studio Setup window and advanced patch name support


With Windows-based systems, support of MIDI Time Stamping and MIDI I/O brings some of the most accurate playback timing resolution available on any platform, as continues to be the case on Mac-based systems as well


Organization by function within Pro Tools sessions is now available through color-coding feature — Color-code tracks, regions, markers and much more for instant identification


New Undo History window enables your customers to instantly and conveniently return to previous stages of a session's development


Non-administrator user support for Macintosh and Windows enables users who do not have administrative access to run Pro Tools unimpeded, and IT professionals in facilities and schools to manage user preferences and access


Enhanced Windows interoperability with legacy Macintosh sessions — Open and convert older SD II-based sessions in one easy step
* Synth and sampler plug-ins must have multiple outputs designed to work with Pro Tools 6.7 functionality.




OXIYFX
---
Digidesign
Digi 002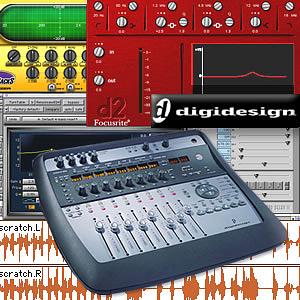 FireWire-based Pro Tools LE 6.7 music production system
MPN #:
UPC #:
Regular price: $2495.00 $2195.0000 Available from: 8th Street Music Condition: New Out of Stock