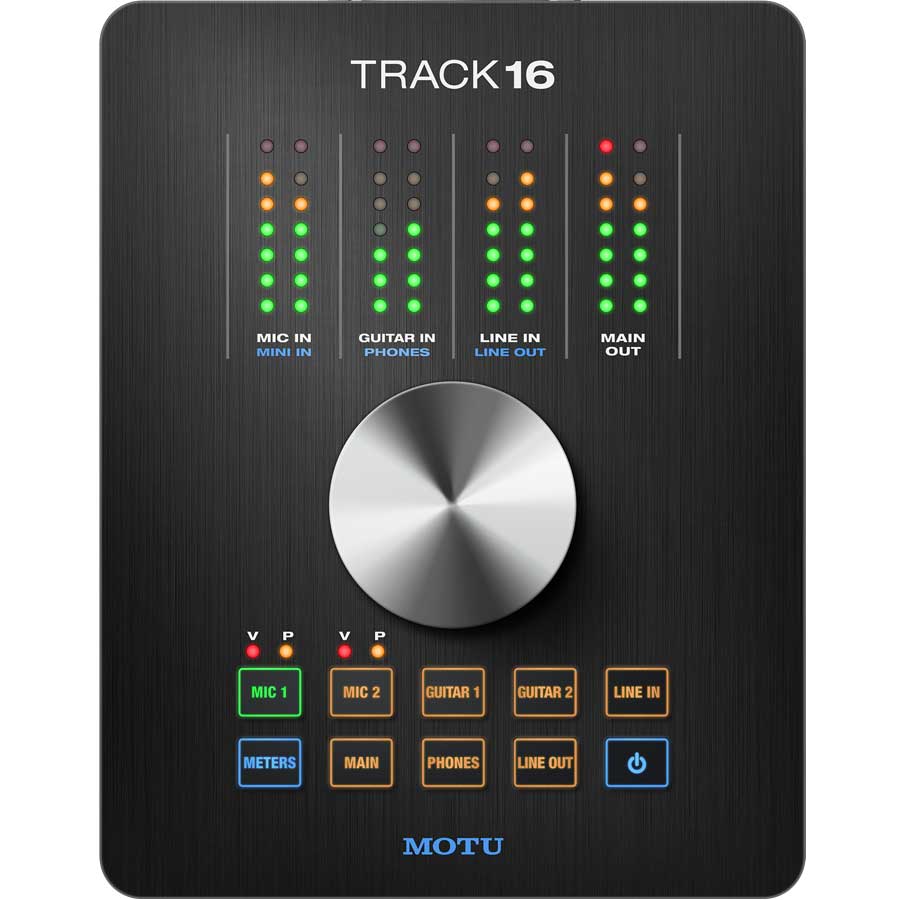 ---
Simple operation. Clean design. Studio-grade sound quality. Track16 exhibits these design principles through and through.
And don't let its compact size deceive you. There's plenty of I/O available for a well-equipped personal studio, ready for multi-player recording sessions. Track16's pristine mic preamps, balanced line-level audio connections, and renowned
MOTU engineering deliver world-class audio quality.

Track16's mic inputs are equipped with pristine, transparent preamps and offer individually adjustable 48V phantom power and -20 dB pad. All settings can be adjusted directly using the MIC 1 and MIC 2 buttons, or from Track16's CueMix software running on your computer. Mic inputs can be operated individually or in stereo pairs, as needed.

Without proper impedance levels, direct "DI" guitar input won't sound right when you run it through your guitar amp plug-ins and virtual stomp boxes. Track16's two guitar jacks provide high-impedance load characteristics suitable for passive and active pickups alike, to deliver proper guitar tone to your host software. For even more authentic feel and response when using virtual guitar amp and cabinet plug-ins, use a ZBox guitar impedance adapter.

Track16 analog inputs are designed to be flexible, so that you can address a wide range of recording situations. The balanced quarter-inch line inputs provide proper level matching for keyboards, analog mixers, effects processors, or other gear with either -10 dB or +4 dB reference level input. The stereo eighth-inch "mini" input is great for an iPad or other consumer devices.

Connect a pair of powered studio monitors to the main outs. The line outs can be used for a variety of purposes, either mirroring the main outs (perhaps for a 2nd set of studio monitors) or acting as a completely independent output pair (for a separate mix going to a mixing board or stage wedges, for example). Because they can be programmed, the line outs offer tremendous flexibility.

Track16 provides MIDI input and output featuring sample-accurate timing with supporting software. Connect a MIDI keyboard, sound module or control surface, and you are ready to go. The FireWire or USB connection to the computer carries both MIDI and audio so you don't need to connect an additional USB cable for MIDI.

For mobile laptop operation, Track16 can run on bus power from its FireWire connection to the computer. For USB 2.0 or stand-alone operation (without a computer), simply connect the included power adapter to the power port on the breakout cable. Track16's custom-designed breakout cable provides ultimate shielding and protection. If you are using Track16's option breakout box, connect the power adapter to the breakout box, just like all the other breakout connections.

Can't find your headphone adapter? No problem. Both quarter-inch and eighth-inch jacks are provided. Or connect two pairs of phones simultaneously. A second phone jack can be a life-saver when you need to finish the mix with your colleague in close proximity to neighbors or loved ones you don't want to disturb. The phones can mirror the main outs, with independent volume control, or they can mirror any other Track16 output pair.

Track16's preamps deliver clean sound, 53 dB of gain, and adjustments in approximately 1 dB increments using the front-panel trims or the on-screen CueMix software. The gain adjustment itself is smooth, and the digital control gives you both precision and the ability to save and recall trim settings. So you get the best of both worlds: analog trim with digital precision and control. Trim is adjusted at the input, before the mixer, so it applies to all mixes. Mix levels are controlled separately from trim, so you never sacrifice sound quality for a balanced mix. The optical digital inputs can be trimmed, too.

Track16 balanced I/O connections are well-protected against RF interference, AC hum, and other noise-producing environmental factors.

Digital transfers are an essential fact of daily studio life. Track16 supports all three industry standard optical formats: 8-channel ADAT (at 1x sample rates), 4-channel SMUX (at 2x sample rates),
and 2-channel TOSLink (optical S/PDIF) at standard sample rates up to 96 kHz.
0
0
MPN: 8440
UPC: 839128005822

Converters: 24-bit

Sample rates: 44.1, 48, 88.2, 96, 176.4, 192 kHz

Analog inputs: 2 x XLR mic inputs

2 x 1/4" TRS line inputs (balanced/unbalanced)

1 x 1/8" stereo "mini" line inputs (unbalanced)

2 x 1/4" hi-Z guitar inputs

Analog outputs 2 x 1/4" balanced TRS main out

2 x 1/4" unbalanced TRS line out

1 x 1/4" TRS stereo headphone

1 x 1/8" stereo headphone

Digital I/O: 8-channel ADAT optical at 1x sample rates

4-channel SMUX optical at 2x sample rates

2-channel TOSlink (optical S/PDIF) up to 96 kHz

Computer I/O: 1 x FireWire 400 (Type B connector)
1 x USB 2.0

Sync in/out: SMPTE time code (LTC)

Headphone output: 1 x 1/4" TRS stereo phone

1 x 1/8" stereo phone

Phantom power: Individual +48V

Top panel: 2 x 7-segment ladder LEDs • main outs

2 x 7-segment LEDs • mic in or line 3-4 in

2 x 7-segment LEDs • guitar in or phones

2 x 7-segment LEDs • line in 1-2 or line out

2 x LEDs • 48V phantom power

2 x LEDs • -20 dB pad

5 x backlit switches • input select

3 x backlit switches • output select

1 x backlit switch • meters toggle

1 x backlit switch • power

Power requirements: 9-18V DC, 5W, tip + or - FireWire bus power

DC power adapter included, required for stand-alone and USB 2.0 operation (except with FireWire bus power)

Mac System Requirements

PowerPC G4 CPU 1 GHz or faster (including any Mac with a PowerPC G5 or any Intel processor)

1 GB RAM; 2 GB or more recommended

Mac OS X version 10.5, 10.6, or 10.7; v10.5.8 or later required

Available FireWire or high-speed USB 2.0 port

A large hard drive (preferably at least 250 GB)

Windows System Requirements

1 GHz Pentium-based PC compatible or faster equipped with at least one USB2 or FireWire port

1 GB RAM; 2 GB or more recommended

Windows 7 or Vista, 32- or 64-bit; Vista SP 2 or later required

Available FireWire or high-speed USB 2.0 port

A large hard drive (preferably at least 250 GB)

Included software

CueMix FX

MOTU SMPTE Console

AudioDesk (Mac only, optical CD drive required)

Operating Systems

Mac OS X version 10.5, 10.6, or 10.7 (v10.5.8 or later is required)

Windows 7 or Vista (SP2 or later is required)

64-bit operation

Available for Mac OS X v10.6 or 10.7

Available for 64-bit versions of Windows 7 or Vista

Requires a 64-bit CPU
---
MOTU
Track16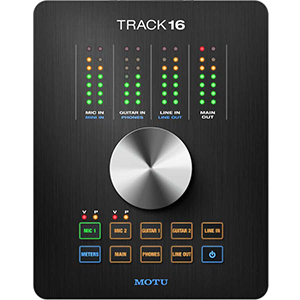 16 x 14 Desktop Studio Interface
MPN #: 8440
UPC #: 839128005822
Regular price: $595 $549.0000 Available from: 8th Street Music Condition: New Available to Order