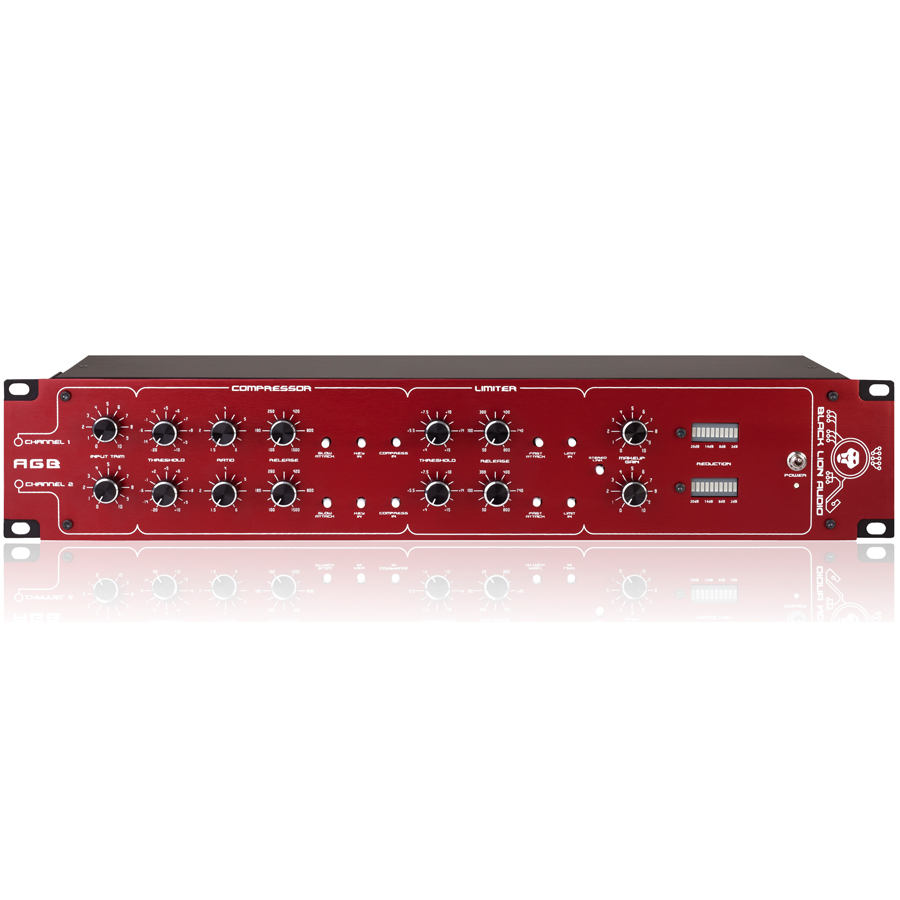 ---
The AGB Compressor from Black Lion Audio is a two-channel diode compressor and limiter designed to pay homage to the Neve 33609 with its versatility and low-noise characteristics. It is housed in a high quality, all metal chassis which fits in a 2U rack mount space. The AGB can provide warm and subtle compression on vocals, but also can be dialed in for fast attacks on your drum bus or snare. It features a fully-balanced, opamp-based circuit with rotary potentiometers and transformers on the input and output stages. Whatever you use it on, the AGB Compressor will provide you with invisible compression or limiting without raising the noise floor.

Two-Channel Diode Compressor and Limiter
The AGB Compressor features two-channels of quick, responsive, and low-noise compression and limiting.

Homage to the Neve 33609
The AGB is designed to deliver the same versatile and warm results that made the Neve 33609 famous, but with updated features such as more control and a balanced signal path.

Versatile Functionality with Low Noise Floor
The AGB is designed to provide you with both smooth and easy compression for amazing vocals, but also insanely fast for cracking snares and drums. No matter what the AGB is being used for, the noise floor always remains extremely low.

Input/Interstage/Output Transformers
Like the Neve 33609, the AGB features input, interstage, and output transformers to deliver the same low-noise compression, even when it's being pushed.

2U Rack Space and High Quality Chassism
The AGB fits in a 2U rack space and is constructed of the highest quality materials to ensure it will provide you with years of quality results. No corners have been cut in the AGB's design including an all metal chassis and rotary potentiometers.
0
0
MPN: BLA AGB

Error proof operation to smooth uneven levels, add sustain to guitars, fatten drums or tighten up mixes

New gate timing algorithms ensure the smoothest release characteristics

Program-adaptive expander/gates

Great sounding dynamics control for any type of program material

Separate precision LED displays for gain reduction, compression threshold and gate threshold allow quick, accurate setup

Stereo or dual-mono operation

Balanced inputs and outputs on 1/4" TRS and XLR connectors

Side Chain insert

Classic dbx® "Auto" mode

Connector: 1/4" TRS, female XLR (pin 2 hot)

Type: Electronically balanced/unbalanced, RF filtered

Impedance: 40kΩ balanced, 20kΩ unbalanced

Maximum Level: >+22dBu Balanced or Unbalanced

Connector: 1/4" TRS, female XLR (pin 2 hot)

Type: Impedance-balanced/unbalanced, RF filtered

Impedance (+4dBu): 100Ω balanced, 50Ω unbalanced

Impedance (-10dBu): 1kΩ balanced, 500Ω unbalanced

Maximum Level: >+21dBu balanced/unbalanced into 2kΩ or greater

>+18dBm balanced/unbalanced (into 600Ω)

Connector: 1/4" TRS Phone, Normalled: Ring = Output (send); Tip = Input (return)

Impedance: Tip = >10kΩ (Input), Ring = 2kΩ (Output)

Maximum Level: Tip = >+22dBu (Input), Ring = >+20dBu
Threshold Range: -40dBu to +20dBu

Threshold Characteristic: Selectable OverEasy® or hard knee

Compression Ratio: 1:1 to Infinity:1

Attack Time: Scalable Program-Dependent AutoDynamic™

Release Time: Scalable Program-Dependent AutoDynamic™

Threshold Range: -60dBu to +15dBu

Expansion Ratio: 1:1 to 4:1

Attack Time: <100µSec

Release Time: Program-Dependent

Bandwidth: 0.35Hz - 90kHz, +0/-3dB

Frequency Response (Flat): 20Hz - 20kHz; +0/-0.5dB,

Noise: <-93dBu, unweighted (22kHz measurement bandwidth)

THD + N: <0.2%; Any Amount of Compression @1kHz

Intermodulation Distortion: <0.2% SMPTE

Dynamic Range: >114dB, unweighted

Interchannel Crosstalk <-95dB, 20Hz to 20kHz

CMRR: >40dB, typically >55dB at 1kHz

Stereo Coupling: True RMS Power Summing™

Power Consumption: 15 Watts Maximum

Operating Voltage: 100 VAC 50/60Hz; 120VAC 60Hz; 230 VAC 50/60 Hz

Operating Temperature: 0°C to 45°C (32°F to 113°F)
---
Black Lion Audio
AGB Compressor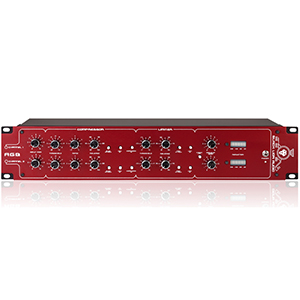 2 Channel Compressor
MPN #: BLA AGB
UPC #:
Regular price: $ $1499.0000 Available from: 8th Street Music Condition: New Available to Order