---
The Sonar™ is a tremolo/machine pulser that will work with higher-gain amps, which is always a challenge. The key to this type of device is achieving absolute dead silence during the "off" time, and my engineer Joel totally pulled that off. You can easily use the Sonar BEFORE a fuzz or heavy distortion, or a very distorted amp. Plus it has a lot of special features that you're going to love. The Sonar has four knobs and three small switches as well as two stomp switches. Here are the different modes:

1] Clean tremolo with tap tempo. One small switch allows changing time division between 1, 2 and 4, so the tap rate can be matched one-to-one, doubled, or quadrupled. There's a volume, a speed knob if you prefer to set speed that way, and duty knob which controls the duty cycle ("on" time versus "off" time, so you can get down to very short chopped trem sounds.)

2] Machine tremolo with tap tempo, selected with the clean/machine switch. All of the above features, but the Machine pedal sound is now pulsing out of the Sonar. Just imagine how that will sound coming out of your higher-gain amp. If you've ever experienced a machine going through a fuzz or distortion, you're aware of just how searing it sounds. This was the original intent with the Sonar, to give users who like dirty basic sounds the ability to sound more "penetrating" with a tremolo. Like the original Machine, the Sonar's internal machine decays and creates that hazy rotating sound as the trem pulses on.

3] As if that isn't weird enough, there's another switch and knob to get super freaky-licious. This switch has three positions... the features above were described with this switch in the middle. When it's switched to the right ("up"), there's a knob labeled "delta" that you set how quickly the tremolo speeds up once it's turned on. The trem will start at the rate you chose with the speed knob or tap switch, and speed up at your chosen "delta" rate until it's screaming
fast. In the same manner, the trem speed can slow down to a dead crawl at any chosen rate by switching the selector to the "down" position (to the left). You can recover the original speed by turning off and on the pedal, or simply by tapping the tap tempo switch which instantly brings it back to whatever speed you like. This speed up/slow down feature works with both the clean and machine trem sounds described above.
1
1
MPN: SONAR
UPC: 008474925386

Tremolo/Machine Pulser guitar Effects Pedal
---
ZVEX Effects
SONAR Vexter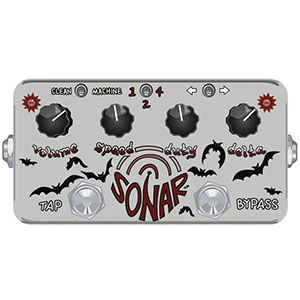 Tremolo/Machine Pulser Guitar Effects Pedal
MPN #: SONAR
UPC #: 008474925386
Regular price: $299 $249.0000 Available from: 8th Street Music Condition: New Available to Order