---
With the development of SuperNATURAL sound and Behavior Modeling technology, Roland has blurred the boundary between acoustic and electronic instruments. Built upon these core technologies, the new INTEGRA-7 gives musicians a gold mine of the latest SuperNATURAL sounds in a fast-access, fully stocked 16-part module.

The powerhouse rack comprises a "greatest hits" collection of sounds from Roland's flagship keyboards and V-Drums modules, plus a coveted lineup from the legacy SRX library. It also introduces a new technology called Motional Surround, a 17-part ambience engine that lets you graphically control the distance and position of each part within 360-degree sound field. With the immense power of the INTEGRA-7, you can create amazingly realistic and detailed orchestral arrangements, immersive, spatial sounds, and beyond.

The core of the INTEGRA-7 is its SuperNATURAL sound engine with Behavior Modeling technology. SuperNATURAL not only mirrors the sounds of acoustic instruments, it emulates the behavior of instruments when they're played. With SuperNATURAL, sounds come to life under your fingers. Go deep inside the programming engine and customize your own sounds, or let the INTEGRA-7 do it all for you. With so many great sounds onboard, and with the INTEGRA-7's organic response to how you play your keyboard/controller, you'll experience a new level of realism and effortless expression.

The SuperNATURAL acoustic tones built into the INTEGRA-7 do not merely reproduce the sound of acoustic instruments, they also use Behavior Modeling Technology to simulate the when it is played. A dedicated sound engine optimized for each type of instrument analyzes the phrases you play, automatically differentiating between chordal and melodic playing to most authentic and expressive performance.
+ SuperNATURAL Drums …
In addition to the expressive acoustic tones, you'll find a SuperNATURAL drum engine derived from Roland V-Drums. Thanks to Behavior Modeling Technology, the INTEGRA-7 can groove like a real drummer. Drum kits respond smoothly and naturally to velocity, with seamless tonal transitions from soft to loud. Play fast drum fills that don't sound like fake machine-gun fire, and create fluid snare, tom, and cymbal rolls with real-time control of their speed and volume via mod lever. The drum engine even has its own ambience effect, plus six COMP+EQ sets, which you can apply to the drum instruments individually.

The INTEGRA-7 is loaded with SuperNATURAL synth tones that meticulously recreate the fat sound of beloved vintage synthesizers, their expressive filters, and unique envelope behaviors. Hundreds of PCM waveforms are onboard as well . a treasure trove of classic digital-synth sounds prevalent in the '80s and '90s. You can even edit on an iPad with the dedicated editor app.
SuperNATURAL synth tones also feature four types of LPFs. Each filter behaves differently, even if their cutoff and resonance parameters are the same. Each filter can be personalized via parameter settings and real-time control of cutoff frequency and resonance.
0
0
MPN: INTEGRA7

Flagship synth module with over 6,000 sounds built in

The latest SuperNATURAL sounds with enhanced Behavior Modeling technology for expressive acoustic instruments and accurate reproduction of performance articulations

Powerful SuperNATURAL synth engine with fat analog synth models and vintage filter types

Dynamic SuperNATURAL drum engine with natural tonal change derived from Roland V-Drums

Producer's "must-have" SRX Expansion sound library built in; all 12 SRX titles included

Dedicated multi-effects and EQ for each part (16 parts), plus dedicated COMP+EQ (use six simultaneously) for drums and ambience parameters for SuperNATURAL drum kits

Innovative 17-part Motional Surround ambience engine for stereo, headphone, and 5.1-channel output

INTEGRA-7 Editor for iPad and Motional Surround VSTi Editor for SONAR software

Sound Generator Section

Maximum polyphony: 128 voices (varies according to the sound generator load)

Parts: 16 parts

Tones: SuperNATURAL Acoustic, SuperNATURAL Synth,
SuperNATURAL Drum Kit, PCM Synth, PCM Drum Kit * GM2 compatible sounds are included.

Expansion virtual slots: 4 Slots * The following titles are loaded from the internal memory into the virtual slots.

SRX Series

SRX-01 Dynamic Drum Kits

SRX-02 Concert Piano

SRX-03 Studio SRX

SRX-04 Symphonique Strings

SRX-05 Supreme Dance

SRX-06 Complete Orchestra

SRX-07 Ultimate Keys

SRX-08 Platinum Trax

SRX-09 World Collection

SRX-10 Big Brass Ensemble

SRX-11 Complete Piano

SRX-12 Classic EPs

Expansion SuperNATURAL Sounds

ExSN1 Ethnic

ExSN2 Wood Winds

ExSN3 Session

ExSN4 A.Guitar

ExSN5 Brass

ExSN6 SFX

Expansion Hi-Quality PCM Sounds

ExPCM HQ GM2 + HQ PCM Sound Collection

The SRX Series and the Expansion SuperNATURAL Sounds use one virtual slot per title.

The Expansion Hi-Quality PCM Sounds use all four virtual slots.

Effects

Multi-Effects: 16 systems, 67 types

Part EQ: 16 systems

Drum Part COMP+EQ: 6 systems

Motional Surround

Chorus: 3 types

Reverb: 6 types

Master EQ

Display

256 x 80 dots graphic LCD (with backlit)

Connectors

PHONES jack (stereo 1/4" phone type)

INPUT jacks (L, R) (1/4" phone type, Front)

INPUT jacks (L, R) (1/4" phone type, Rear)

OUTPUT A (MIX) jacks (L, R) (1/4" TRS phone type)

OUTPUT A (MIX) jacks (L, R) (XLR type)

OUTPUT B jacks (L, R) (1/4" phone type)

OUTPUT C jacks (L, R) (1/4" phone type)

OUTPUT D jacks (L, R) (1/4" phone type)

DIGITAL AUDIO OUT jack (COAXIAL)

MIDI connectors (IN, OUT, THRU)

USB COMPUTER port (Audio/MIDI)

USB Memory port

AC IN jack

Accessories

Owner's manual

DVD-ROM (SONAR LE)

Power cord
---
Related Gear
Item # g25

Description
Gift Certificate (may be purchased in multiple amounts)

$25.00 View Details
Roland
INTEGRA-7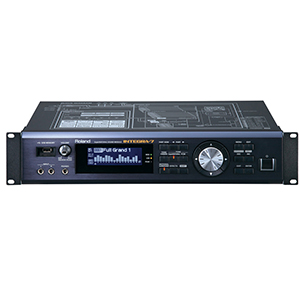 SuperNATURAL Sound Module
MPN #: INTEGRA7
UPC #:
Regular price: $2499 $1999.9900 Available from: 8th Street Music Condition: New Available to Order