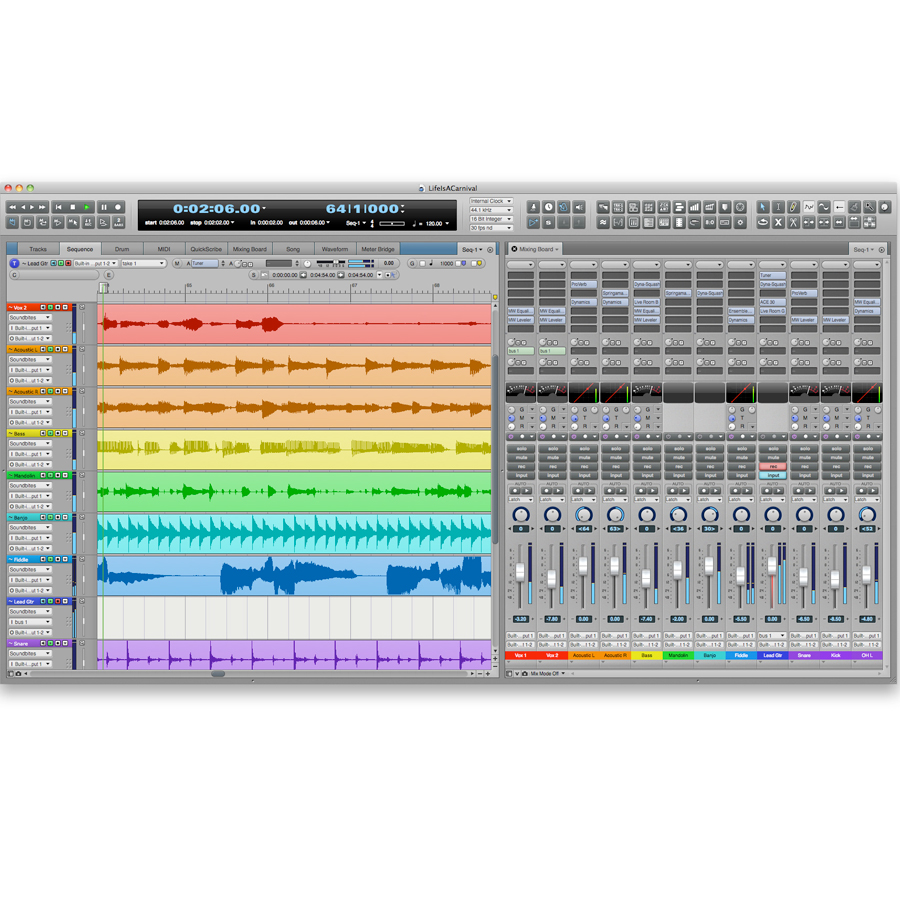 ---
Left brain, right brain. Digital Performer 8 is designed equally for both, with insiprational features devised to ignite your creative muse, combined with state-of-the-art studio production technologies engineered for the most demanding, world-class recording and production environments. Make no mistake: beneath Digital Performer's inspired user interface lies a refined audio recording and mixing engine with uncompromising devotion to the absolute highest standards in audio quality, down to the very last sample.

Complete desktop studio production
It's a recording studio — in your computer
Digital Performer represents a complete studio production experience on your computer desktop. Record, edit, mix, process and master polished recordings. Combine external hardware — synths, controllers, mics, instruments, compressors — with virtual instruments, loops, audio tracks and MIDI tracks, all together in a seamless, intuitive production environment. Work musically with features like the Drum Editor and QuickScribe notation, then switch gears for creative production techniques with inspiring plug-ins like DP8's new Subkick, Chorus Ensemble, and guitar FX plug-ins. Import loops, launch virtual instruments and 3rd-party plug-ins: Digital Performer is the consummate host. Then polish your recording with Digital Performer's
extensive editing, mixing, processing and mastering tools. No matter how you approach your music and audio production,
DP's highly customizable user interface
empowers your personal workflow.

MIDI, audio and virtual instruments
Play, record, edit, mix, process and master everything together
Digital Performer excels at bringing together the worlds of MIDI sequencing, multitrack audio recording, virtual instruments, and loops and sound libraries. Work with all forms side by side, with dedicated editors for each, but also common editing, mixing and processing features that work in the same familiar fashion.

Consolidated Window
One window to rule them all...
Digital Performer's Consolidated Window streamlines your workspace. Quickly access major features such as the Sequence Editor, Mixing Board and Waveform Editor with tabs across the top of the window. Split the window vertically to view critical information side by side. Add side bars for commonly used lists and info panes. Create and save multiple custom layouts. Factory presets are provided for tracking, editing, mixing and other stages of your workflow.
0
0
MPN: DP8

Cross platform: Runs on Windows 8, Windows 7, and Mac OS X.

Native 64-bit operation: Take full advantage of your 64-bit system.

VST / Rewire support: On both platforms for easy project exchange.

New video engine: Supports full-screen video, 720/1080 HD, and MOTU video hardware monitoring.

Punch Guard™ confidence recording: Captures extra time before and after punch points.

17 new plug-ins: From meticulously modeled guitar tones to world-class mastering plug-ins.

15 new themes: Artistically crafted UI designs including Hi-Fi, Arctic, and None More Black.

In-line control panel: Conserves precious screen real estate.

Multi-format plug-in management: Organize, manage, and quickly search for plug-ins in multiple formats.



Unlimited sequences

Unlimited songs

Unlimited V-racks

Unlimited tracks

Unlimited audio voices

Unlimited undo history

Maximum mono busses: 198

Maximum stereo busses: 99

Maximum sends per channel: 20

maximum physical ins/outs: none (hardware dependent)

Audio engine resolution: 32-bit float

File import

DP files from previous versions

AudioDesk files

Standard MIDI files

OMF interchange files

AAF interchange files

Final Cut Pro XML

File export

Standard MIDI files (type 0 and 1)

OMF interchange files

AAF interchange files

Digital Performer (Version 6.0, 5.12, 5.1, 4.6, 4.5, 4.1, 3.1)

AudioDesk (Version 2.0 and 1.0)

Final Cut Pro XML

Supported audio file formats

AIFF

WAV

Broadcast WAV (non-MPEG)

Sound Designer II

MP3

ACID

Apple Loops (AIFF and CAF)

REX (and RCY)

Core Audio Format (CAF)

QuickTime movies

AVI movies

Audio CD files

MuLaw files

3G2

3GP

AIFC

AAC

M4A

MP4

Time formats

Measure time (measure | beat | tick)

Real time (hrs:min:sec:hundredths)

Frame time (hrs:min:sec:frames)

Samples

SMPTE time code formats

30 non-drop

30 drop

29.97 non-drop

29.97 drop

25

24

23.976

Audio bit depths

16 bit integer

24 bit integer

32 bit float

Audio sample rates (kHz)

44.1

48

88.2

96

176.4

192

MIDI timing resolution (PPQ)

96

192

384

480 (default)

960

1920

3840

3840.0000 (2 trillion)

Channel formats

mono

stereo

quad

LCRS

5.1

6.1

7.1

10.2

Operating systems

Mac OS X version 10.6.8 or later

Windows 7 (32- and 64-bit)

Windows 8 (32- and 64-bit)

RAM

2GB required

4GB or more recommended

Computer display resolution

1024 x 768 required

1280 x 1024 or higher recommended

64-bit operation

Available for Mac OS X 10.6.8 or later

Available for 64-bit versions of Windows 8 and 7

Supported audio hardware

Mac: built-in audio, any Core Audio compatible hardware, any Core MIDI compatible hardware

Windows: any Windows 8 or 7 Audio or ASIO compatible hardware, any Windows 8 or 7 compatible MIDI hardware

Training and documentation

DP8 Quick Tip videos

DP8 Getting Started Guide

(132 pages, printed and PDF)

DP8 User Guide

(992 pages, printed and PDF)

DP8 Plug-ins Guide (PDF)

DP8 Control Surfaces Guide (PDF)

DP Control App User Guide (PDF)

Online Help (context sensitive)

Fly-over Help Tags

Plug-in formats

Audio Units (Mac only)

VST

MAS
---
MOTU
Digital Performer 8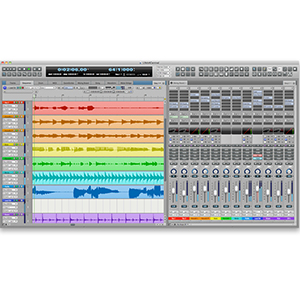 Audio Workstation Software with MIDI Sequencing for Mac and PC
MPN #: DP8
UPC #:
Regular price: $795 $495.0000 Available from: 8th Street Music Condition: New Available to Order