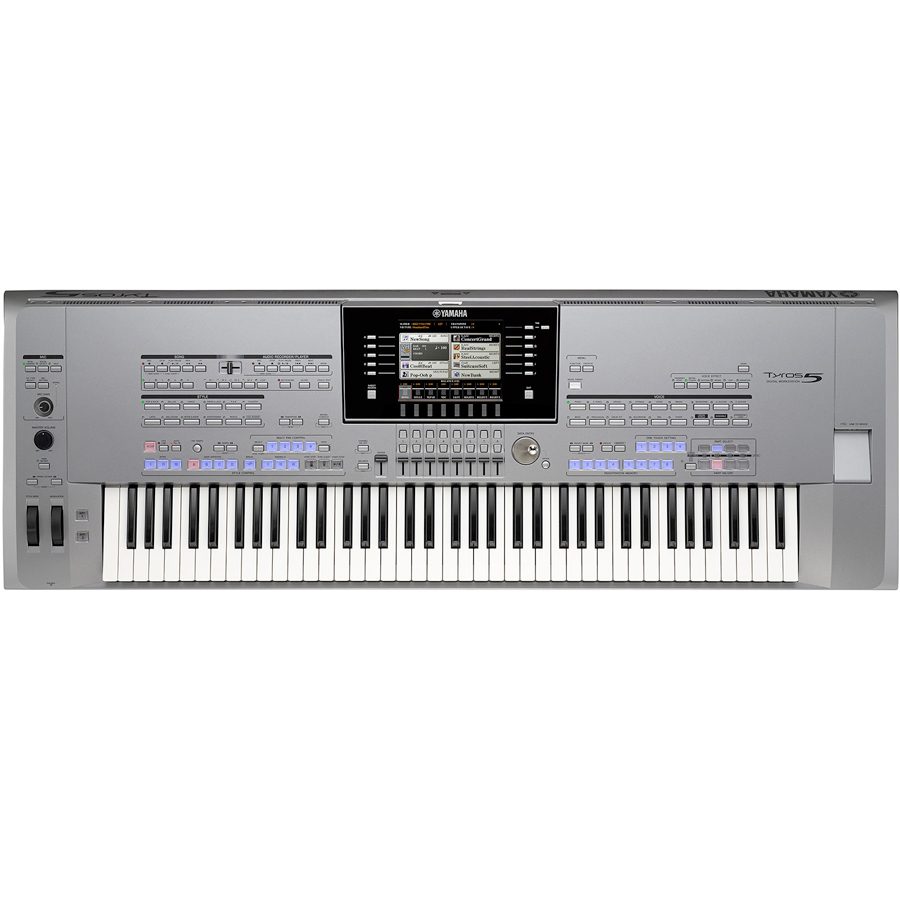 ---
In Tyros5 Yamaha has created the ultimate performance keyboard, with outstanding sounds, enhanced DSP effects, and accompaniment Styles so real it's like being backed by the world's finest musicians. The Tyros5 brings a level of authenticity like no instrument before it.

Whether sketching composition ideas, carefully crafting the perfect arrangement or delivering a memorable performance, the Tyros5 is your perfect companion.

More than 300 new Voices have been added to the Tyros5, including new brass, guitars, synth, electric pianos, and upright pianos. S.Art2 Voices are high-quality sounds that re-create the feeling of an actual instrument when performing.

Authentic Ensemble Performances
Ensemble Voice is an amazing new feature that reproduces true "divisi" playing in a section. In the past, a Voice like Brass Quartet would use a sample of four players, which sounded great. However, if you played two notes you'd get eight players, which could sound great but isn't the most realistic. Tyros5 Ensemble Voices always get the same number of players because Tyros5 has the musical knowledge of a professional music arranger. Play two notes with a Brass Quartet Ensemble Voice, and Tyros5 will send the trumpets to the top notes and the trombones to the lower notes; it's an incredibly realistic sound. Ensemble Voices also utilize parameters which enliven the performance to reproduce the subtle variations in timing heard in a real ensemble. This provides an authentic sound that sounds as if a group of actual performers were playing and allows you to enjoy playing like an instrumental quartet with ease.

Welcome to Organ World
The Tyros5 features Vintage, Home, Euro, Concert, and Theatre organ Voices, all superbly reproduced with stunning samples that allow the Tyros5 to shine in any situation that an organist might encounter. With features such as a comprehensive set of realistic organ-style controls, adjustable effects, and intuitive operation that allows you to alter the sound in real time while you play, Organ World is sure to meet the demands of the most demanding performer.

Add Rhythm to your performances with Audio Styles
Adding forty new percussion-based Styles to the Tyros5's impressive backing and accompaniment capabilities, Audio Styles add natural feel, ambience, and warmth to drum and percussion parts, offering greater expressive potential. Audio Styles also benefit from Yamaha's Time Stretch Technology, which allows the audio to follow your tempo changes without changing pitch, so everything stays in perfect sync.

Enhanced DSPs for authentic effects that give you "that" sound
Not only does the Tyros5 have new and high-quality effect types, including Real Distortion and Real Reverb, it provides beautifully designed panel displays, with highly intuitive controls - just like actual effect devices. These also include VCM (Virtual Circuit Modeling) effects that use the same technology as the professional-level processing on Yamaha's high-end mixers.
0
0
MPN: TYROS5-76

Number of Keys 76

Organ (FSX), Initial Touch/Aftertouch

Touch Response Hard1, Hard2, Medium, Soft1, Soft2

Other Controllers Pitch Bend Yes

Modulation Yes

Sliders 9 (including 1 assignable), Cross Fader

Art. Switches 2

Display Type TFT VGA 7.5 inch LCD

Size 640 x 480 dots

Language English, German, French, Spanish, Italian

Panel Language English

Voices

Tone Generation Tone Generating Technology AWM
Stereo Sampling

Polyphony Number of Polyphony (Max.) 128

Preset Number of Voices 1279 Voices + 480 XG Voices + 37 Drum/SFX Kits

Featured Voices Ensemble 55 S.Art2! 44 / S.Art! 288 MegaVoice 54 / Live! 138 Cool! 81 / Sweet! 37 / Organ World 40

Custom Optional Wave Capacity MAX 1,024MB (Optional)

Sampling Custom Voice

Voice Edit Yes

Sound Creator/Voice Set Yes

Compatibility XG Yes

GS Yes

GM Yes

GM2 Yes

Expandability Expansion Voice Yes *Wave
Capacity: depends on the optional Flash Memory Expansion Module (FL1024M, FL512M)

Part Right 1, Right 2, Right 3, Left

Effects

Types Reverb 52 Presets + 3 User

Chorus 106 Presets + 3 User

DSP DSP1: 322 Presets + 3 User, DSP2-9: 322
Presets + 10 User

Master Compressor 5 Presets + 5 User settings

Master EQ 5 Presets + 2 User settings

Others Mic effects: Noise Gate x 1, Compressor x 1, 3Band EQ x 1

Vocal Harmony Number of Presets Vocal
Harmony: 44, Synth Vocoder: 10

Number of User Settings 60 * The number is the total of Vocal Harmony and Synth Vocoder.

Vocal Effect 23

Accompaniment Styles

Preset Number of Preset Styles 539

Featured Styles 40 + Audio, 7 FreePlay, 441 Pro, 51
Session

Fingering Single Finger, Fingered, Fingered On Bass, Multi Finger, AI Fingered, Full Keyboard, AI Full Keyboard
Style Control INTRO x 3, MAIN VARIATION x 4, FILL x 4, BREAK, ENDING x 3

Other Features Music Finder 2,500 Records

One Touch Setting (OTS) 4 for each Style

Expandability Expansion Style Yes

Expansion Audio Style Yes Audio Capacity: approx. 124MB

Compatibility Style File Format, Style File
Format GE

Songs

Preset Number of Preset Songs 5 Sample Songs

Recording Number of Songs Unlimited (depends on the drive capacity)

Number of Tracks 16

Data Capacity approx. 300 KB/Song

Recording Function Quick Recording, Multi Recording,
Step Recording

Compatible Data Format Playback SMF (Format 0 & 1), XF

Recording SMF (Format 0)

Functions

Registration Number of Buttons 8

Control Registration Sequence, Freeze

Lesson/Guide Lesson/Guide Follow Lights, Any Key, Karao-Key, Your Tempo

Performance Assistant Technology (PAT) Yes

Demo/Help Demonstration Yes

Overall Controls Metronome Yes

Tempo Range 5 – 500, Tap Tempo

Transpose -12 – 0 – +12

Tuning 414.8 – 440 – 466.8 Hz

Octave Button Yes

Scale Type 9 Presets

Miscellaneous Direct Access Yes

Text Display Function Yes

Wallpaper Customization Yes

Voices Harmony/Echo Yes

Panel Sustain Yes

Mono/Poly Yes

Voice Information Yes

Styles Style Creator Yes

Style Recommender Yes

OTS Information Yes

Songs Song Creator Yes

Score Display Function Yes

Lyrics Display Function Yes

Multi Pads Multi Pad Creator Yes

Audio Recorder/Player Recording Time (max.) 80 minutes/Song

Recording .wav (WAV format: 44.1 kHz sample rate, 16 bit resolution, stereo)

Playback .wav (WAV format: 44.1 kHz sample rate, 16 bit resolution, stereo), .mp3 (MPEG-1 Audio Layer-3: 44.1/48.0 kHz sample rate, 64–320 kbps and variable bit rate, mono/stereo)

Time Stretch Yes

Pitch Shift Yes

Vocal Cancel Yes

Multi - Recording .aud (Tyros5 original: 44.1 kHz sample rate, 16 bit resolution, stereo)

Multi - Playback .aud (Tyros5 original: 44.1 kHz sample rate, 16 bit resolution, stereo)

Storage and Connectivity

Storage Internal Memory approx. 6.7MB

Hard Disk Drive 500GB

External Drives USB Flash Memory (via USB to DEVICE)

Connectivity Headphones Yes

FOOT PEDAL 1 (SUSTAIN), 2 (ARTICULATION 1), 3 (VOLUME), Function Assignable

Microphone Yes (Combo Jack)

MIDI MIDI A (IN/OUT), MIDI B (IN/OUT)

AUX IN L/L+R, R

LINE OUT MAIN (L/L+R, R), SUB OUT (1,2), SUB OUT (3,4 / AUX OUT)

RGB OUT Yes

USB TO DEVICE USB 2.0 x 2 (Front/Back)

USB TO HOST USB 2.0 x 1

Accessories

Included Accessories Owner's Manual, Online Member Product Registration, AC Power Cord, Music Rest, two Music Rest Brackets, USB Wireless LAN Adaptor * May not be included depending on your particular area. Please check with your Yamaha dealer.

Multi Pads

Preset Number of Multi Pad Banks 190 banks x 4 Pads

Audio: Audio Link: Yes


Dimensions

Width: 1347mm

Height: 142mm

Depth: 450mm

Weight: 16.0g
---
Yamaha
Tyros5 76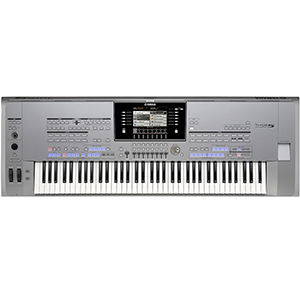 61-Key Flagship Arranger Keyboard
MPN #: TYROS5-76
UPC #:
Regular price: $6799.00 $5499.9900 Available from: 8th Street Music Condition: New Available to Order