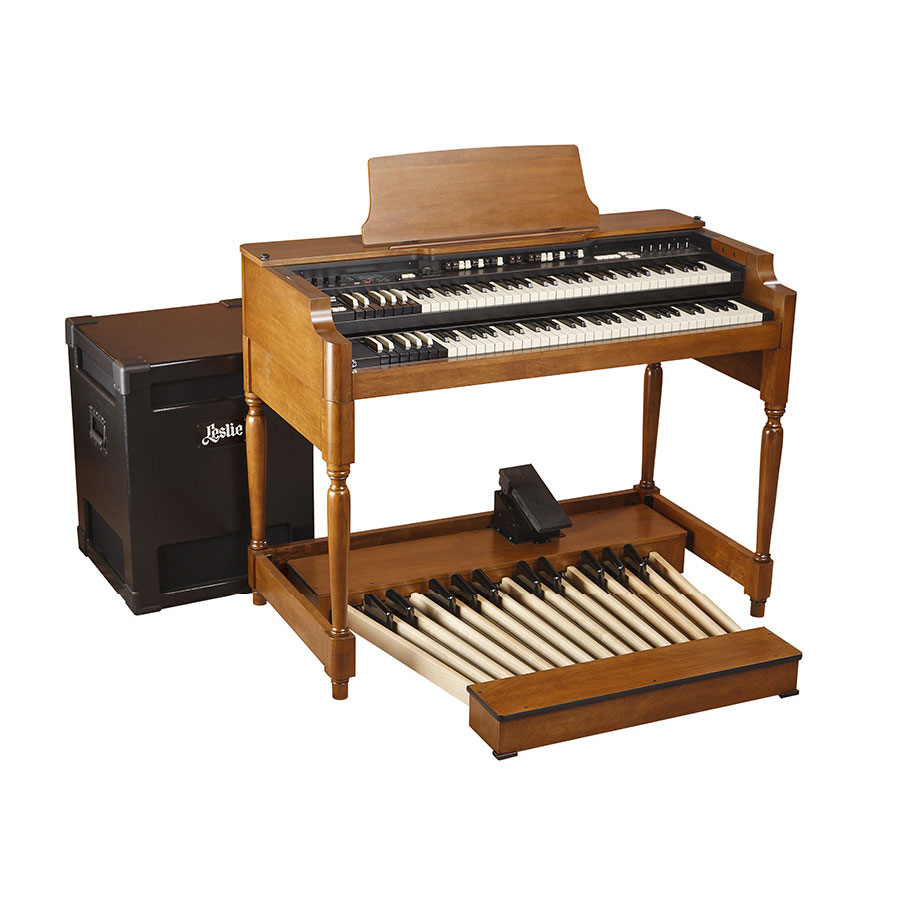 ---
The XK Vintage System has at its heart, Hammond's flagship portable organ, the XK-3c. The XK-3c when shipped with the Vintage System will feature black end-panels for a more aesthetic integration into the Vintage Cabinet. The Vintage System's stand and bench feature the turned, four-poster legs of the iconic Hammond B-3, the most popular electronic keyboard of all time, and the most desired. A seasoned B-3 player will be right at home seated at the XK Vintage System. The overwhelming popularity of the XK-3c sound speaks for itself.

Digital Tonewheel Generator


Laurens Hammond's original Organ (invented in 1935) had an intricate electro-mechanical mechanism that used 96 Quarter-sized wheels spinning on driveshafts powered by his patented synchronous motor. The wheels were notched according to pitch, and an electromagnetic pickup (much like that on an Electric Guitar) sensed those notches and rendered a musical note. The Drawbars combined those harmonic tones to produce the inimitable Hammond Organ sound.

Hammond's adherence to quality has allowed many vintage instruments to remain vital today, and are among the most desired and imitated musical instruments ever, but at a high cost. The Electromechanical Hammonds require expensive maintenance, regular doses of oil, and were of great weight; not easy to move at all.

The Xk-3c's VASE III "Engine" uses the exact model of Laurens Hammond's design, executing it in the digital realm, with no moving parts, retaining all of the nuances, imperfections and idiosyncrasies of the original. The wheels are always "spinning". When a note is played, the tones pass, just as water through a faucet. The random starts of each wave played allow for phase interaction, producing the rich tone so prized in the vintage Hammonds.

The Digital realization of Laurens Hammond's System allows sophisticated control of every facet. Each Digital Tonewheel can be voiced for Volume, Timbre, Motor Noise and Leakage; enabling the musician to tailor the Modern Hammond to match the characteristics of any Vintage Hammond, or to create their own vision. Twelve Macro Profiles allow the user to quickly select the most popular "kinds" of Hammond, from Showroom-New to Road-Worn Antique and all points between.

0
0
MPN: XK-System Traditional

XK-Bench (collasible)

36"(W) x 15"(D) x 23"(H)(assembled)

29 lbs

XK-Stand

48"(W) x 25"(D) x 30"(H) (set up)

36 lbs
* C-3 style panels optional

XK-Pedal Board 25-Note MIDI

25 keys

MIDI out, Expression pedal out

42" (W) x 37"(D) x 6"(H) (without expression pedal)

55 lbs

XK-3C

GENUINE AND AUTHENTIC HAMMOND ORGAN

Authentic Chorus-Vibrato/Touch Response Percussion

12 HAMMOND MACRO PROFILES with 17 TWEAKABLE PARAMETERS

96 INDIVIDUALLY Adjustable, Voiceable Digital Tonewheels

Create YOUR Perfect "B-3" From Showroom New to Road Worn Vintage

DIGITAL LESLIE™

7 LESLIE MACRO PROFILES:

Type 122

Type 147

Type 31H (or "TallBoy"-the first Leslie Speaker released in 1941)

Type 722 (Mid 70's "Home Organ" Model)

Type 760 (Late 70's Solid State "Combo" Model)

Type 825 (1970's Solid State Single Rotor Model)

ROCK TYPE (Early 70's Model 925 High-Power "Combo" Model)


17 TWEAKABLE LESLIE PARAMETERS

Create YOUR Perfect Leslie-Store it in any of 8 User Profiles

COMBINE THE HAMMOND ORGAN OF YOUR CHOICE WITH THE LESLIE OF YOUR CHOICE TO COMPLETE YOUR DREAM RIG!

1000's of Combinations Possible

ONE OCTAVE OF B-3 STYLE REVERSE COLOR, UNLATCHING B-3-Style PRESETS, with 8 Banks containing 9 presets. (A# and B♮ call the current drawbar settings)

TWIN REAL TUBE PREAMP provides warmth and overdrive characteristics

Comprehensive MIDI Controller functions with 6 external zones (3 Upper Keyboard/2 Lower Keyboard and Pedal) Dedicated Switch and Rotary Control for each.

---
Hammond
XK-System Vintage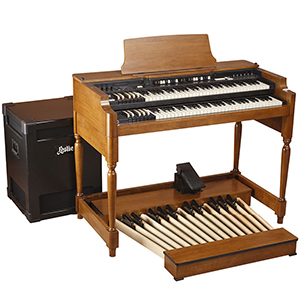 Vintage Organ System
MPN #: XK-System Traditional
UPC #:
Regular price: $11499 $8999.0000 Available from: 8th Street Music Condition: New Available to Order