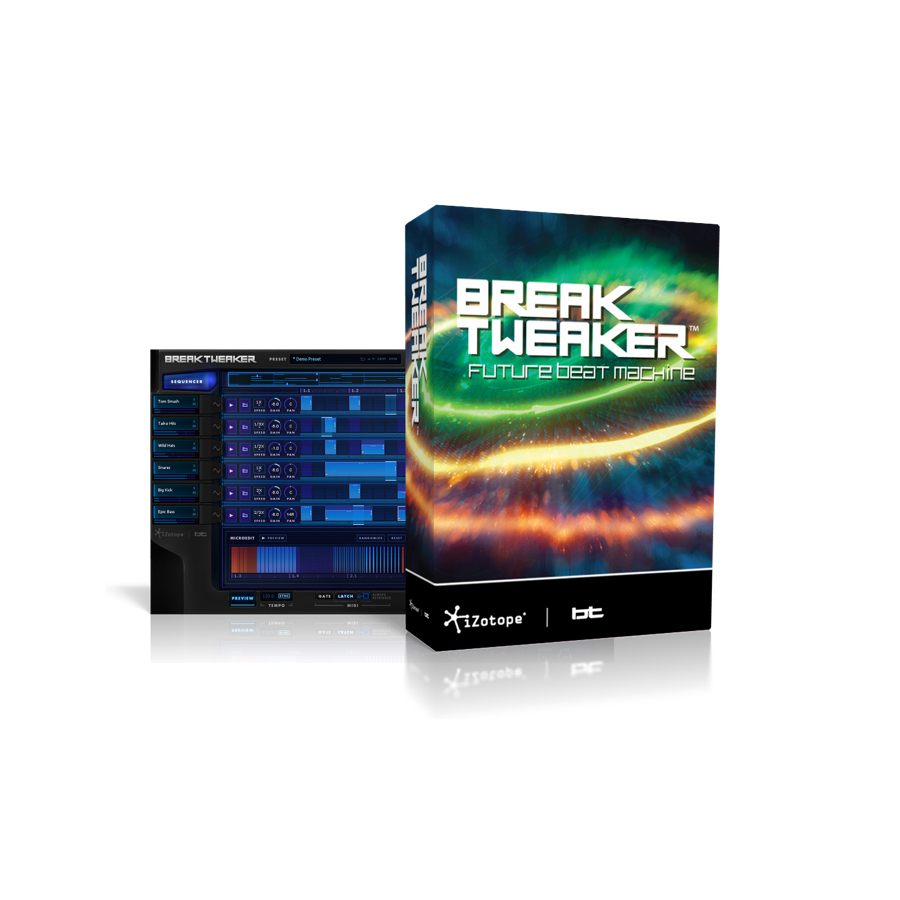 ---
Make beats you've never heard before. Built on a futuristic MicroEdit Engine, BreakTweaker turns everything you know about rhythm on its head.

Designed by BT and developed by iZotope, BreakTweaker is not just a drum machine: it's a drum sculpting and beat sequencing environment that blurs the line between rhythm and melody. Give your beats an ever-evolving depth that gets better the longer they play. Use rhythmic slicing to drive everything from pitched melodic lines to sweeping rhythmic overtures. Top it all off with the best drum sample library in existence, curated by BT, iZotope, and top producers today. Explore a new era of rhythmic possibilities with this forward-thinking and forward-sounding instrument.

BreakTweaker is the beat machine of the future. Powered by three distinct modules, the Sequencer, the Generator, and the MicroEdit Engine, it's a wildly creative rhythmic instrument that can be used with any DAW and MIDI controller. For instant gratification, get started with the diverse presets and content in the Factory Library, a showcase of BreakTweaker's breadth and sonic capabilities. When you want to get deeper, forge new sonic weaponry with BreakTweaker's paradise of tweaky controls and settings.

The Sequencer
Assemble pattern-based beats in the Sequencer, which features six tracks for layering your sounds. The Sequencer can store up to 24 different step patterns, launchable via MIDI for on-the-fly remixing. Design beats that evolve over time with BreakTweaker's advanced isorhythmic step sequencing, which makes it possible for each track to have a unique tempo and step length. Ever heard a 7/8 rhythm against a massive 4/4 breakbeat? You can here.

The Generator
Sculpt new drum sounds and textures with the Generator. This powerful drum synthesis module defines the sounds for each Sequencer track. The Generator supports morphing wavetable synthesis, one-shot sample loading, and hand-crafted noise tables, then is polished off with dual-stage distortions and vintage-modeled filters. Four LFOs with unique wavetable shapes, and four Envelopes allow vast modulation possibilities for almost every single Generator parameter. As a bonus, every Sequencer track supports up to three Generators for developing even deeper sonic complexity.

The MicroEdit Engine
Once you've perfected the ultimate set of drum sounds and sequenced your patterns, it's time for a whole new method of sound design. Enter the MicroEdit Engine. A "MicroEdit" is the division of a single step within your pattern into potentially thousands of slices. These slices can then be contoured and shaped to create harmonic, pitched, and rhythmic effects, resulting in new textures that add maximum ear candy to your ever-evolving beats. By pushing the limits of the brain's ability to perceive sound, the MicroEdit Engine blurs the line between rhythm and pitch, inspiring beats you've never heard before.

The Factory Library
Bringing sounds, patterns, and MicroEdits together into mind-boggling beats, the BreakTweaker Factory Library comes with over 80 global presets that are ready to kickstart your next project. The Factory Library also features over 2 GB of royalty-free sample content designed by electronic production pros. Specializing in a wide variety of percussive sounds, sample categories range from studio essentials like "Kick" and "Snare" to intriguing possibilities like "Glitch" and "Film." (If you already own BreakTweaker, don't forget to download it from your iZotope account.)

PLUS: Expand your sonic palette with BreakTweaker's add-on Expansion libraries, suited to a variety of production styles. Experience analog punch with Vintage Machines, rhythmic tension and release with Cinematic Textures, and industry-defining percussion with Kicks & Snares by Beatport Sounds.

Who is it for?
BreakTweaker is for anyone looking to create truly original and dynamic beats, both drum-driven and melodic. It's a new platform that inspires different people in different ways, and there's nothing quite like it out there.

EDM Producers
Get "that" drum sound. As a producer, you know the sonic signature of your music is an integral part of what makes it go off in the club. BreakTweaker offers you powerful building blocks for building thrilling beats, like kick and snare hits that have been carefully layered, tuned and synthesized by EDM pros from the Electronica, House, Trance and Dubstep worlds.

Beat Aficionados
Give your beats new, fresh perspective. Whether you want to add BreakTweaker's striking content library to your collection of drum and percussion samples, or find new ways to manipulate and reimagine your existing content, BreakTweaker is for you.

Composers
Create epic percussive rhythms. Combine the isorhythmic Sequencer, MicroEdit glitching, cinematic sample content, and MIDI triggering to create the intense musical effects that underpin many successful film and video game scores and trailers. BreakTweaker is a new breed of rhythmic compositional tool.
0
0
MPN: BreakTweaker

Manipulate audio at a molecular level: Reinvent any beat by controlling pitch, rhythm, and texture at the finest resolution on the market.

Free yourself from traditional drum grids: Create complex polyrhythmic beats with unique isorhythm and playback speed settings.

Experiment with stunning content: Explore presets, drum samples, and wavetables designed by today's top musicians and DJs, including BT.

Craft the perfect drum sound: Blend drum samples with robust synthesis features to generate compelling hybrid sounds.

Take control of your beats: Easily trigger and sequence complex patterns and samples using any MIDI controller.


Glitch and revolutionize any drum sample or rhythm with hi-res pitch, arp, and texture control—all the way down to a micro-slice level.

Take a wild ride through the audio space/time continuum by dividing a single sequenced event into up to thousands of unique slices that pulse with sonic movement, as defined by Division, Pitch, Time or Speed.

Create the most unique drum sound you've ever heard: add tension, slopes and curves to shape the contour and rotation of the slices, then apply additional FX.

Quickly change the entire sound of a beat with the Randomize feature, which automatically MicroEdits the selected step in your Sequencer pattern.

Build exciting beats with the 32-step Sequencer, with up to 24 patterns synced to your DAW. Launch, trigger, latch, and switch your way to full-fledged drum sample and synth productions.

Evolve and transform your patterns by giving each Sequencer track a unique tempo and step length, allowing the entire beat pattern to develop into new musical ideas over time.

Create entire productions, then route the individual Sequencer tracks to separate outputs for optimum mixing with BreakTweaker's Multi-Out mode.

Explore today's top sounds, designed by today's top musicians and DJs, including BT—available royalty free for use in BreakTweaker or your sampler of choice.

Wield dubstep power with multi-layered kicks and snares for earth-shattering presence.

Elicit cinematic drama with Booms and Hits, Metals, Cymbals and Bells, as well as Vocal Breath one-shots.

Kickstart your next track with over 80 beat presets that showcase BreakTweaker's power.

Sculpt the next generation of drum sounds with unique-sounding wavetables, including BT's prized wavetables (never before available!).

Go far beyond traditional synth textures—choose from five wavetable synthesis modes: Single, Additive, Ring Modulation, Amplitude Modulation (AM), or Frequency Modulation (FM).

Morph and modulate away with quadruple LFO and Envelope modulation routing, perfect for adjusting pitch, wavetables, amplitude and more.

Get a start on advanced drum design with inbuilt Generator presets that you can tweak and adjust to taste.

Modulate anything in the Generator window with one of four LFOs or Envelopes. Assign up to two Modulators per parameter to create new movement, add harmonics, and enhance your productions.

Create previously unheard textures with innovative wavetable LFO control, featuring LFO shapes that have never before been available for synthesis.

Smooth samples and meld layers together with the custom-modeled, analog-style New York and Tokyo High Pass, Band Pass, and Low Pass filters.

Distort, mangle and transform with dual-stage distortions inspired by the iZotope's cult classic Trash 2, featuring algorithms such as Warm, Transistor, Hard, Digital, Raw, and Aliasing.

Enhance width, add stereo space and create lush drum hits with individual Chorus effects for every sequenced step via the MicroEdit Engine.

Easily search the vast Factory Library with an audio intelligence engine that will match complementary drum sounds: not based on meta-data, but on actual musical analysis.

Discover new sounds. Click "Discover" and you'll instantly be shown intelligently-selected, similar-sounding drum hits from the BreakTweaker collection for quick auditioning.
---
iZotope
Break Tweaker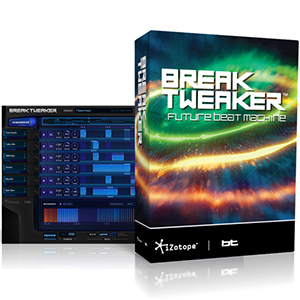 Future Beat Machine Software
MPN #: BreakTweaker
UPC #:
Regular price: $ $249.0000 Available from: 8th Street Music Condition: New Available to Order