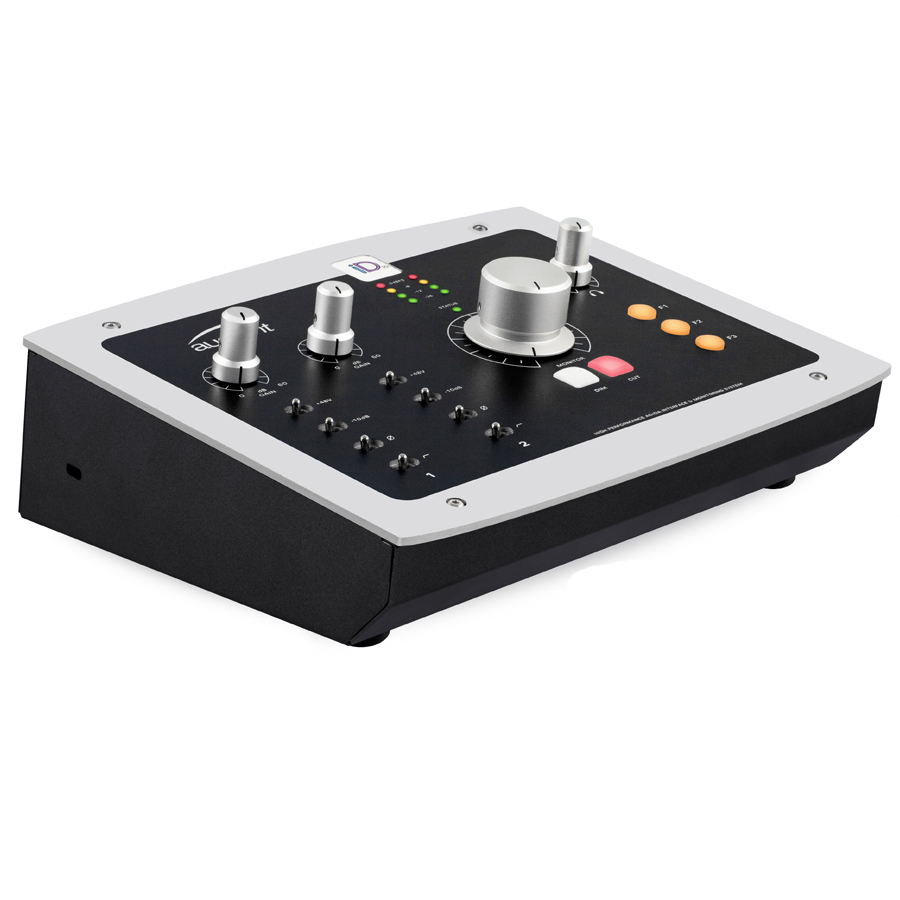 ---
iD22 transforms your DAW into a world-class recording system by connecting directly to your microphones, computer and monitors. Our focus is on producing the very best audio quality while keeping all of the functions simple and intuitive - enabling you to concentrate on the creative process.

PRISTINE CONVERTER TECHNOLOGY
iD22 provides two analogue inputs and six analogue outputs, these are driven by high quality 24-bit/96kHz convertors. Through months of tests we optimsed component selections and circuit topologies to obtain every last ounce of convertor performance. The results are simply stunning - pin sharp stereo imaging, a fast low end with an impeccably detailed and smooth top end.

WORLD CLASS MIC PRES
iD22 provides two classic Audient microphone preamplifiers - the same pre amps that have become renowned with over 50,000 channels in use worldwide. Our hybrid design utilises a class-A front end to provide clean and musical characteristics that sound stunning on any session. iD22 has the best mic preamp found on any audio interface and instantly provides a platform to produce outstanding recordings.

Both input channels have a pad to handle hot levels, phantom power for condenser microphones, a high pass filter to remove unwanted low frequencies and a polarity switch to help you phase align your inputs. Channel two features a discrete JFET DI input for you guitars, synths and other instruments.

Listen
During the development of iD22 we wanted to put it through it's paces. We have filmed three tracks in three different musical genres which have been recorded and mixed through iD22.
2
2
MPN: iD22
UPC: 5710999256023

10-in, 14-out Desktop Interface

2-in, 6-out high performance 24-bit/96kHz AD/DA converters

2 superb class-A mic preamplifiers & 1 discrete JFET instrument input

Fully balanced insert points for integrating outboard gear

High current headphone amplifier fed by an independent DAC

Low latency DSP mixer for artist mixes

Main and alternative stereo outputs

User defined monitoring functionality with hardware control

USB2.0 class compliant connectivity - Mac OS10.6.8 or later

Multi-application ASIO and WDM drivers for Windows 7 and later


MIC GAIN: -10 to +60 dB (-10dB Pad)

LINE GAIN: -20 to +40 dB (-10dB Pad)

PHANTOM POWER: 48v +/-4v @ 10mA/Channel

MIC EIN: <-125dBu

CMRR: >80dB @ 1kHz

MAXIMUM INPUT LEVEL: +22dBu (+32dBu with Pad)

INPUT IMPEDANCE (Mic): >3kΩ Balanced
I
NPUT IMPEDANCE (Line): >10kΩ Balanced

FREQUENCY RESPONSE: +/-0.5dB 10Hz to 100kHz

CROSSTALK: <-90dBu @ 1kHz & 10kHz

THD+N @ 0dBu (1kHz): 0.0015% (-96dBu)

SNR: 96dB

HPF: -3dB @ 100Hz, 2nd Order (12dB/Octave)

XLR: Pin 2 (Hot), Pin 3 (Cold) & Pin 1 (Shield)

1/4" JACK: TIP (Hot), RING (Cold) & SLEEVE (Shield)

D.I (Channel 2):

(measured to insert send)

D.I GAIN: -16 to +54 dB (-10dB Pad)

MAXIMUM INPUT LEVEL: +16dBu (typical), +22dBu

INPUT IMPEDANCE: 1MegΩ Unbalanced

FREQUENCY RESPONSE: +/-0.5dB 10Hz to 50kHz

THD+N @ 0dBu (1kHz): <0.03% (-70dBu)

SNR: 93dB

1/4" JACK: TIP (Hot) & SLEEVE (Shield)

INSERT SENDS (Mic Pre Out):

MAXIMUM OUTPUT LEVEL: +22dBu

OUTPUT IMPEDANCE: <100Ω Balanced

1/4" JACK: TIP (Hot), RING (Cold) & SLEEVE (Shield)

POWER SUPPLY:

12VDC Centre Positive DC Adapter - >1.5Amps

Internally conditioned to provide +48VDC, +/-15VDC & low voltage rails for digital processing core & converters.

iD22 cannot be bus powered for quality reasons.

ADC LINE INPUTS (Insert Returns):

(measured at optical output under AES-17)

MAXIMUM INPUT LEVEL: +18dBu

DIGITAL REFERENCE LEVEL: 0dBFS = +18dBu

INPUT IMPEDANCE: >10kΩ Balanced

FREQUENCY RESPONSE: +/-0.5dB 10Hz to Fs/2

CROSSTALK: -100dBu @ 1kHz & 10kHz

THD+N @ -1dBFS (1kHz): <0.002% (-94dB)

THD+N @ -6dBFS (1kHz): <0.0015% (-97dB)

DYNAMIC RANGE: 117dB un-weighted

120dB A-weighted

1/4" JACK: TIP (Hot), RING (Cold) & SLEEVE (Shield)

DAC OUTPUTS (1-4):

(measured from optical input under AES-17)

MAXIMUM OUTPUT LEVEL: +18dBu

DIGITAL REFERENCE LEVEL: 0dBFS = +18dBu

OUTPUT IMPEDANCE: <100Ω Balanced

FREQUENCY RESPONSE: +/-0.5dB 5Hz to Fs/2

CROSSTALK: -110dBu @ 1kHz & 10kHz

THD+N @ -1dBFS (1kHz): <0.0008% (-101dB)

DYNAMIC RANGE: 110dB un-weighted

114dB A-weighted

1/4" JACK: TIP (Hot), RING (Cold) & SLEEVE (Shield)

HEADPHONE OUTPUT (5&6):

(measured from optical input under AES-17)

MAXIMUM OUTPUT LEVEL: +18dBu

DIGITAL REFERENCE LEVEL: 0dBFS = +18dBu

OUTPUT IMPEDANCE: <50Ω Balanced

FREQUENCY RESPONSE: +/-0.5dB 5Hz to Fs/2

CROSSTALK: -110dBu @ 1kHz & 10kHz

THD+N @ -1dBFS (1kHz): <0.0008% (-101dB)

DYNAMIC RANGE: 110dB un-weighted

114dB A-weighted

MAX LEVEL INTO 30ohms: +8dBu, 0.0032%

THD+N, 2.75Vpk

Power: 250mW or Pavg 125mW


MAX LEVEL INTO 60ohms: +11dBu, 0.0022%

THD+N, 4.3Vpk

Power: 300mW or Pavg 150mW


MAX LEVEL INTO 600ohms: +17.2dBu, 0.0013%

THD+N, 7.94Vpk

Power: 105mW or Pavg 52.5mW


1/4" JACK: TIP (Hot), RING (Cold) & SLEEVE (Shield)

DIGITAL i/o:

ADAT 8 CHANNELS 44.1 - 48kHz

ADAT 4 CHANNELS 88.2 - 96kHZ

STEREO S/PDIF 44.1 - 96kHz

USB2.0 HIGH SPEED

System Requierments
Mac Driver

Any Apple Mac running OS 10.6.8 or later.

Windows Driver

PC or laptop manufactured after January 2006

Intel Core 2 @1.6 GHz, or AMD equivalent

1 GB main memory

Officially Supported Operating systems:

Windows 7 (32 bit)

Windows 7 x64 (64 bit)

Windows 8 (32 bit)

Windows 8 x64 (64 bit)

Operating systems not officially supported, but may work:

Windows XP with SP3 (32 bit)

Windows Vista with SP2 (32 bit)

Windows Vista x64 with SP2 (64 bit)
---
Audient
iD22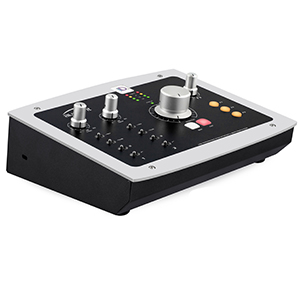 22-channel USB Interface and Monitoring System
MPN #: iD22
UPC #: 5710999256023
Regular price: $995 $499.0000 Available from: 8th Street Music Condition: New Available to Order