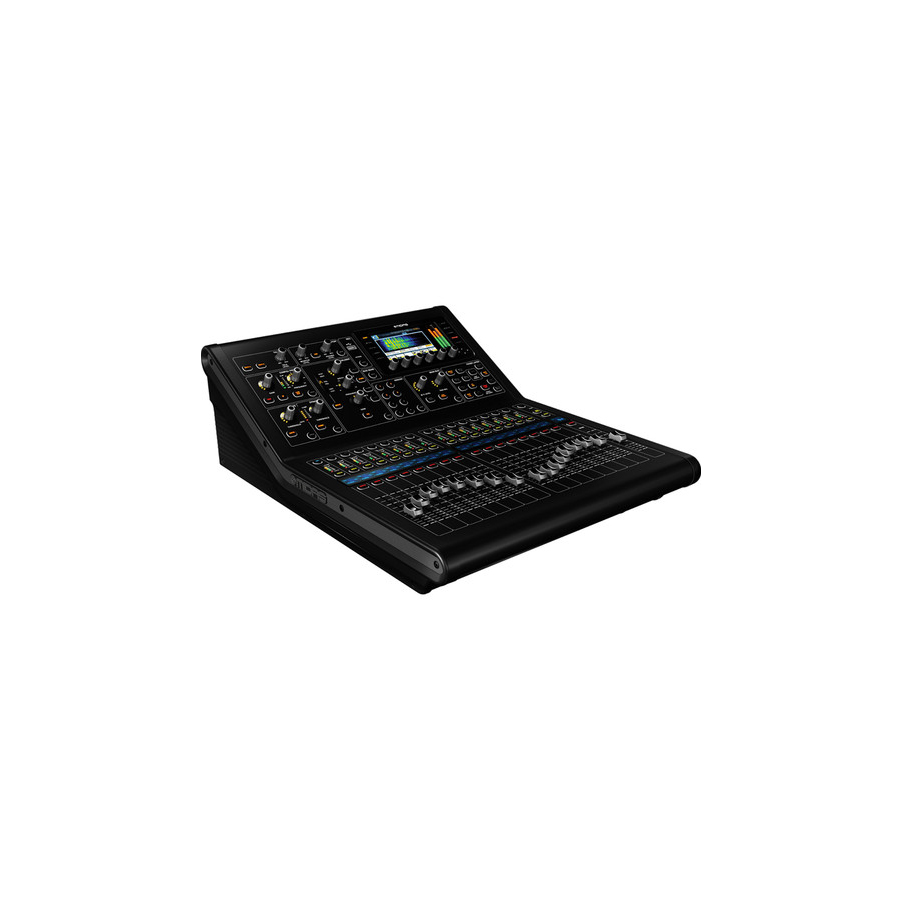 ---
The Midas M32R is a digital mixing console that features 16 Midas PRO microphone preamplifiers, 25 time-aligned and phase-coherent mix buses, 8 digital FX engines, and up to 40 simultaneous input channels when used with an optional networked remote I/O solution such as the Midas DL16 digital stage box. This console is an ideal choice for a multitude of live sound, broadcast, studio recording and post production applications.

The M32R console features 17 Midas PRO motorized 100 mm faders that are rated for 1 million life cycles. Currently able to capture audio at 24-bit, 48 kHz sample resolution, the console is "future-proofed" with 96 kHz capable open architecture, which Midas intends to make available for the line.

The M32R includes an extensive array of on-board effects, featuring 8 stereo, studio-grade effects engines, each assignable to any input, group or output mix bus. Choose from high-end FX modules, including a range of reverbs, delays, EQs, dynamics, and much more. Modeled after some of history's most iconic and sought-after effects processors such as the Teletronix LA-2A, Urei 1176LN, Fairchild 670, and the Pultec EQP-1a, the M32R's effects run inside the low-latency, 40-bit floating point environment of the mix engine.
0
0
MPN: M32R
UPC: 748252148445

Live performance and studio recording digital console with up to 40 simultaneous input channels

16 Midas PRO microphone preamplifiers

25 time-aligned and phase-coherent mix buses

AES50 networking allows up to 96 inputs and 96 outputs

Open architecture allows for future 96 kHz operation

192 kHz ADC and DAC converters for outstanding audio performance

Industry-leading design by Bentley Motors Designer

High-performance aluminum and high-impact steel structure

Rack-mount brackets included for ultimate flexibility

40-bit floating point digital signal processing

8 DCA and 6 mute groups

8 digital signal processing effects engines

17 Midas PRO motorized 100 mm faders

Daylight viewable 5" full-color TFT display screen

Optional expansion cards: ADAT, MADI, Dante

Included, pre-installed USB card allows console to act as 32 x 32 channel USB 2.0 audio interface

DAW remote control emulations of Mackie Control and HUI protocols

Optional wireless remote control with Midas Apps for iPhone and iPad

Auto-ranging universal switch-mode power supply


Input Channels: 32 input channels, 8 aux channels, 8 FX return channels

Output Channels: 8 / 16

Buses: 16 aux buses, 6 matrices, main LRC: 100

Effects Engine 8 / 16, (True Stereo / Mono)

Automation: Internal Show Automation (Structured Cues / Snippets): 500 / 100

Scenes: Internal Total Recall Scenes (Incl. Preamplifiers and Faders): 100

Signal Processing: 40-bit floating point

A/D and D/A Conversion A/D Conversion (8-channel, 96 kHz Ready): 24-bit, 114 dB dynamic range, A-weighted

D/A Conversion (stereo, 96 kHz Ready): 24-bit, 120 dB dynamic range, A-weighted

Latency: 0.8 ms, (I/O, console input to output)

1.1 ms, (network latency, stage box in > console > stage box out)

Preamplifier: Midas PRO Series Microphone Preamplifiers (XLR): 16

Talkback Talkback Microphone Input (XLR): 1

RCA RCA Inputs / Outputs: 2 / 2

Audio Out (XLR) XLR Outputs: 8

Monitoring Outputs Monitoring Outputs (XLR / ¼" TRS Balanced): 2 / 2

Auxiliary: Aux Inputs/Outputs (¼" TRS Balanced): 6 / 6

Headphones: Phones Output (¼" TRS): 1 (Stereo)

Networking: AES50 Ports (Klark Teknik SuperMAC): 2
Ultranet P-16 Connector (No Power Supplied): 1

Expansion: Expansion Card Interface: 32 Channel Audio Input / Output

MIDI MIDI Inputs / Outputs: 1 / 1

USB USB Type A (Audio and Data Import / Export): 1

USB Type B: 1, rear panel, for remote control

Ethernet: RJ45: 1, rear panel, for remote control

Microphone Inputs

Design: Midas PRO Series

THD+N: THD+N (0 dB gain, 0 dBu output): <0.01%
unweighted

THD+N (+40 dB gain, 0 to +20 dBu output): <0.03% (unweighted)

Input Impedance: Input Impedance (Unbalanced / Balanced): 10 kOhms / 10 kOhms

Maximum Input Level: Non-Clip Maximum Input Level: +23 dBu

Phantom Power: +48 V, (switchable per input)

Equivalent Input Noise: @ +45 dB gain (150 ohm source): -125 dB (22 Hz - 22 kHz, unweighted)

CMRR: CMRR @ Unity Gain (Typical): >70 dB

CMRR @ 40 dB Gain (Typical): >90 dB

Input/Output

Frequency Response: @ 48 kHz Sample Rate: 0 to -1 dB (20 Hz - 20 kHz)

Dynamic Range: Analog In to Analog Out: 106 dB (22 Hz - 22 kHz, unweighted)

A/D, Preamplifier and Converter (Typical): 109 dB (22 Hz - 22 kHz, unweighted)

D/A, Converter and Output (Typical): 109 dB (22 Hz - 22 kHz, unweighted)

Crosstalk Rejection Typically @ 1 kHz: 100 dB, adjacent channels

Output Level: XLR Connectors (Nominal / Maximum): +4 dBu / +21 dBu

Output Impedance: XLR Connectors (Unbalanced / Balanced): 50 ohms / 50 ohms

TRS (Unbalanced / Balanced): 50 ohms / 50 ohms

Phones Output Impedance / Maximum output Level: 40 ohms / +21 dBu (Stereo)

Input Impedance: TRS Connectors (Unbalanced / Balanced): 20 kOhms / 40 kOhms

Maximum Input Level: Non-Clip Maximum Input Level, TRS Connectors: +21 dBu

Output Level: TRS (Nominal / Maximum): +4 dBu / +21 dBu

Residual Noise Residual Noise Level, Out 1-16 XLR
Connectors, Unity Gain: -85 dBu 22 Hz - 22 kHz unweighted

Residual Noise Level, Out 1-16 XLR Connectors, Muted: -88 dBu 22 Hz - 22 kHz unweighted

Residual Noise Level, TRS and Monitor out XLR Connectors: -83 dBu 22 Hz - 22 kHz unweighted

Display

Screens: Main Screen: 5" TFT LCD, 800 x 480 resolution, 262 k colors

Channel: LCD Screen: 128 x 64 LCD with RGB color backlight

Main Meter: 18-segment (-45 dB to clip)

Power

Power Supply: Switch-Mode Power Supply: Auto-ranging 100 - 240 VAC (50 / 60 Hz) ±10%

Power Consumption: 70 W

Physical

Operating Temperature: 41 - 104°F (5 - 40°C)

Dimensions 18.8 x 24.3 x 8.2" (478 x 617 x 208 mm)

Weight 31.5 lb (14.3 kg)

Package Weight: 43.6 lb
---
Midas
M32R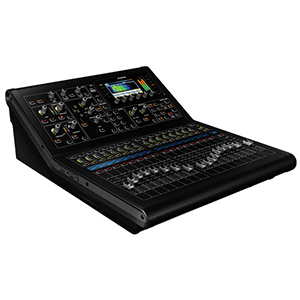 32-Input Digital Mixing Console
MPN #: M32R
UPC #: 748252148445
Regular price: $ $3200.0000 Available from: 8th Street Music Condition: New Available to Order