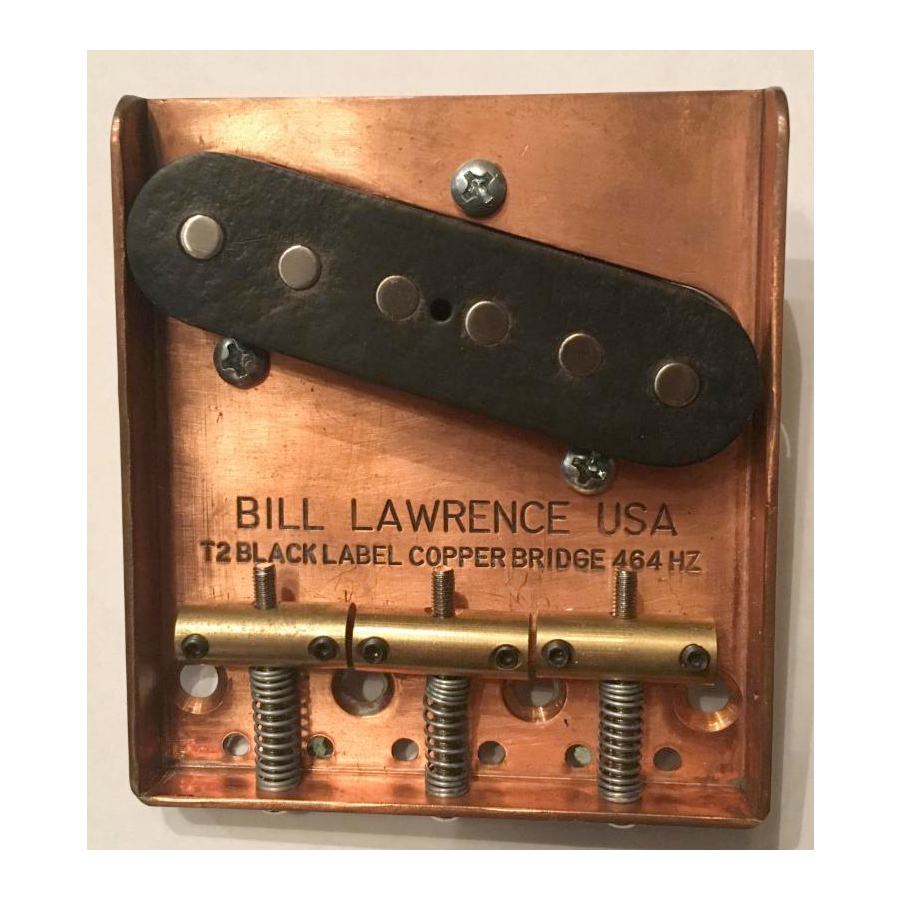 ---
Copper has always been a key ingredient used in the manufacturing of guitar pickups. Copper is a soft, highly conductive metal which can be drawn down to a wire, almost to the size of a human hair. It is coated with a special layer of insulation and then used as magnet wire to wind pickups.

The Bill Lawrence* Guitar Pickup Company, which was established in 1965 and has always been a pioneer and innovator in the guitar pickup industry, is the first to use Copper as a bridge for the 'T' style guitars. The Bill Lawrence* Copper 'T' Bridge
is made from this reddish-orange, soft metal which takes on a bright metallic shine. When the surface is exposed to air it gradually tarnishes to a dull, brownish, cool, vintage color.
0
0
MPN: T2
UPC: 028474950225

The Copper metal used for this unique bridge naturally vibrates at 464 Hz (B flat) as opposed to steel which vibrates at 440 Hz (Concert A). From a guitar player's standpoint the result is a much rounder, fuller, smoother, Bigger tone that blends superbly with the Tenor Sax and the Contrabass, as well as B flat Horn Instruments.

The Bill Lawrence* Copper 'T' Bridge is designed as a drop in bridge replacement for the 'T' style guitar, and comes stock with the renowned Bill Lawrence* T2 Black Label Vintage Bridge Pickup that was used and endorsed by the one and only Master of the Telecaster, Roy Buchanan. The T2 Pickups are still made with the same magnets and the same wire as the 1948 Broadcaster Pickups. The Bill Lawrence* 464 Hz Copper 'T' Bridge also comes stock with 3 Vintage Brass Saddles.

In addition to its musical enhancement qualities the Bill Lawrence* Copper 'T' Bridge also makes for a very cool and unique look for your 'T' style guitar!

(The Bill Lawrence Copper ' T' Bridge comes with Brass Saddles with screws and springs, and the Bill Lawrence* Black Label T2 Bridge Pickup with height adjustment screws and springs, all installed and ready to drop into your 'T' style guitar!)
---
Bill Lawrence
Copper T Bridge and Pickup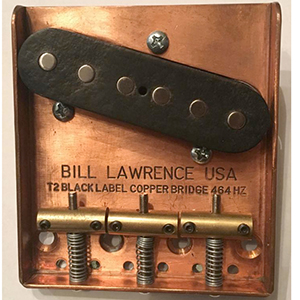 Copper Bridge and Pickup for Tele Style Guitars
MPN #: T2
UPC #: 028474950225
Regular price: $175 $129.9900 Available from: 8th Street Music Condition: New Available to Order