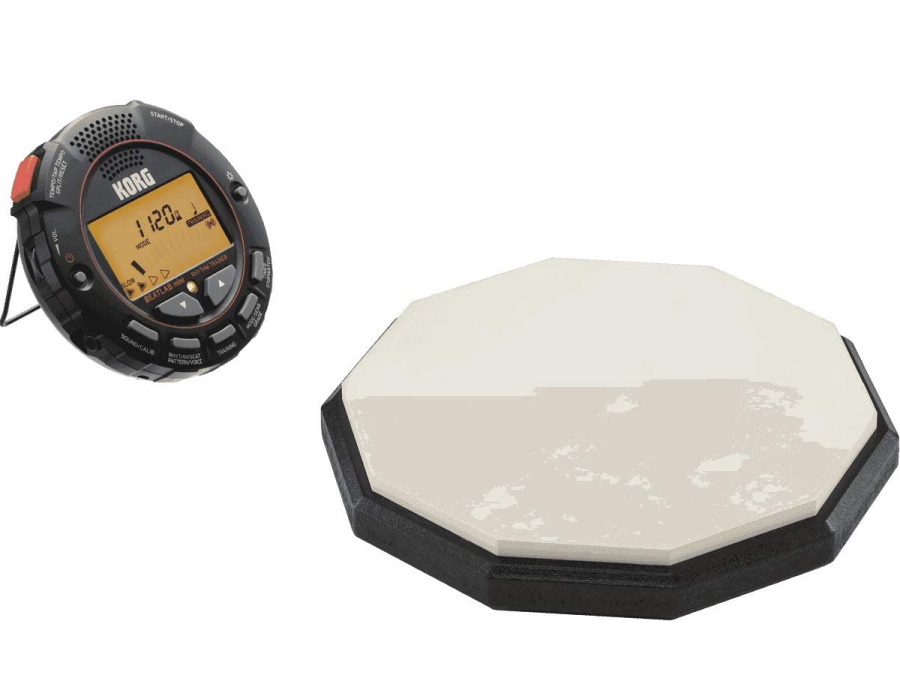 ---
A metronome and rhythm trainer designed for the drummer and percussionist.
Develop your sense of rhythm with interactive training modes.
Rhythm practice using a metronome is indispensable for any musician, especially for the drummer and percussionist. In the past, rhythm practice has been excruciatingly dull and boring, consisting simply of striking a practice pad in time with a metronome. Furthermore, since you have only a subjective judgement as to whether or not your rhythm is correct, many players find it difficult to keep themselves motivated to practice.

That's where the BEATLAB mini comes in; it's a training tool that lets you practice rhythm more accurately and enjoyably. In addition to a versatile metronome function that includes a wide range of sounds, including human voice and real drum pattern sounds, this unit provides a training function that detects and evaluates the discrepancy between the metronome and the notes that you play. This means that you can develop a perfect sense of rhythm by using by treating rhythm training as if you were playing a game.

Metronome function with a generous selection of patterns

The BEATLAB mini provides a generous selection of the rhythm patterns that are indispensable for practicing a percussion instrument. The tempo can be adjusted over a wide range of 30-300 beats per minute, and you can specify the time signature and rhythm individually to meet your rhythm training needs for a variety of songs and styles. In addition to conventional electronic metronome sounds, there's also a rich range of PCM sounds. Mechanical metronome sounds that won't fatigue your ear even at high-volume listening, male and female voices that make it easy to tell your beat within the rhythm, and realistic drum pattern sounds with snare, cymbal and claves are some of the 30 available choices, meeting the needs of drummers and percussionists in any musical style.
Training function that check and improve your sense of rhythm

The BEATLAB mini provides a training mode that lets you objectively check your own sense of rhythm. If you connect the included contact mic to the unit's TRIGGER jack and attach it to your snare or practice pad, the BEATLAB mini detects the sound of your strikes and measures the slight discrepancy in tempo between your playing and the sound of the metronome. The amount of the discrepancy is indicated audibly. For example, if a male or female voice is selected, you'll be informed whether you're "TOO FAST" or "TOO SLOW"; if you're correct, the voice tells you plainly "GOOD," "GREAT," "WONDERFUL," or "PERFECT." This lets you check your own rhythm in real time with ease.. After evaluation, your score at keeping the rhythm and your overall tendencies are shown in the display, allowing you to monitor your progress as you continue to practice.

How strictly your rhythm is evaluated and the trigger sensitivity can be adjusted in detail to correspond with your ability and the devices with which you're practicing. From the beginner who has just started their instrument up to the veteran who just wants to verify their rhythmic sense, the BEATLAB mini will support your rhythm training as your very own dedicated and personalized trainer.
Sound Out function is convenient for tuning your drums
A timer function and stopwatch function are provided for convenience in time-keeping during rehearsal, when you're performing on stage, or for any other purpose.
Timer/Stopwatch function can be used in a variety of ways
A timer function and stopwatch function are provided for convenience in time-keeping during rehearsal, when you're performing on stage, or for any other purpose.
9
9
MPN: BTLMINIAPAD
UPC: 4959112166639

Metronome function with a generous selection of patterns
Training function that check and improve your sense of rhythm
Sound out function is convenient for tuning your drums
Time/Stopwatch function can be used in a variety of ways High-volume built-in speaker and headphone output Large backlight LCD display

Two-way clip that holds with a variety of use-cases Includes a contact microphone for trigger detection Lineup includes a limited set with that includes a practice pad


Tempo Range 30 - 300 beats per minute (bpm)

Tempo Setting Pendulum Step, Full Step, Tap Tempo

Beat 0, 1, 2, 3, 4, 5, 5 (3+2), 5 (2+3), 6, 7, 7 (4+3), 7 (3+4), 8, 9

Rhythm Quarter, Eighth, Triplets, Triplets with inner beat omitted, Triplets with the third beat omitted, Quadruplets, Quadruplets with middle beats omitted, Quadruplets with the third and fourth beats omitted

Voice Mechanical metronome, Electronic metronome, Male-voice metronome, Female-voice metronome

Pattern Snare x 23, Ride Cymbal x 1, Son Clave x 2, Rumba Clave x 2, Bossa Nova Clave x 2

Tempo Accuracy +/- 0.2 %

Training Mode

Mode Female-voice mode, Male-voice mode, Sound mode

Grade 1 - 6

Trigger Sensitivity 1 - 30

Sound Out Mode

Reference Pitch 12 tone equal temperament C4 - B4 (C, C#, D, D#, E, F, F#, G, G#, A, A#, B)

Calibration Range 438 - 445 Hz (1 Hz steps)

Reference Pitch Precision +/- 1 cent or better

Timer and Stopwatch

Time Range 1 - 99 minutes

Stopwatch Setting Range 0.1 second - 99 minutes 59.9 seconds Main Specifications

Connectors TRIGGER jack (1/4" monaural phone jack), PHONES jack (1/8" stereo mini phone jack) Speaker Dynamic

Speaker (23 mm, MAX. 0.5W) Power Supply Two AAA batteries (3V)

Battery Life Approximately 20 hours (tempo 120, beat 4, rhythm Quarter, voice 1, when using alkaline batteries)
Approximately 10 hours (tempo 120, beat 4, rhythm Quarter, voice 1, when using zinc-carbon batteries)

Dimensions (W x D x H) 82 x 82 x 27 mm / 3.23" x 3.23" x 1.06"

Weight 97 g / 3.42 oz. (including batteries)

Included Items Contact Microphone, Two AAA batteries for verifying proper operation
Training Pad (Limited pack "BEATLAB mini + Pad" only)
---
Korg
BEATLAB mini with Practice Pad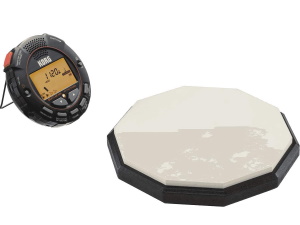 Rhythm Trainer & Metronome + Pad
MPN #: BTLMINIAPAD
UPC #: 4959112166639
Regular price: $129.99 $89.9900 Available from: 8th Street Music Condition: New Available to Order