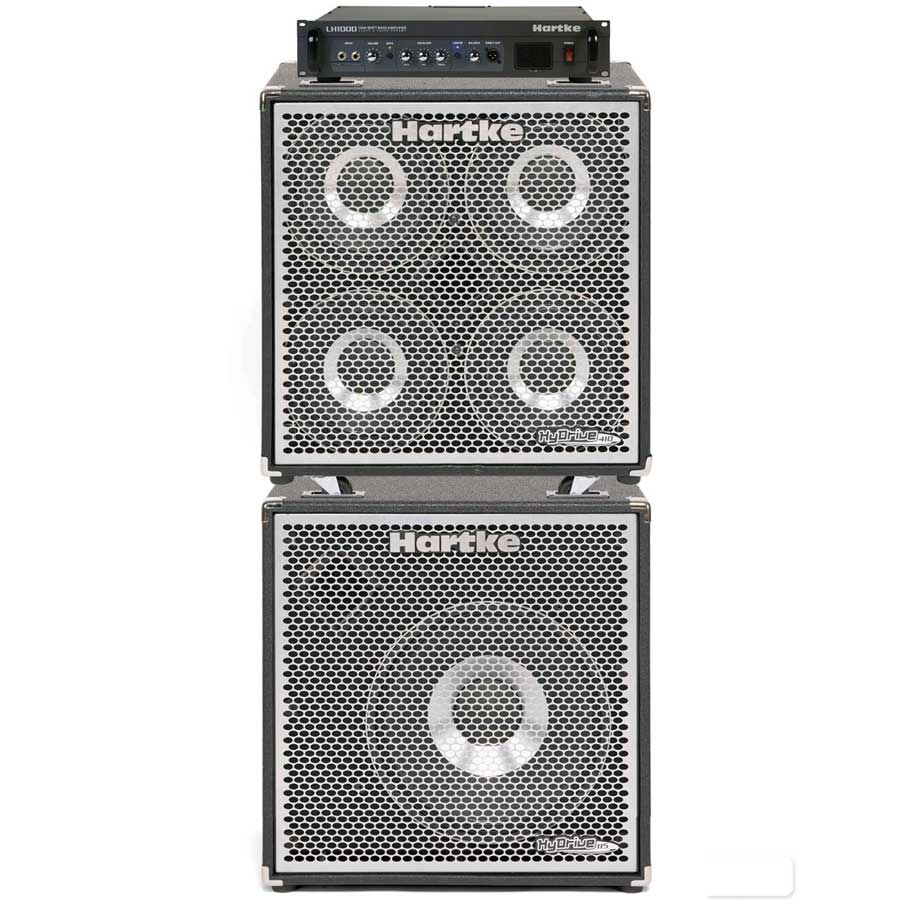 4x10 inch Bass Cab, 1x15 Bass Cab & 500 watt Bass Head
Product Code B44027
Retail Price
$2497
Sale Price!
$1,499.99
Buy Today and Save $997.01 (40% from Retail)

We're sorry, this product is no longer available.
---
HyDrive transducers represent a revolutionary improvement in bass speaker technology and a major leap forward, fusing paper and aluminum in a roadworthy speaker design that is more robust and efficient than anything available.

With Hartke's HyDrive series, you get the best of both worlds: the warm tone of traditional paper cones and the clear, punchy attack of aluminum. HyDrive's patented Hybrid Cone Technology produces a speaker that uses an outside paper cone to push a warm, deep low frequency and an inner aluminum cone that produces mids and highs that cut, yet still remain sweet.

One of the most important advances with the HyDrive speaker is its power-to-weight ratio. A HyDrive speaker weighs 40% less than traditional speakers and delivers 250 watts for the highest power-to-weight ratio of any bass speaker available. But the innovation runs even deeper. Because of its cast aluminum frame and neodymium magnets, HyDrive speakers operate cooler and deliver more reliable power handling at peak performance.

HX410
Professional performance and ample power were two critical considerations that heavily factored into the design of the HX410. The need for contemporary bassists to reach high volume levels with seamless performance is a common demand these days, but being able to do so with a durable, portable cabinet that only weighs 68 pounds is practically unheard of. This is where the HX410 bass cabinet comes in.

With power to spare, the HX410 features four 250 watt 10-inch HyDrive neodymium hybrid cone drivers for a total power handling of 1,000 watts. This HyDrive cabinet is beautifully appointed with a steel grill, steel corners, recessed handles and removable casters, making it both resilient and easy to transport. The HyDrive HX410 is a sealed, dual-chamber cabinet constructed from the highest quality plywood with extensive bracing and dado joints, making it rigid yet lightweight for superior projection and true sonic clarity.

The HyDrive HX410 was designed for demanding players who need critical performance at intense volume levels. Perfectly suited for all kinds of bass playing, Hartke engineers also specifically designed the HX410 with the midrange frequencies rock players rely on night after night on stages all over the world. With the power and versatility of the HyDrive speakers housed in a perfectly suited enclosure, it's clear that the HX410 performs on a level far beyond any ordinary bass cabinet.

HX115
A revolutionary speaker like HyDrive warrants a cabinet design that properly transfers it sound, which is why we took almost as much time developing an appropriate cabinet as we did engineering the speakers themselves. The ported cabinet featured on the HX115 was specifically engineered to extend low frequencies and provide better bass projection, so you can be sure that the power and tone of your HyDrive speaker are dispersed with great precision and articulation.

Everything about the HX115 says roadworthy durability: power to spare, steel grills, inset side handles, and each cabinet comes with four removable steel casters for easier transport. The HX115 is a ported cabinet made from the highest quality plywood with extensive bracing and dado joinery, making it rigid yet lightweight.

Delivering 500 watts of robust, bone-crushing power, it also boasts the lightest 15-inch bass speaker ever made. Put an HX115 cabinet on the bottom with an HX410 on top for the classic two-cabinet rig that thunders so much bass it will literally make your hair stand on end. With the HX115, you get reliable, powerful, portable performance night after night.

LH1000
The LH1000 has a classic 12AX7 Class-A tube front-end design with a solid-state output. Trick out the Treble and Bass Shelving to give its warm tone a little edge, or use the brite and limiter switches to further sculpt your sound. Its intuitive front panel design also makes adjustments on the fly a breeze. Although the LH1000 is a perfect complement to our HyDrive cabinets, it also works as a seamless accompaniment to any bass cab on the market.

Obviously a head with this kind of power is perfect for gigging musicians in any number of live applications, which is why Hartke made sure the LH1000 is as durable as it is versatile and powerful. With a two-rackspace, metal frame chassis, steel faceplate and handles, this amp is made for the road. The LH1000's raw, reliable power is also perfect for additional shaping through your effects console or stomp box.

With all the necessary features for complete tonal control, along with ample power and rugged design, the LH1000 will ensure your bass playing receives the positive attention it deserves.
0
0
HX410

Dual-chamber, sealed Cabinet

4 x 10-inch 250 watt HyDrive neodymium hybrid cone drivers

1-inch titanium compression driver

Power Handling: 1000 watts

Impedance: 8 ohms

Frequency Response: 30 Hz to 17 kHz

Sensitivity: 99 dB @ 1 W/1 m

Voice Coil: 2.5"

Parallel Speakon™ and 1/4" inputs

High frequency attenuation switch (On, -6 dB, Off)

Removable casters

Dimensions: 24"(H) x 24"(W) x 15"(D)

Weight: 70.4 lbs

HX115

Specially-tuned, ported cabinet design

1 x 15-inch 500 watt HyDrive neodymium hybrid cone driver

1-inch titanium compression driver

Power Handling: 500 watts

Impedance: 8 ohms

Frequency Response: 20 Hz to 17 kHz

Sensitivity: 98 dB @ 1 W/1 m

Voice Coil: 3"

Parallel Speakon™ and 1/4" inputs

High Frequency attenuation switch (On, -6 dB, Off)

Removable casters

Dimensions: 24"(H) x 24"(W) x 15"(D)

Weight: 61.6 lbs

LH1000

Dual Parallel Mode: 2 x 225 watts @ 8 ohms, 2 x 320 watts @ 4 ohms, 2 x 545 watts @ 2 ohms

Bridge Mode: 1 x 750 watts @ 8 ohms, 1 x 1100 watts @ 4 ohms

Classic 12AX7 High Voltage Class-A tube preamp circuit

Bass and Treble Shelving, plus mid-peak EQ controls

Selectable brite switch for added high frequency response

Selectable limiter switch with LED indicator

Balance control blends level of A and B outputs

Front panel XLR balanced direct output

Rear panel 1/4-inch effects loop

1/4-inch plus Speakon™ output connectors

Two-rackspace metal chassis with steel faceplate and handles
---
Hartke
Victor Wooten Signature Bass Rig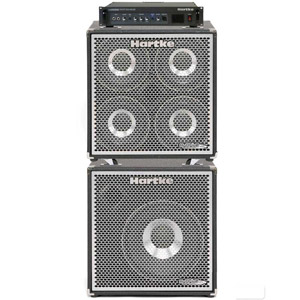 4x10 inch Bass Cab, 1x15 Bass Cab & 500 watt Bass Head
MPN #:
UPC #:
Regular price: $2497 $1499.9900 Available from: 8th Street Music Condition: New Out of Stock