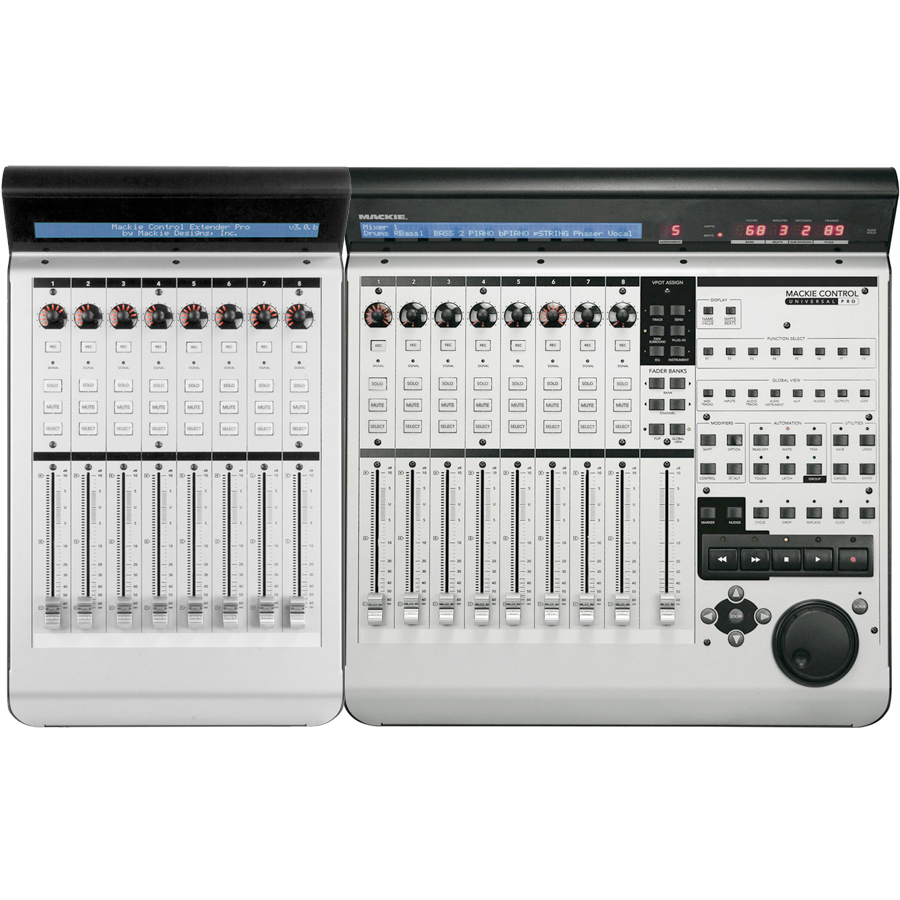 Universal DAW Control Surface with Eight-fader Control Surface Extension
Product Code B62363
Retail Price
$2349.99
Sale Price!
$1,849.99
Buy Today and Save $500.00 (21% from Retail)

This Item Ships FREE!
Click for Details
Click Here For Shipping Options
---
MCU Pro
The Mackie Control Universal Pro control surface completes your music production software to give you ultimate hands-on control of your mix. Nine motorized, touch-sensitive Alps faders, eight V-Pots and more than 50 master buttons let you tweak parameters to your heart's content. Unlike generic MIDI controllers, the MCU Pro employs a sophisticated communication protocol that delivers ultra-precise control, makes setup easy - no mapping required - and enables you to see your mix in action with real-time visual feedback via the huge backlit LCD and eight LED rings.

The Mackie Control Universal Pro's 100mm touch-sensitive Alps motorized faders give you accurate, smooth, real-console feel, bringing the hands-on vibe of analog to your state-of-the-art DAW productions. The same fader set is also featured on the seamlessly-integrated Mackie Control Extender Pro and expansion module, which also shares the same channel strip functions.

Mackie's proprietary communication protocol lets you get the most out of your software, giving you precise control over setups and control surface assignments - no mapping required! In addition to the unit's versatile faders and 50 dedicated buttons, accurate V-Pot rotary encoders allow you to manipulate software, plug-in effects, and virtual instruments. And the backlit LCD screen lets you easily monitor your mixes in real time.

An onboard USB MIDI interface is included for direct connection to Mac or PC, as well as up to 3 additional pieces of external MIDI gear (with even more control capability when integrated with the Control C4 Pro expansion module). Software-specific Lexan overlays are also included, allowing the Control Universal Pro to be easily adapted to your DAW.

MC Extender Pro
The Mackie Extender Pro is an 8-channel control surface extension for the Mackie Control Universal Pro. Thanks to their unique proprietary communication protocol, Mackie Control Pro Series controllers know just how to sweet-talk your music software, and your software knows just how to respond. You get deep, intuitive control of mix and plug-in parameters, real-time visual feedback, and setup is plug and play-no MIDI mapping head games!

The Mackie Universal Pro control surface, Extender Pro control surface extension, and C4 Pro plug-in and virtual instrument controller all seamlessly integrate, so you can put control of all your software parameters right at your fingertips. Simply put, Mackie Control Pro Series controllers give your music production software what it needs to feel complete.
1
1
MCU Pro

Expandable Touch-Sensitive Control Surface with 100mm Motorized Faders

Proprietary Mackie communication protocol for seamless music production software integration

100mm touch-sensitive optical Penny + Giles motorized faders

V-Pot control over software, plug-in effects and virtual instruments

More than 50 dedicated push-buttons for fine control of software parameters

Tape-style transport controls

Full meter display with track names and parameters

Quick cursor-style buttons for Up, Down, Left, Right and Zoom

Onboard USB MIDI interface for direct connection to Mac or PC and up to 3 additional pieces of external MIDI gear

Software-specific Lexan overlays included

Expandable via optional Mackie Control Extender Pro and C4 Pro modules

USB connection to the computer, instead of MIDI

Built-In 3x3 MIDI Interface

Newer, better feeling Jog wheel

Skinnier side cheeks (looks more like a 'console' when expanded)

New metal casing and new industrial design

Complete 'L' shaped overlays for all DAWS

MC Extender Pro

Proprietary Mackie communication protocol for seamless software integration by DAW makers

100mm touch-sensitive optical Penny + Giles motorized faders

Multi-function V-Pots for fast control of panning, effects levels and more

Channel mute, solo, pan, send level and record arm functions

Full meter display with track names and parameters
---
Mackie
MCU Pro with Extender Bundle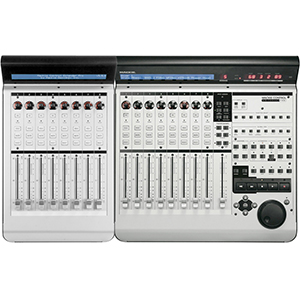 Universal DAW Control Surface with Eight-fader Control Surface Extension
MPN #:
UPC #:
Regular price: $2349.99 $1849.9900 Available from: 8th Street Music Condition: New Available to Order