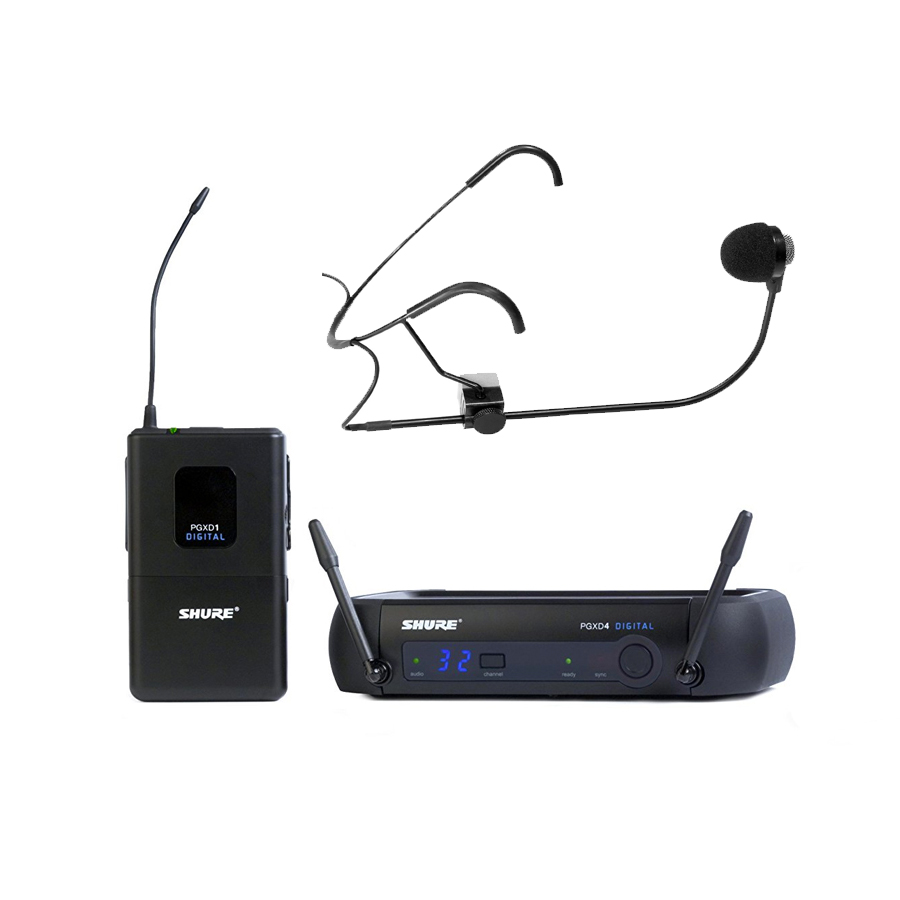 ---
Shure PGXD14 Digital Wireless System for Guitar/Bass
Offering tailored wireless solutions for vocalists, guitarists, and presenters, PGX Digital combines the trusted legacy of Shure microphones with state-of-the-art, 24-bit digital wireless technology that delivers strong, clean RF performance. The result is wireless audio that sounds like wired, rock-solid RF signal, and simple setup and operation.

PGXD4 Wireless Receiver
The Shure PGXD4 receiver offers innovative 24-bit, 48 kHz digital audio technology for wireless that sounds like wired. True digital diversity means two antennas and two independent receivers are constantly working to provide rock-solid RF signal, and one touch scan finds a clear frequency instantly, making set up a snap.

PGXD1 Bodypack Transmitter
Powerful yet compact, the PGXD1 transmits wireless audio from instrument or microphone sources with pure digital clarity and rock-solid reliability.

Crown CM311 TA4F / Shure Headworn Mic
The CM-311A is the latest version of the Crowns proprietary Differoid technology. Differoid stands for differential cardioid. Its cardioid pickup pattern rejects sounds from the rear, such as floor monitors. Its noise-canceling ability also rejects sounds at a distance, such as instruments on stage and crowd noise. This results in the CROWN CM-311 having outstanding gain-before-feedback and isolation. Controlled field tests showed that the Differoid provides up to 12 dB more gain before feedback than conventional cardioid microphones. Many users of the Differoid say that their house mix is better because the mic's isolation is nearly complete.

Designed for touring and live-sound applications, the Crown CM-311A is a rugged head-worn microphone with unequaled performance. It sounds like the best handheld microphones full, clear, and distortion-free, even with the loudest singers. Lightweight and comfortable, the mics headband and boom adjust to fit any singer. An included pop filter greatly reduces breath noise and pops. Because of the booms unique behind-the-ear design, it does not cover up the singers face.
1
1
MPN: PGXD14 CM311 BUNDLE
UPC: 0084749320292

24-bit / 48kHz digital technology for incredibly accurate sound

Shure microphones trusted by musicians for over 80 years

Scan and sync instantly and automatically sets up the system

Up to 10 hours of continuous use from 2 AA batteries

Up to 200 ft (~60m) range for total wireless freedom

True digital diversity for a rock-solid wireless signal

900 MHz operation free from TV signal interference

Adjustable gain matches variable input levels

Up to 5 systems can be used at once

Rugged construction for reliable performance show after show

Durable hard shell padded case gets your gear from gig to gig

PGXD4 Wireless Receiver

24-bit / 48kHz digital technology for incredibly accurate sound

Automatic frequency selection locates a clear channel instantly

One-touch sync automatically syncs the transmitter and receiver

True digital diversity for rock-solid wireless signal reliability

Up to 5 compatible channels per frequency band

1/4 inch and XLR audio outputs

Included padded carrying case for portability and protection

PGXD1 Body Transmitter

Rugged, compact bodypack with belt clip

20 Hz – 20 kHz frequency range captures every nuance of tone

Power, mute, and battery status LED

200 ft (60 m) operating range

Up to 10 hours of continuous use from 2 AA batteries

Recessed dial on side provides 26 dB of continuously adjustable gain

Lockable interface prevents accidental setting change

Crown CM311 TA4F / Shure Headworn Mic

Cardioid polar pattern

Defferoid noise cancelling technologie

Outstanding gain-before-feedback and isolation

Premium head-worn microphone

Handsfree use

Available with XLR, mini XLR, and TA4F connectors

Applications

Lead vocals

Backing vocals

Lectern

Intercom systems

Polar pattern: Cardioid

Frequency response: 50 to 17,000 Hz

Sensitivity: CM-311A: 4 mV/Pa (-48 dBV); CM-311L: 1.25 mV/Pa (-58 dBV)

Maximum SPL: 148 dB

Equivalent noise level: 26 dB-A

Signal/noise ratio: 68 dB (A-weighted)

Impedance: 75 ohms balanced

Powering: 18 to 48 V phantom power to DIN/IEC

Finish: Satin black

Dimensions: ear to ear 5.5" (13.97 cm); boom 7" (17.78 cm), boom to mouth 3" (7.62)

Net weight: 61g (2.1 oz.)

---
Shure
PGXD14 / Crown CM311 TA4F Pro Vocal Bundle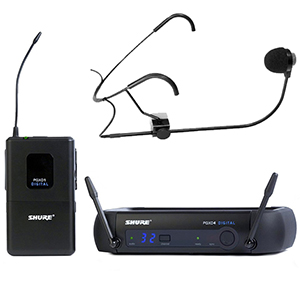 Digital Wireless Headset System
MPN #: PGXD14 CM311 BUNDLE
UPC #: 0084749320292
Regular price: $1199 $859.0000 Available from: 8th Street Music Condition: New Available to Order