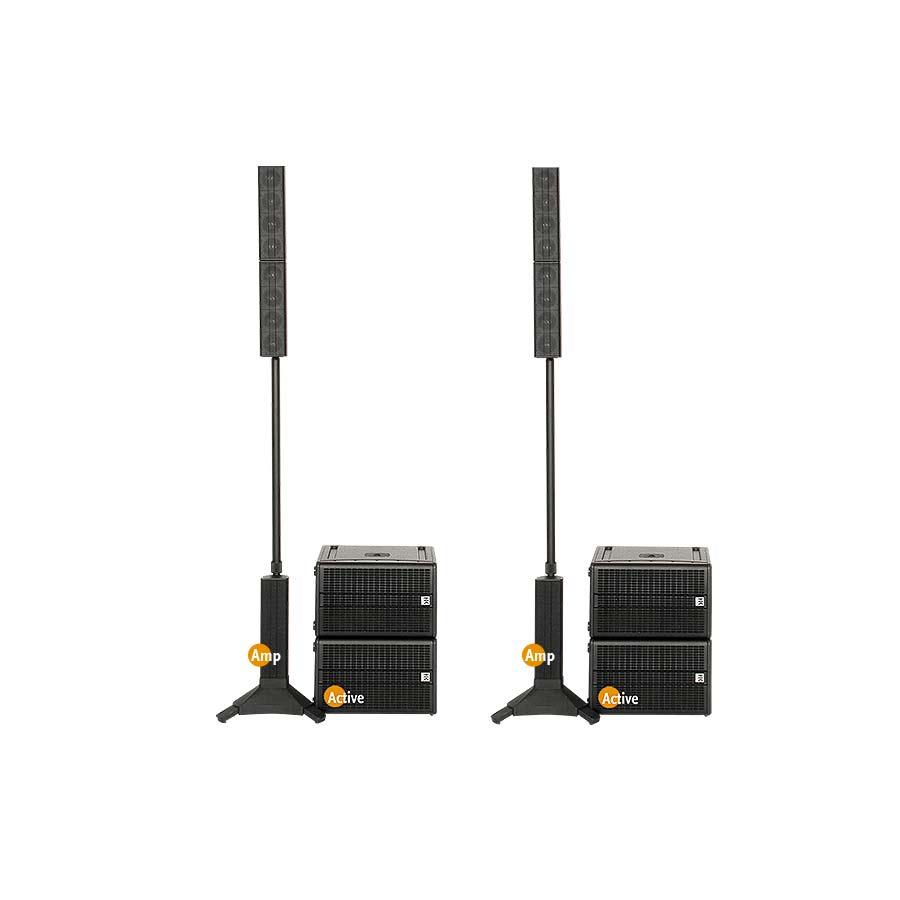 ---
The added subwoofers extend the dynamic range to beef up the low end. Although it is able to cover rooms holding up to 200 people, this system is remarkably compact.
And its discreet look keeps things inconspicuous.

E435
The HK Audio E435 Element Mid/High Unit PA Speaker is loaded with four 3.5 inch high-performance speakers developed specifically for Elements. These four vertically arrayed speakers achieve a very even pattern of throw, with the volume, frequency spectrum, and audio image remaining uniform throughout the audience area. One column may comprise up to four mid/ high units, which are quickly and reliably connected via E-Connect.

EA600
Housed in an enclosure that shares the same design as the mid/ high unit, the HK Audio EA600 Element Power Amplifier delivers 600 watts at 4 ohms. It can drive up to two passive E 110 Sub subwoofers or one passive subwoofer with up to two E 435 mid/ high units or one column with up to four mid/ high units. The power amp module is ventilated from the front. A rotary selector lets you choose a special EQ setting to match the number of connected E 435s and optimize the frequency response for a column of that height.

E110
The HK Audio passive E 110 Sub subwoofer is equipped with the same the high-performance 10" woofer as its active sibling. Plug a two-wire speaker cord equipped with Speakon connectors into the NL4 port on the rear panel to connect it straight to an active E 110 Sub A subwoofer or a separate EA 600 amp. The passive and active subwoofers' enclosures are identical, so they can easily be combined to form one cohesive acoustical unit. The integrated E-Connect coupler on the subwoofer's top panel also serves as a pole mount for further EP 1, EA 600, and E 435 modules.

E110A
The HK Audio E110SUBA Element Powered PA Subwoofer is designed to deliver high sound pressure levels. Small yet powerful, the high-performance 10 inch woofer fits into a very compact housing and supplies a solid, low-ranging bass foundation. Sited at the rear of the enclosure, the integrated amp module delivers 600 watts at 4 ohms. You'll also find all connectors and control features for connected modules on the rear panel.

EP1
The EP 1/ EP 2 E-Connect pole lets you place one or even several mid/ high units on the EF 45 base or EA 600 amp. The pole is freely adjustable up to a length of 1.60 meters (EP 2= 0,605 meters), so you can set the height as you see fit by engaging its twist-lock fastener. No speaker cords are necessary thanks to the integrated bus.

EF45
The HK Audio EF45 Element base mount is a handy addition to your HK Audio rig! This EF45 mount accommodates the HK Audio pole, power amp module, and mid/high unit. This EF45 element base is a durable system mount that provides two parallel NL4 ports. When you need a stable system base, count on the HK Audio EF45 element base mount.

The NL4 ports on both sides serve to patch the audio signal in and route it through to further speakers. If you place an amp on its feet, you can connect another passive subwoofer to its Speaker Out port. The NL4 ports on the side panels also let you use a speaker cord to connect mid/ high units mounted on further poles.
0
0
MPN: BANDTWO

Includes

4x E 435 Mid-/High Unit

2x EA 600 Amplification

2x E 110 Passive Bass

2x E 110 A Active Bass

2x EP 1 Mounting Pole

2x EF 45 Foot
---
HK Audio
Band Two System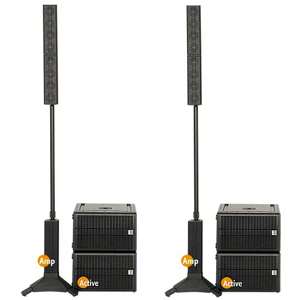 2400 Watt Complete Modular Active Compact Sound System
MPN #: BANDTWO
UPC #:
Regular price: $9646 $6946.0000 Available from: 8th Street Music Condition: New Available to Order