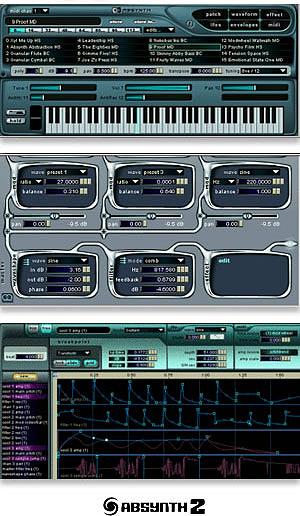 Semi-Modular Synth
Product Code 11704
Retail Price
$299
Sale Price!
$249.00
Buy Today and Save $50.00 (17% from Retail)

We're sorry, this product is no longer available.
---
With ABSYNTH 1.x Native Instruments realized an unbelievably high-performance synthesizer, which thanks to its outstanding sonic potential quickly became a standard amongst musicians, producers, and film music composers alike.

With Version 2 the unique synthesis concept behind ABSYNTH is radically expanded, multiplying the sonic possibilities and resulting in an even more unique and versatile synthesizer. Among the most exciting new features are the integrated sampling and granular sampling capabilities, powerful new envelope control, new filters, waveform libraries, improved plug-in integration, automatic tempo synchronization and much more. At the same time the unmistakable ABSYNTH sound has become even more clear, brilliant and shapeable thanks to new anti-aliasing oscillators.


New functions at-a-glance:

Compatibility to Mac OS X: Supports Core Audio and Core MIDI under Mac OS X. Audio Units, RTAS for Mac OS X and RTAS for Windows XP will follow shortly after the release as a free online update. Of course, ABSYNTH 2 also runs under Windows (Win XP recommended).

New oscillator modes: Sampler and granular sampler. Each of the three oscillator channels can load one sample that can then be played back with either classic or granular sampling control. The envelopes can be used in sample mode to retrigger samples at any position using the sample jump feature, and in granular mode every granular parameter (freezing effects, etc.) can be modulated.

Sync to song tempo: Effect times, LFO frequencies and envelopes can be synchronized to song tempo in ABSYNTH 2, making it possible to create rhythmic sounds and patterns that automatically stay in sync with your song. In ABSYNTH 1 the synchronization had to be set manually.

New envelope functions:
1. Controller-driven envelope mode: while time controls a normal envelope, in control-driven mode the envelope is controlled by a MIDI controller (typically the mod wheel).
2. Link mode: allows multiple envelopes to be linked together so that any changes to the master envelope also affect the others, making editing much easier.
3. LFO waveforms as envelope: add an LFO waveform to the envelope and set the LFO parameters individually between envelope points (see image, part above).
4. Sample jump envelopes: allows tempo-synced retriggering at different points in the sample.
5. MIDI-driven breakpoints: every envelope point can be driven by an individual MIDI controller, offering limitless flexibility and dynamic control possibilities!
6. Envelopes can now modulate many additional parameters.

New libraries: The new library functions make compiling complex sounds incredibly easy. Modules, waveforms, effects and even complete oscillator channels (with envelopes, etc.) can be loaded from a library or saved there for future use on other sounds.

New filters: improved analog-style 2-, 4- and 8-pole low pass and 2-, 4- and 8-pole all pass filters. (altogether 14 filter types in ABSYNTH 2).

Convenient VST operation: ABSYNTH no longer needs the ABSYNTH Engine running in the background to work as a plug-in, which among other things means that each plug-in instance can now load its own sound bank. Sounds run in sync with the master song tempo.

New oscillators: turn on the anti-aliasing oscillators for a softer, more analog sound with even more clarity and brilliance than before.

Stereo operation: each oscillator channel can operate in stereo and the panning can be modulated by envelopes and more.

128 new presets were designed for ABSYNTH 2.0, taking advantage of the newly integrated functions. They can be found in the new Factory Presets Bank. Altogether ABSYNTH 2.0 has over 800 presets.
0
1
ABSYNTH 2.0 includes an enormous spectrum of superb, ready-to-play sounds for all sorts of musical applications. Discover more than 800 sounds organized into the following categories: synths, basses, acoustic, atmospheres, drums, ethnic, ambient, FX, evolving atmospheres, loops and sequences, and percussion. The sound player above and to the right on this page offers a glimpse into the many excellent sounds provided by ABSYNTH.

Of course all sounds can be modified with just a few clicks and motions, and individually created sounds can be saved as well. With the integrated recorder any sound can be exported as a WAV or AIFF file.

The patch window shows ABSYNTH's sound generation and signal flow. Choose from the many synthesis methods, including subtractive, FM, ring modulation and sampling, with an enormous selection of waveforms. Develop your own sounds with one of the fourteen filter types (from lowpass and highpass to allpass, notch, band and comb); insert a waveshaper (non-linear distortion) and effects.

You can build sounds with up to six oscillators (or three samplers), four filters, three ring modulators, one waveshaper and master effects.

In place of the oscillators ABSYNTH 2 can also use samples to generate sounds, dramatically increasing sonic poetential and flexibility. Each of the three oscillator modules load an AIFF or WAV sample, which is then played back in either classic mode (linking pitch and time) or in granular mode.

ABSYNTH 2 does not imitate classic samplers with multisampling etc., but instead focuses on the creative transformation of samples into completely new sounds: nearly all sample parameters can be modulated by the sophisticated envelopes, and the results are unrivalled in their sonic vitality.

With ABSYNTH 2 you will rediscover the joy of sound synthesis, since even complex sounds can be programmed with ease. Users can copy envelope and oscillator settings from other presets for use in their own sounds or load one of the many waveforms, oscillator channels (with all envelopes) filter and effect settings from the library for effortless sound creation. The library can be conveniently accessed from the patch window, envelope window and waveform window.

Browse through the presets and copy any elements you like to build your own sounds! Sound synthesis has never been so exciting and inspiring.

Interfaces:

Mac:

VST® 2.0
AudioUnits™
ASIO™
Soundmanager™
CoreAudio™
CoreMIDI™
OMS™
RTAS™ (under Mac OS X)

WIN:

VST® 2.0
ASIO™
DXi™
MME
DirectSound


System Requirements:

Minimum: Mac OS 9.2.2 or higher, G3 400 MHz, 256 MB RAM/ Mac OS X 10.2 or higher, G4 400 MHz, 256 MB RAM
Recommended: Mac OS 9.2.2 or higher, G3 500 MHz, 256 MB RAM/ Mac OS X 10.2 or higher, G4 500 MHz, 512 MB RAM

Minimum: Windows 98SE, ME, 2000, XP, Pentium 500 MHz, 256 MB RAM. Recommended: Windows XP, 1000 MHz, 512 MB RAM
---
Native Instruments
Absynth 2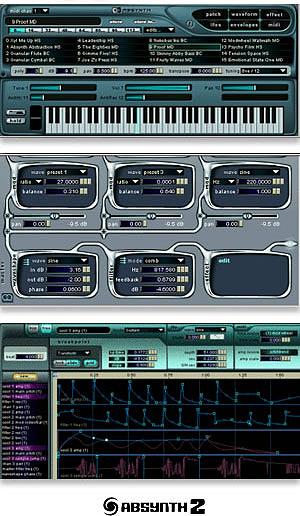 Semi-Modular Synth
MPN #:
UPC #:
Regular price: $299 $249.0000 Available from: 8th Street Music Condition: New Out of Stock