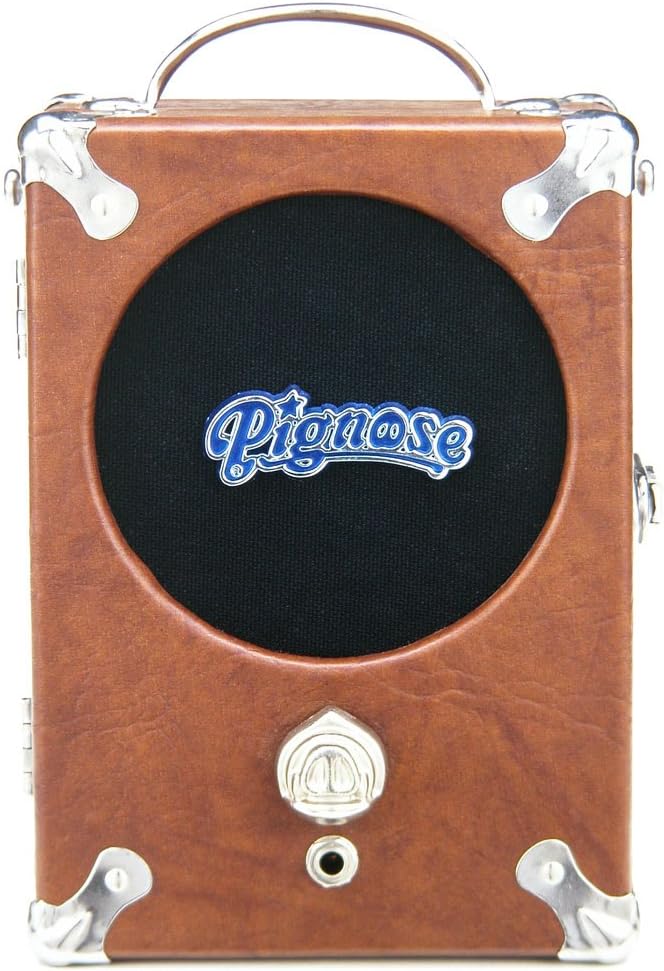 ---
The Pignose guitar amplifier is the answer to the worldwide demand for a high quality, economical and completely portable amplifier. It's powered by six pen light batteries or by an AC 9 volt converter (optional) which can be stored inside the amplifier case. Pignose gives the electric guitar the same mobility as the acoustic. Pignose weighs only five pounds. You can attach a standard guitar strap and sling it over your shoulder.

It's a Practice Amp
Practice time doesn't always coincide with access to a power source and a large equipment supply. And you don't always want to practice at high volume. With Pignose, anywhere you practice, (hotel room. garage, limo, kitchen, dressing room or a place in the park), becomes your rehearsal hall.

It's a First Amp
For the student guitarist, Pignose is the ideal first amplifier. It combines economy with quality. Pignose will never outlive its usefulness as a faithful and dependable travelling, practice and recording amplifier. In addition, Pignose has a preamp outjack which makes it possible to play the Pignose through a large and more powerful amplifier. Many professional musicians have been using Pignose as a preamp while performing.

It's a Performing Amp
The Pignose sound has proved so desirable that it now appeas in live performance. It's not a question of hooking 600 Pignose in series: it's done by playing into a singular Pignose and amplifying the result with the usual host of amplifiers.

It's a Studio Amp
If there's a situation where sound is critical, it's in the studio. That is where Pignose will really surprise you. Pignose works in the studio for the Real Pros. For example, on any album, a guitar can first be played into Pignose, then into the board.

It's Not Just a Guitar Amp
Any instrument you can amplify you can play through a Pignose, including your own voice.


7
6
MPN: 7100
UPC: 639586071007

Power output: 5 watts

Speaker: 5"

Batteries: Runs on 6 AA batteries

AC Operation: Yes, with optional AC adapter (not included)

Dimensions: 6-1/4" x 5" x 9-1/2"

---
Pignose
Legendary 7-100 Brown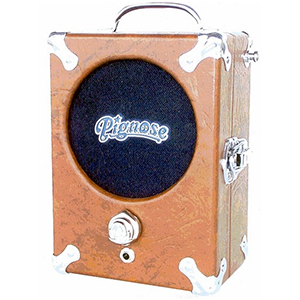 Original Pignose Portable Amp
MPN #: 7100
UPC #: 639586071007
Regular price: $169.95 $139.9500 Available from: 8th Street Music Condition: New Available to Order