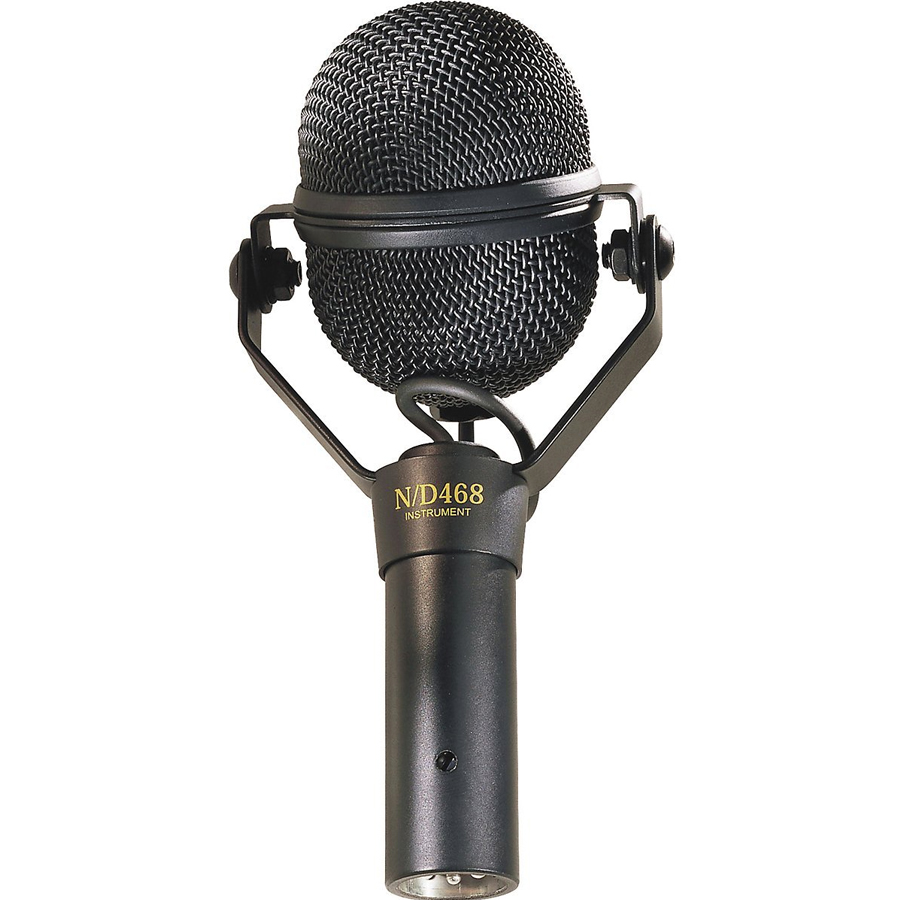 Supercardioid Instrument Microphone
Product Code 1635
Retail Price
$324.00
Sale Price!
$159.99
Buy Today and Save $164.01 (51% from Retail)

We're sorry, this product is no longer available.
---
The Electro-Voice N/D468, part of a new generation of N/DYM ® microphones, is specifically designed to accurately capture the sound of horns, acoustic and electric guitars, and the percussive energy of drums in both live performance and studio recording. The N/D468 is a member of a family of microphones manufactured to enhance sonic smoothness, improve gain-before-feedback, and provide more consistent performance with greater durability than earlier generations of N/DYM ® microphones. EV's microphone designers created a smooth, extended response with an open "top end" to reproduce instrumental sounds with natural acoustic accuracy. The N/D468's reduced size and exclusive pivoting yoke gives you maximum mechanical versatility on any in-strument. The N/D468 is the musician's choice for a microphone with unsurpassed mechanical flexibility and studio-quality acoustics.
0
0
MPN: ND468

Designed specifically for musical instruments
Accurate response, even in high sound pressure level (SPL) applications
Flexible mechanical design for optimum positioning
Supercardioid pattern for exceptional acoustic isolation and feedback rejection
Characteristic of all N/DYM® microphones is the outstanding neodymium-iron-boron magnetic structure. This structure provides greater sensitivity for exceptional signal-to-noise ratio and improved recording quality. Combining the N/DYM® magnetic structure with a large, reinforced diaphragm results in a transducer manifesting a warm, open and transparent sound quality normally found in studio-quality microphones. The N/D468 also includes a highly effective humbucking coil that reduces hum interference from lighting and other electrical power sources.

N/DYM ® microphones feature EV's AcoustiDYM™ shock-mount system. This unique vibration isolating system works as a multistage device. At low frequencies, a rear sound wave cancels the diaphragm motion while, at high frequencies, the specially designed rubber shock mount isolates the transducer from motion. Combined with the windscreen bumper, the shock mount forms an advanced technology, vibration isolating system that dramatically reduces all forms of handling noise for the most demanding situations.

To ensure superior gain-before-feedback in live performance and acoustic isolation in recording studio environments, the N/D468 is constructed with a supercardioid polar pattern. The supercardioid pattern yields greater rejection and acoustic isolation to off-axis sounds than the typical heart-shaped cardioid pattern. For enhanced clarity, the polar response is also unusually uniform with frequency. The impact of the supercardioid polar design is to reduce the likelihood of feedback in live performance conditions, particularly with typical monitor speaker placements.

The N/D468 pop filter's unique design utilizes a specially processed Acoustifoam TM filter to minimize wind noise and vocal P–pops. This design makes the pop filter an integral part of the microphone's removable front grille assembly, allowing easy cleaning for continued top performance.

OPERATION
The N/D468's low-frequency response varies with the distance of the sound source to the microphone. This is known as "proximity effect." Maximum bass response is produced in "close-up" use with the microphone 1/4 inch from the sound source. Minimal bass response is experienced at distances greater than 24 inches. By working closer to the microphone, the instrument will sound more robust. The pivoting yoke designed for the N/D468 allows this type of versatile microphone placement.

"Close miking" will also reduce the potential for feedback from a PA sound system.This benefit is in addition to the feedback-reducing supercardioid polar pattern. When close-talked, the substantial bass boost provides an increase in overall microphone output level. The mixer gain may be proportionately reduced, resulting in a reduction of the system's sensitivity to feedback caused by sound entering the microphone from the loudspeakers.

The dynamic element of the N/D468 will provide reliable operation in extreme temperature, humidity and other adverse conditions that would render typical condenser microphones useless. These N/D468 features will provide years of trouble-free operation.
---
Electro Voice
N/D 468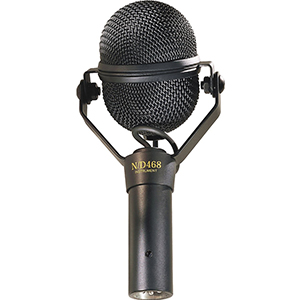 Supercardioid Instrument Microphone
MPN #: ND468
UPC #:
Regular price: $324.00 $159.9900 Available from: 8th Street Music Condition: New Out of Stock