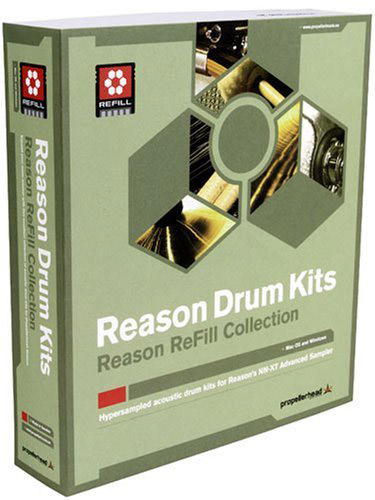 ---
The Reason Drum Kits ReFill. A massive supply of exquisite drum samples with unprecedented sonic realism and detail. Drums with such presence and rich vibrancy in the sound, such accuracy and control in the response, you'll swear there's a resident drummer inside your computer. Reason Drum Kits consists of nearly 10,000 individual samples, recorded by a team of experts in a world class studio facility with great acoustics.

Want lively, realistic sounding drums without using loops or hiring a session drummer? The Reason Drum Kits ReFill gives you gigabytes of masterfully multisampled, perfectly playable, multiple output drum kits for Reason's NN-XT sampler. Our objective was the creation of a drum tool with the emphasis on realism. We took utmost care in applying all the trusted and proven techniques for live drum recording, using the appropriate blend of vintage and ultra modern technology.

The Reason Drum Kits ReFill is an extensive DVD-ROM library of life-like, multisampled drum kits mapped out across your MIDI keyboard, but with an important twist: these sampled drums actually sound like actual drums. Reason Drum Kits features 17 unique NN-XT kits styled for Vintage Soul, Indie-style Pop and Hard Rock, plus 50 additional ReDrum kits and an insane amount of MIDI files, song files and style templates to give you guidance and inspiration.
1
1
MPN: 991010006

Mix your own drums
All the instruments in the kits were captured at multiple velocity levels using multiple microphones – all of which are represented on separate channels in Reason's mixer, whenever you load up a kit. So by adjusting the levels of the Close, Overhead and Ambience microphones, you can fully shape and control the sound of your drum kits. You can even add compression, EQ or effects to individual drums. Essentially, this is like putting a top-notch recording room, drum kit and drummer right into your computer. We've taken care of the tricky, boring and expensive work, leaving you in command of the creative parts: The playing and the mixing!

Build your own kits
Putting together your own personal drum kits using individual drums, hihats and cymbals from different kits is, naturally, a breeze. Lifting an Ambient Snare from one kit, and an Overhead Tom from another is not a problem; Reason lets you copy and paste instruments and all their related samples and velocity layers in one go, allowing you to create drum kits containing up to a thousand samples with just a few mouse clicks.


Forget multisampling – this is hypersampling
Forget multisampling – this is hypersampling The Reason Drum Kits were recorded in acoustical environments tailormade for drums, using the finest blend of vintage and modern technology. In order to capture all the details and nuances of the featured kits, each instrument was recorded at all possible velocity levels, from a variety of distances and positions.

So when you hammer out a two-handed snare fill on your MIDI keyboard, you can be sure the same sample is never triggered twice in a row; all mic positions and velocity levels included, the Reason Drum Kits use around 70 samples for one single key.Which adds up to about 800 different samples in one kit! Which makes 10.000 drum and cymbal samples and an infinte number of extremely versatile, extremely dynamic sounding drum kits that are a joy to play. Enjoy.
Contents

11,000 drum and cymbal samples
17 preset drum kits
6 Vintage Soul/Funk Kits
5 Indie-style Pop Kits
3 Hard Rock/Metal Kits
1 Soft Mallets Kit
1 Brushes Kit
1 Snares Off Kit
50 ReDrum kits
Tight, acoustic kits for Reason's steptime drum machine
120 categorized MIDI files
Readymade beats, variations and fills in various musical styles
20 style templates
NN-XT kits going through effect chains, shaping the kits for different styles of music
53 instrument patches
Build your own kits using 53 individual drum, hihat and cymbal patches
6 demo song files
Profesionally produced Demo songs, mixed in Reason by acclaimed mixing engineers
GM sample mapping
Use Reason Drum Kits with standard MIDI files
2 ReFills in one
The disc includes 24-bit and 16-bit versions of this ReFill
Also on the DVD
Reason Drum Kits manual, recording details (mics, instruments, techniques), key map and studio log.
Multi-dimensional instrument reproduction

The Reason Drum Kits ReFill was created using Propellerhead Software's Hypersampling method:

- Multiple velocity levels
For capturing each instrument's full dynamic range.
- Multiple microphones
For capturing and controlling distance, ambience and character.
- Multiple same velocity samples
The NN-XT automatically alternates between sets of similar sounding samples, for a more realistic performance.
- Multiple variation sampling
For capturing the human input and the different techniques, grips and playing styles that bring life to an instrument.
Minimum requirements:
Windows:
Intel Pentium III or better + 1 GHz or faster
512 MB RAM
DVD player
Mac OS:
Power Macintosh with a G4 processor or better + 550 MHz or faster
512 MB RAM, DVD player

Strongly recommended:
Windows:
Intel Pentium 4 / 2.4 GHz processor or faster
1024 MB RAM
fast hard drive
low-latency ASIO compatible soundcard
DVD drive
Mac OS:
Power Macintosh G5 or Dual G4 / 1.4 Ghz or faster
1024 MB RAM
fast hard drive
DVD drive
---
Propellerhead
Drum Kits ReFill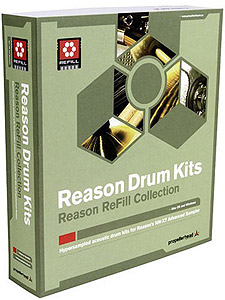 Drum Kits ReFill Sample Library For Reason
MPN #: 991010006
UPC #:
Regular price: $149 $119.0000 Available from: 8th Street Music Condition: New Available to Order