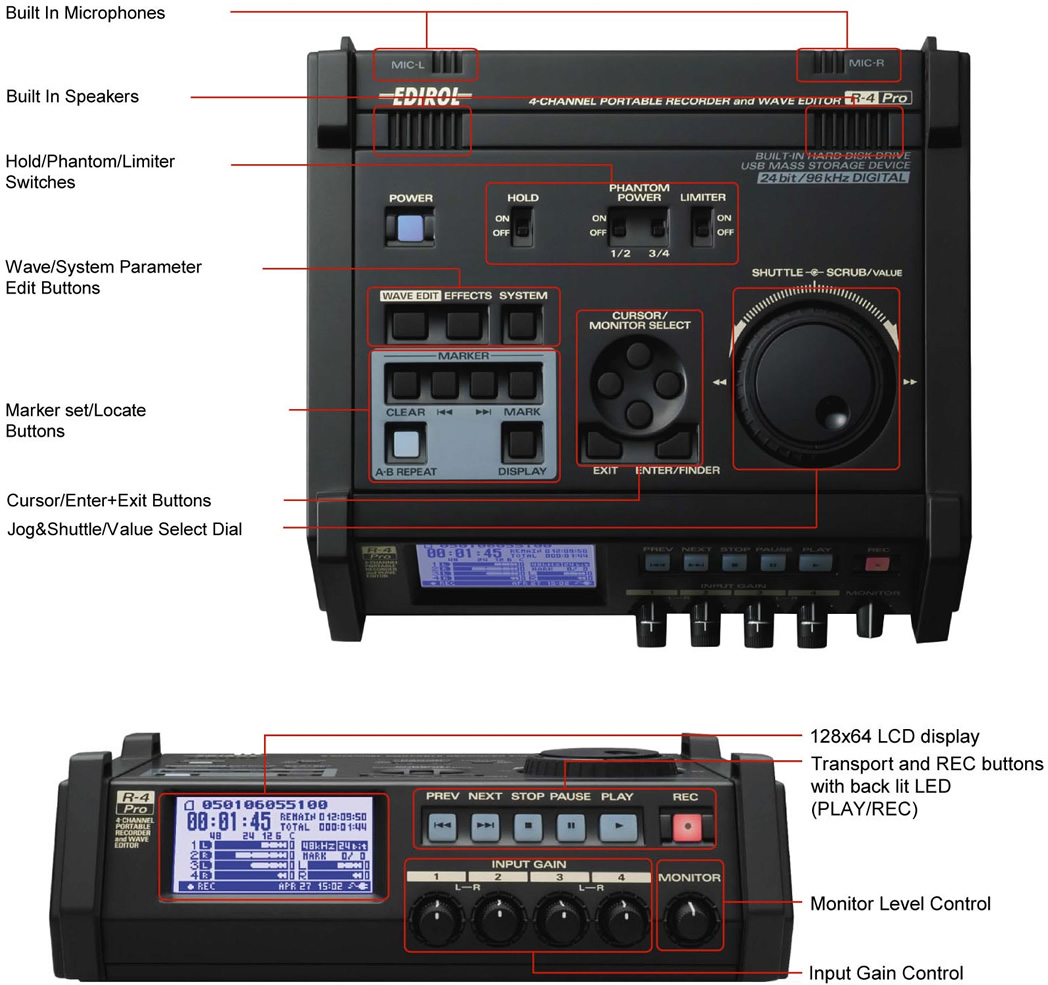 4-Channel Recorder with SMPTE Time Code, Wave Editor, and 80GB Internal Drive
Product Code 31909
Retail Price
$2695
Sale Price!
$2,295.00
Buy Today and Save $400.00 (15% from Retail)

This Item Ships FREE!
Click for Details
Click Here For Shipping Options
---
The R-4 Pro shares the R-4's rugged construction, robust feature set and great sound quality, but the R-4 Pro also includes AES/EBU support, SMPTE time code and superb electronics. Record up to four channels at 24-bit 96KHz and monitor each channel discretely. The durable DC input jack allows for industry-standard battery packs to extend your record time. Its 80GB hard drive will store up to 125 hours of high quality audio. You can plug in any standard USB drive and enjoy fast back-ups of your projects. Like the R-4, the R-4 Pro has on-board effects and WAV editing features. Geared for pro videographers and recordists, the R-4 Pro delivers professional sound and features in a package that everyone can afford.

Why are 4-channels of audio better than 2-channels?
• Capture more ambient sound at any shoot for an overall more convincing soundscape.
• Place mics on each participant in conferences, panels, reporters, etc.
• Redundancy or backup in case of camera mic noise or drop out.
• Simplify wedding shoots with a mic on the bride, groom, officiator and a mic for ambient sound.
• Video editing environments now support multi-channel audio as standard.

Master or Slave Sync with SMPTE Time Code
The R-4 Pro accepts SMPTE time code which enables it to slave to video cameras or VTRs. Four channels of high quality audio can be fully synchronized with video. In addition, the R-4 Pro can also act as the master, sending out time code to slave devices.

AES/EBU Input/Output
The R-4 Pro is equipped with XLR style AES/EBU digital Input and Output.

Instant Backup via USB 2.0
The USB host terminal of R-4 Pro enables high speed and instant backup of recorded data to affordable and easy obtainable media like Flash Memory, Memory Cards via card reader or HDD storage. Easy and high speed duplication of recorded data improves production workflow across multiple locations.

DC Input for External Battery Power Supply
The R-4 Pro is equipped with a 4-pin XLR type battery power input. This enables power supplies from industry standard battery manufacturers for video cameras such as Anton-Bauer, etc. Additional flexibility in power options include AA type battery power or AC power (via adapter).

Individual Monitoring of 4 channels
Individual monitoring of all channels is enabled via the four analog outputs. This allows precise monitoring of all recorded audio.

Extended Recording with 80GB Hard Disk Drive
Equipped with a 80GB hard disk drive, the R-4 Pro can record a stereo audio file for approximately116 hours at 16bit/44.1kHz/ 106 hours at 16bit/48kHz, 70 hours at 24bit/48kHz, 34 hours at 16bit/96kHz, and 30 hours at 24bit/96kHz.

Superior 24-bit/96-kHz Linear Recording
Totally uncompressed recording assures outstanding sound quality. Choose 16-bit or 24-bit quantization and a sampling rate of 44.1 kHz, 48 kHz, or 96 kHz. Save data as WAV files.

Simultaneous 4-Channel Recording
The 4 XLR/Phone combo jacks come with switchable phantom power and give you a choice of MONO, STEREO, STEREO X2, or 4CH recording. Digital input/output is also provided.
Four-channel recording gives you exceptional flexibility. For example, you can use mics to capture the ambience of a performance hall while using line input to record the performance itself. Or you can record at several different level settings simultaneously.

On-Board Limiter
Built into the analog stage, the Limiter helps deliver a stable and reliable recording free of clipped noise from sudden input surges.

Built-In Nondirectional Stereo Microphones
The R-4 Pro's omnidirectional, back electret condenser microphones offer superb transient characteristics and vibration resistance.

Pre-Recording Function
When the REC button is pressed, the current material is appended to a buffer that contains recorded material from a few seconds earlier. This helps prevent missed recording opportunities or sound bites at the beginning of a recording.

Five High-Quality Effects
The R-4 Pro lets you tailor the sound during both recording and playback.

Waveform Editing Using Only the R-4 Pro
The R-4 Pro is all you need to edit waveforms. Just watch the waveform on the LCD as you edit. Scrubbing playback with the shuttle dial lets you set the edit points precisely by sound.

Index Any Point Instantly
Press the mark button anytime during recording or playback to mark that point for easy, instant indexing later. With the A-B repeat function you can set two points and repeatedly play back the material between them.

Easy Playback with the Jog Dial
Use the jog dial to fast-forward or rewind at any of seven speed levels.

Built-In Stereo Speakers
The R-4 Pro's built-in speakers make it easy to monitor recorded sound without headphones.

USB 2.0 Terminal Provides a High-Speed Computer Data Link
The USB 2.0 high-speed mode transfers data about 20 times faster than DAT. You can also use the R-4 Pro as a 80GB storage device. Edit R-4 Pro files directly from DAWs and other applications.

Advanced Linking with the EDIROL DV-7DL
A USB cable is all you need to connect directly to an EDIROL DV-7DL Video Editor and exchange files.

Soft Carrying Case
The R-4 Pro comes with a soft carrying case with a shoulder strap for safe, comfortable use in the field.

0
0
Channels 4
Signal Processing AD/DA Conversion: 24 bits
Sampling Frequency: 44.1/48/96 kHz
Data Type Format: WAV
Sampling Frequency: 44.1/48/96 kHz
Bit Depth: 16/24 bits
Media Internal Hard Disk Drive (80 GB)
Recording time 16 bit/44.1 kHz (Stereo): 116 hours
16 bit/48 kHz (Stereo): 106 hours
24 bit/48 kHz (Stereo): 70 hours
16 bit/96 kHz (Stereo): 34 hours
24 bit/96 kHz (Stereo): 30 hours

* These recording times are approximate. Your actual results may vary.
* If more than one recorded file exists, the total recordable time will be less than these.

Analog Inputs XLR type x 4 + Built in stereo microphones
Analog Outputs LINE Out: 1/4 inch phone type (L, R), RCA phono type (L, R)
Headphones: Stereo 1/4 inch phone type
Digital Input/Output AES/EBU XLR type x 1
Time Code In/Out BNC type x 2 (SMPTE LTC)
Phantom Power 48+/-2 V / 8 mA (Available 4 Channels simultaneously)

USB Interface USB Ports A type x 1 + B type x 1
(Supports USB 1.1 / 2.0 mass storage device class)

Effect Type 3-Bands Shelving EQ, 6-Bands Graphic EQ, Noise Gate, Enhancer, Compressor and De-esser
Available to either recording or playing.
Not available to recording in 96 kHz sampling frequency.

Controls:
Power Switch
Hold Switch
Input Gain Knobs: CH1--CH4
Monitor Level knob
Input Level Switches: CH1/2, CH3/4 (LINE/MIC Level)
Phantom Power Switches: CH1/2, CH3/4
Limiter Switch
Scrub (Value)/Shuttle Dial
Transport Buttons: PREV (REW), NEXT (FWD), STOP, PLAY/PAUSE, REC
Marker Buttons: CLEAR, PREV, NEXT, MARK
Function Buttons: WAVE EDIT, EFFECTS, SYSTEM
A-B Repeat Button
Display Button

Others:
Display 128 x 64 dots Graphic LCD (backlit LCD)
Power Supply AC Adaptor (PSB-1U) or
Alkaline dry battery LR6 (AA) type x 8, or Nickel Hydrogen battery (HR15/51) x 8
Power Consumption 1.2 A
Accessories USB cable
AC Adaptor with XLR 4 pins conversion cable
AC Cord
Owner's manual
Carrying Case (soft type)

Size and Weight:
Width 254 mm
Depth 221.8 mm
Height 72.2 mm
Weight 1.7 kg

---
Edirol
R4 PRO

4-Channel Recorder with SMPTE Time Code, Wave Editor, and 80GB Internal Drive
MPN #:
UPC #:
Regular price: $2695 $2295.0000 Available from: 8th Street Music Condition: New Available to Order