---
A Musicality that Rivals High-End Outboard Gear for a Sound that Sits Perfectly in Any Mix
- IK Multimedia CSR offers high-quality, musical reverb processing with the flexibility previously available only in extremely expensive signature hardware reverb units. It carries the quality and character that top engineers have utilized for years. IK Multimedia CSR is designed to get the maximum musicality, recreate the character that has made your favorite hit records, and that classic sound that sits perfectly in any mix.

Easy to Use with Advanced Editing Features, IK Multimedia CSR is Suitable for Any User from Beginner to Pro
- CSR has been designed for ease of use with advanced editing features. With the look and feel of a typical effects rack on the interface, all the necessary controls are laid out for an immediate great sound. All knobs and macro controls can be automated through your host's sequencer. From the beginner to professional engineer, you won't have a problem getting your desired result from CSR.

Ease of Use for the Beginning Musician
- IK Multimedia CSR offers two modes: Easy and Advanced, coupled with more than 100 parameters. Easy Mode puts the most commonly changed controls on the front panel of the plug-in, making IK Multimedia CSR an easy to use and quick solution when a high-quality reverb is needed. You shape the sound using only six parameters: Mix, Diffusion, Reverb Time, Low Frequency Gain, High Frequency Cutoff, and High Frequency Dampening; giving you full control over the main character of the reverb.

Depth and Complexity for the Professional Engineer
- In Advanced Mode, you will find an array of highly developed modeling and shaping controls that are hard to find in any reverb. All parameters, the Modulation Matrix, and Macro Controls, can be adjusted and changed to create the reverb effect that you need, tailored to the very finest detail. The Modulation Matrix is an 8x8 structure; meaning that 8 modulation sources can manipulate 8 destinations. For example, to apply an envelope to your reverb time, you can fine-tune the tail for a specific reverb sound. Or, use an LFO to modulate the reverb image, creating movement in the acoustic space.

A New Level of Texture and Innovative Programming Potential
- Macro controls can be created allowing complex sweeping changes in Classik Studio Reverb's effects, virtually transferring environments at your command. You can associate up to 8 different IK Multimedia CSR controls to a simple Macro slider, therefore making morphing between different reverb settings easier than ever. In both Easy and Advanced Modes, it is always simple to find that perfect sound. A convenient A/B comparison allows you to quickly apply modifications and compare between two reverb settings in a snap.

A Flexibility that Cannot be Found in Today's Popular Impulse Reverbs, with Less Strain on Your CPU
- While impulse reverbs have gained a lot of popularity because of their particular emulation of environment reverberation, they are inherently CPU-intensive. They typically lack the particular musical sound and editing possibilities that famous studio digital reverbs have always offered. IK Multimedia CSR is not only less demanding in your processor, but much more flexible than impulse-based technologies. Now you have the ability to manipulate and shape reverbs from a number of angles, giving you performance that mirrors high-end studio quality.

Compatibility and Flexibility for Any Studio
- IK Multimedia CSR offers a reverb solution for virtually any computer-based musician. VST, RTAS, and Audio Unit formats are included for Mac and PC, allowing IK Multimedia CSR to work as a plug-in with popular virtual studio environments such as: Cubase, Logic, Pro Tools, Digital Performer, Sonar, Ableton Live, and more.
2
2
MPN: CS-PLUG-HCD-IN
UPC: 8025813181038

- Suite of 4 separate reverb units: Plate, Room, Hall, and Inverse
- State of the art DSP based reverb algorithms
- 2 operational modes: Easy and Advanced
- 6 easy to use controls in Easy Mode
- More than 100 Parameters in Advanced Mode
- Highly customizable 8x8 Modulation Matrix per unit
- 4 assignable Macros per unit
- Full automation through host sequencer


IK Multimedia CSR System Requirements:

Macintosh
- Minimal: 866MHz Power Macintosh G4, with 512MB of RAM, Mac OS X 10.3 or later, 1024x768 screen.

- Classik Studio Reverb supports the AU, VST, RTAS Plug-in formats on Mac OSX based systems.

Windows
- Minimal: Pentium III 1GHz/AthlonXP 1.33Ghz with 512MB of RAM, Windows XP, 1024x768 screen.
- ASIO compatible sound card recommended for Low Latency real time play.

- Classik Studio Reverb supports the VST and RTAS Plug-in for­mats on Windows 2000/XP based systems.
---
Ik Multimedia
CSR Classik Studio Reverb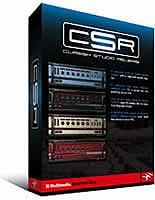 Classic Studio Reverb Plug-in
MPN #: CS-PLUG-HCD-IN
UPC #: 8025813181038
Regular price: $229.99 $129.9900 Available from: 8th Street Music Condition: New Available to Order