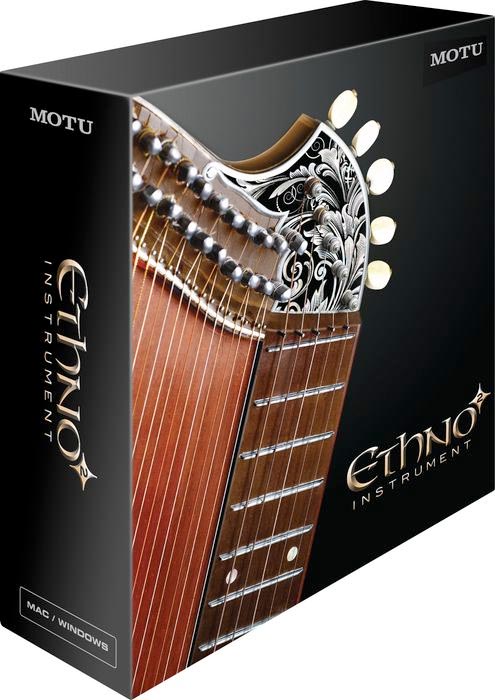 ---
Ethno Instrument Version 2 delivers expressive ethnic instrument sounds combined with authentic world music loops and phrases in one window. This massive 21GB library delivers all the exotic textures you need to take your recordings to the four corners of the globe.

Start with a huge library of multi-sample instruments from all over the world, recorded with pristine audio fidelity. Browse and search by category or geographic region. Now add hundreds of authentic loops and phrases, instantly tempo-locked to your host software time line. Slice loops with one click to trigger each beat from your keyboard, or drag & drop them directly into your host software tracks. Play authentic non-western tunings and scales using your favorite MIDI controller. Adjust sounds quickly with Ethno's intuitive controls.

Place your music in real acoustic spaces, from primordial caves to towering forests to remote canyons, all faithfully reproduced with stunning realism by Ethno's built-in convolution reverb processor.

Create entire songs with unlimited parts and mix them in Ethno or your host software via multiple outputs. Run Ethno stand-alone to turn your computer into a world instrument powerhouse with disk streaming and multiple outputs. Or load it as a plug-in that saves all settings with your host software sessions for instant recall.

Instruments
The Ethno Instrument provides 21 GB of world/ethnic instruments, loops and phrases. Ethno's instrument presets give you access to individual notes as usual, played from your MIDI controller. Ethno Instrument provides over 875 instrument presets made up of over 26,000 samples.

New for Version 2: over 875 instrument presets
New sounds abound in Version 2 from Asia, Africa, Europe, the Balkans, the British Isles, Latin America, Australia, and many other locations around the globe.

Featured sounds include taiko drums, large African drums, thirty new instruments from India, hundreds of urban India loops (in the style of Slumdog Millionaire), Balkanish voices, Arabic voices, Persian voices, an extensive new collection of gongs and bells, extended cymbalum, and much more.

Browsing by geographic region or by category
Ethno's preset browser organizes instrument sounds by geographic region and by category to make it quick and easy for you to find the instrument you are looking for.

Instrument presets
If necessary, presets are organized into sub-menus with scroll bars to help you locate sounds quickly. Depending on the instrument, the number of presets that Ethno provides can be staggering.

Searching for presets
Use the Search Instruments feature to quickly find presets. Type in any text string and all presets with that name instantly appear in the list.

Loading multiple presets quickly
You can keep the browser open while auditioning and loading presets into parts. This lets you build entire ensembles of any size quickly, thanks to Ethno 2's unlimited parts.

Keyswitch presets for expressive performance
Many of Ethno's instrument sounds are provided in several preset forms, due to the many stylistic variations that musicians evoke from their instrument. For example, all three African flute presets show below have hit, short, and sus (sustain) variations.

At the bottom of the list, are the three keyswitch (KS) presets, which combine all three variations into one preset, so that you can change between the hit, short and sus variations on the fly while playing. The keyswitch keys are conveniently shown, so you know exactly what keys to press to change them.

Many Ethno instrument presets, both from Version 1 and Version 2, are programmed with KS presets.

Other Feature Highlights
Convolution reverb
Convolution is a process where the characteristics of a real acoustic space are directly sampled, such as a cave, forest, canyon, theater, cathedral or concert hall. The resulting impulse response (IR) consists of an audio file that holds the actual sound decay characteristics of the acoustic space. By sophisticated signal processing, that impulse response can then be applied to the loops, phrases and instrument presets in Ethno Instrument, making them sound exactly as if it were being heard in the acoustic environment captured by the impulse response.

Convolution reverb is the most realistic type of reverb ever developed because it faithfully reproduces the actual characteristics of real acoustic spaces.

The Ethno Instrument provides a wide variety of convolution reverb spaces, plus 'fast' reverbs that work well on slower computers.

Dynamic performance with Expert Mode
Expert mode lets you dynamically add, remove and stack (layer) multiple instruments, loops and phrases as you play them from your MIDI controller. Bring instruments in and out, on the fly, using key switches, velocity ranges or note ranges. You can even crossfade between instruments by sending continuous MIDI data (expression controllers) from a mod wheel or other device. Ethno Instrument truly is a powerful real-time performance tool that delivers an entire world of sounds to your fingertips.

Realistic expression with MIDI controllers
Achieve incredibly realistic, dynamic performances from Ethno Instrument using MIDI continuous controller data from your mod wheel, foot pedal, automated fader control surface or other MIDI control source. Most of Ethno Instrument's parameters can be mapped to external control, giving you hands-on, real-time expressive control over your sounds. You can even assign MIDI modulation to crucial individual parameters such as filter cutoff frequency for even deeper expressiveness.

Scroll Wheel Support
For additional convenience and fast operation, Ethno Instrument supports the scroll wheel on your mouse. Use it to quickly adjust settings or choose an instrument.
0
0
MPN: 8710
UPC: 839128005754

Instant access to 21 GB of world instrument sounds, loops and phrases together in one window.

Browse sounds by category or by region of the world.

Search for presets directly in the browser by typing any name or keyword text.

Create layered stacks in seconds.

Tempo-sync features let you browse & play loops in tempo with your music.

Sliced loops let you rearrange beats or play them via your MIDI controller.

Drag & drop audio phrases and loops directly into your host software, tempo-locked to your project time line.

Unique "Slice" button instantly divides loop into slices that you can play individually from your MIDI keyboard, drum pad or other MIDI controller.

Drag & drop sliced loops as MIDI data into MIDI tracks in your host software for unlimited reprogramming using the MIDI sequencing features of your host software.

Very high-quality loop and phrase time-stretching, even at extremely slow or fast tempos, with technology licensed from the IRCAM Institute for audio research in Paris.

Convolution reverb provides authentic acoustic spaces, from natural settings like caves and forests to spacious concert halls and soaring cathedrals.

Apply microtonal tuning and scales from around the globe to any Ethno instrument sound.

Download and import free Scala-format microtuning files from the internet, or create your own microtuning scales.

Advanced programming for live performance, including key switching, velocity crossfades and zone splits.

Many keyswitch presets for expressive performance of many instruments.

Supports unlimited parts and up to 64 MIDI channels (stand-alone or with supporting hosts).

Unlimited polyphony and ultra-low software latency.

Submix to 17 stereo output pairs.

Disk streaming (per part) conserves RAM resources and quickens load times.

Supports all major Mac/PC plug-in formats. Stand-alone version included.

Superb sound quality with the 32-bit UVI Engine XT – acclaimed worldwide for its lush and powerful sound.

Fast operation – instant access to all parameters in one window.

Multitimbral – create stacks and layers in seconds.

Expert mode – add, remove and layer instruments on the fly, as you play.

Individual controls for each instrument, loop and phrase, including ADSR envelope, LFO (for vibrato, tremolo, etc.), tone controls, tuning and velocity response.

Multis - create, save, load and share entire ensembles of any size and scope.

Version 1 compatibility ensures that if you upgrade to Version 2, all of your Version 1 compositions remain in tact.
---
MOTU
Ethno Instrument 2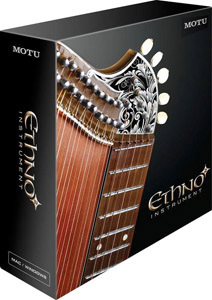 World & Ethnic Virtual Instruments
MPN #: 8710
UPC #: 839128005754
Regular price: $395 $369.0000 Available from: 8th Street Music Condition: New Available to Order