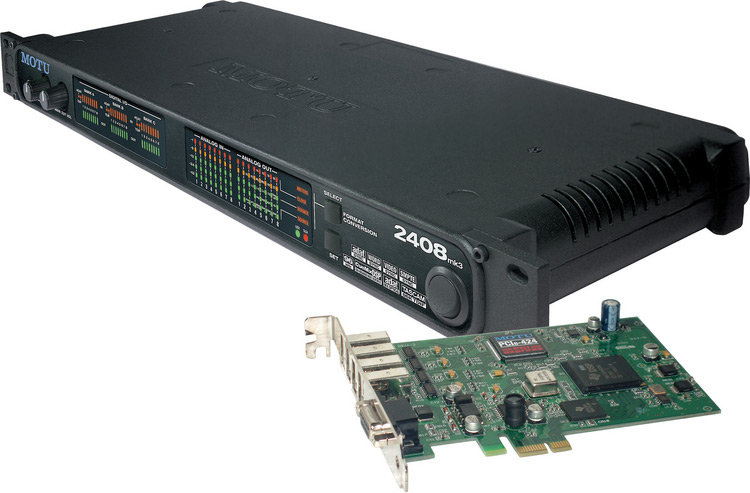 PCIe 24-bit/96kHz Core System with Analog, S/PDIF, ADAT, & TDIF I/O
Product Code 41924
Retail Price
$1099
Sale Price!
$959.00
Buy Today and Save $140.00 (13% from Retail)

This Item Ships FREE!
Click for Details
Click Here For Shipping Options
---
The MOTU 2408mk3 PCIe audio interface provides DAW users with what is easily one of the best-sounding all-round recording, mixing, and monitoring solutions available. The MOTU 2408mk3 not only offers highly affordable expandability, but also lets you easily integrate your legacy hardware with latest additions as well. From the eight channels of super-quiet 96kHz analog inputs, to the 24 channels of digital I/O including ADAT, TDIF, S/PDIF, and word clock, the MOTU 2408mk3 is a true studio workhorse. Let the heart of your digital audio workstation beat with MOTU's 2408mk3.

The 1U rack-mountable 2408mk3 provides seven banks of I/O: one bank of 24-bit, 96kHz analog on balanced TRS connectors, three banks of 96kHz ADAT optical, three banks of 96kHz Tascam TDIF, plus stereo S/PDIF. You can choose any three banks (up to 24 channels) to be active at one time. This means you can hook up three ADATs, three DA-88s, and eight analog devices all at the same time and access any three banks - in any combination of formats. And you can freely switch formats at any time. In addition to the eight dedicated analog outputs, the 2408mk3 also features a stereo output with front panel volume control so you can plug powered monitors directly into the 2408mk3.

With 24 channels of digital I/O, the 2408mk3 is ideal for connecting your computer to a digital mixer. Both ADAT lightpipe and TASCAM TDIF digital connections are supported at any sample rate up to 96kHz. Plus, the 2408mk3 offers built-in video and SMPTE synchronization. Slave your entire workstation directly to video or SMPTE time code with sub-frame accuracy - without a dedicated synchronizer. It's just another example of this unit's versatility.

The PCIe-424 card features CueMix DSP, a powerful processor dedicated to creating a custom tailored monitor mix of up to 96 channels of 96kHz audio. Because the mixing takes place on the card itself, instead of making the round trip from the PCIe bus to the host processor, the 2408mk3 system provides the same near-zero latency performance as today's latest digital mixers. CueMix DSP completely eliminates the buffer latency associated with monitoring on host-based systems. Because the DSP is mixing for you, your computer's CPU is free for other tasks. Cuemix DSP is the most flexible CueMix ever, allowing you to mix multiple channels into multiple mix busses or directly assigned outputs. Manage your monitor mix with the enhanced CueMix Console software included with the 2408mk3. CueMix console greatly now provides independent level and pan controls for each input on every mix. Also, Cue Mix DSP does not limit you to four stereo mixes. You can configure a unique mix for every physical stereo output you have available. This means you can have up to 48 separate stereo mixes on a 96 output system.

The MOTU 2408mk3's PCIe card allows you to take advantage of the next-generation functionality of PCIe architecture; the bus technology that will dominate the personal computer for the coming decade. Unlike older parallel technologies, PCI Express guarantees each device dedicated bandwidth to and from the system controller. PCI Express cards and slots are defined by their bandwidth, or number of data lanes - typically one lane, four lanes, eight lanes, or 16 lanes. At 250 MBps per lane, a four-lane slot can transfer data at up to 1 GBps and an eight-lane slot, up to 2 GBps - almost twice as fast as a 133MHz PCI-X slot at a maximum throughput of just over 1 GBps. The new PCIe-424 card can be installed in any PCI Express slot (regardless of its number of lanes). PCI Express delivers more than enough bus bandwidth for the 424 card, while ensuring that other PCI devices won't "steal" bus cycles from the 424 card. PCIe means more bandwidth, less noise, and a vastly improved scheme for high-speed data transfers - just what you need for high-quality audio.

The 2408mk3 provides cross-platform compatibility with Macintosh, Windows 98SE/Me/2K/XP and all of your favorite audio software and host-based effects via WDM/ASIO/Sound Manager drivers. Or you can use the included AudioDesk workstation software for Macintosh, with 24-bit recording/editing and 32-bit mixing/processing/mastering.

Continuing MOTU's tradition of compatibility with existent MOTU interfaces, if you own a PCI-424-based 2408mk3, the PCIe-424 card will work with your existing hardware, so you can expand your system with your present 2408mk3 rack unit.
0
0
UPC: 839128005440

- 8 analog inputs/outputs with 24-bit, 96kHz converters on balanced/unbalanced 1/4" TRS connectors
- 108dB S/N ratio (A-weighted)
- 24 channels of ADAT optical input/output
- 24 channels of TDIF (Tascam digital) input/output
- 2 channels of S/PDIF in and 4 channels out
- 16, 20 and 24-bit recording at 44.1, 48, 88.2 and 96kHz kHz
- ADAT sync input on PCIe-424 card
- Word clock in and out
- Includes cross-platform PCIe-424 card
---
MOTU
2408 MK3 Core System PCI-e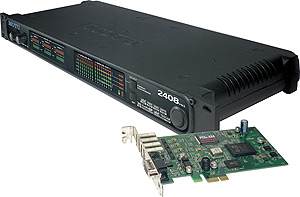 PCIe 24-bit/96kHz Core System with Analog, S/PDIF, ADAT, & TDIF I/O
MPN #:
UPC #: 839128005440
Regular price: $1099 $959.0000 Available from: 8th Street Music Condition: New Available to Order