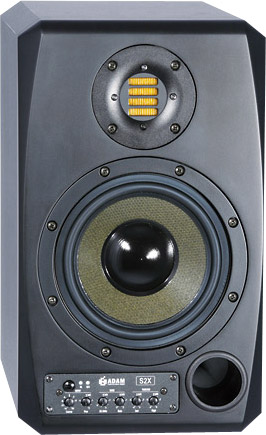 Two 2-way 7.5 inch Nearfield Monitors
Product Code 45449
Sale Price!
$4,698.00
We're sorry, this product is no longer available.
---
The new SX-Series is based on ADAM's highly acclaimed S-Series. However, it is not a simple revision of existing models but a fundamental transformation with no details having been overlooked and every sound crucial aspect has been evaluated. All transducers, drivers and electronics have been redesigned. The result is much more than an improvement, it is a quantum leap in professional monitoring.

All models of the SX-Series are equipped with the new X-ART tweeter. The X-ART tweeter has a 4dB higher efficiency, a 3dB higher maximum sound pressure level, and an increase in frequency response up to 50 kHz. The newly designed broadband A/B amplifier has been developed by ADAM to perfectly match the needs and capabilities of the X-ART tweeter. The entire range of sound can be heard as never before.

The new HexaCone woofers are designed with larger and longer voice coils that deliver more linear excursion for higher SPL max. values. A stronger magnetic structure is added as well for an optimum in efficiency and accuracy.

All SX-models (except the S1X) can be optionally retrofitted with a 24 bit/192 kHz D/A Converter featuring an AES/EBU (XLR) and a SPDIF (RCA) inputs as well as a R/L/Mono switch.

All models can optionally be magnetically shielded.

Six controls to change the settings for input sensitivity, lower frequencies, and higher frequencies can be found on the new, highly sophisticated front panel.

The S2X brings together the virtues of the 'classical' 7" woofer and tweeter combination by using ADAM innovative technologies and top-class materials.

The HexaCone 7" woofer is driven by a sophisticated magnet system with a 2" voice coil creating a greater linear excursion. This produces more dynamics than one would assume in a monitor of such small proportions. As a result, in addition to the unsurpassed audio quality of the X-ART and A/B amplifier combination, this monitor surprises the listener with a very powerful, deep, but always tight and precise low end.
0
0
Mid-Woofer

Number: 1

Basket Ohms: 7.5" (186 mm)

Voice coil Ohms: 2" (50 mm)

Cone material: HexaCone

Tweeter

Number: 1

Type: X-ART

Diaphragm area: 4 inch² (2420 mm²)

Equiv. Diaphragm Ohms: 2" (56 mm)

Velocity transform ratio: 4:1

Diaphragm weight: 0.17 g

Built-in Amplifiers

Mid-Woofer: 1

Type: PWM

Amp. power RMS / music: 250 W / 350 W

Tweeter: 1

Type: A/B

Amp. power RMS / music: 50 W / 100 W

Control panel

Input Sensitivity: -20 to +8 dB (4 dB steps)

Input Sensitivity (fine): -1.5 to +2 dB (0.5 dB steps)

EQ 80 Hz: 0 to +6 dB (1 dB steps)

Low shelve > 6 kHz: ±4 dB (1 dB steps)

High shelve < 150 Hz: ±4 dB (1 dB steps)

Tweeter gain: ±2 dB (0.5 dB steps)

Input connectors

Analog: XLR / RCA

Digital (optional): AES/EBU / SPDIF / word clock

General data

Panel: Front

Frequency response: 35 Hz - 50 kHz

THD > 80 Hz: ≤0.8 %

Long term output: ≥110 dB

Max. peak: ≥120 dB

Crossover frequencies: 2200 Hz

Input impedance: 10 KOhm

Weight: 23.8 lb (10,8 kg)

Magnetically shielded: Optional

Height x Width x Depth: 14.5" (370 mm) x 8.5" (220 mm) x 12.5" (320 mm)

Warranty: 5 Years

---
Adam Audio
S2X Pair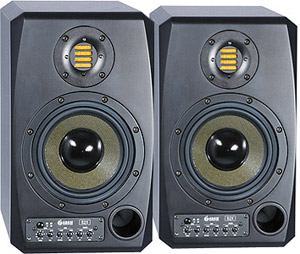 Two 2-way 7.5 inch Nearfield Monitors
MPN #:
UPC #:
Regular price: $ $4698.0000 Available from: 8th Street Music Condition: New Out of Stock