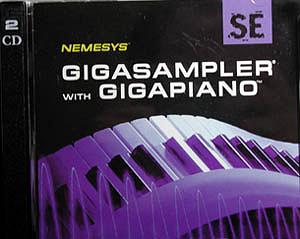 Special Edition Gigasampler-WOW!
Product Code 4735
Sale Price!
$39.95
We're sorry, this product is no longer available.
---
**This is a special edition of Nemesys Gigasampler with Gigapiano. This edition has all the same great features as Gigasampler 64 and Gigapiano with 8 channels of output and 48Khz sampling rate.


Say goodbye to RAM limitations! GigaSampler™ is the only music software product to stream samples - in real-time - directly from the hard disk when played via a keyboard controller or other MIDI device. By leveraging the hard disk for instrument playback, instead of RAM (as in conventional samplers), GigaSampler™ is capable of delivering complex, ultra-dynamic replicas of world-class instruments that load in seconds, not minutes.

For the first time, multi-sampled acoustic instruments like piano and harp can be recorded with full natural decay on every key! Traditional techniques like looping are also supported, though no longer necessary.

Featuring resonant multi-mode filters, three envelopes, LFO and MIDI modulation resources - as well as NemeSys' exclusive performance technologies like Dimensions and Behavioral Sampling - GigaSampler brings new power to the art of sampling.

0
0
Windows 98, 98SE, ME only

Hard drive-based sampler
Enables you to use gigabyte size sample sets - go beyond kilobyte and megabyte sample sets
Loads samples in seconds, not minutes
Save and Load entire performances
Utilize multiple instrument layers via Dimensions technology
Sample instruments with full natural decay
Full looping implementation (it's still there if you want it!)
More powerful than hardward-based rack mount systems
32-bit audio signal processing
Reads GigaSampler, .WAV, and Akai Sample Libraries
Phase locked, multi-gigabyte stereo sampling
Resonant LP/BP/HP/BR filters with dynamic resonance
Modulation tools include: Envelopes, Ramp Generator and LFO
High-precision pitch interpolation
Ultra-low latency allows fast, tight, real-time note-on responsiveness
Behavioral Sampling capability with each Dimension mappable to real time controllers
Multilayering, dynamic, release-triggered sampling for soundboard resonance, staccato modeling.
---
Nemesys Music
Gigasampler 64 SE with Gigapiano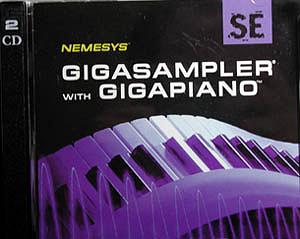 Special Edition Gigasampler-WOW!
MPN #:
UPC #:
Regular price: $ $39.9500 Available from: 8th Street Music Condition: New Out of Stock