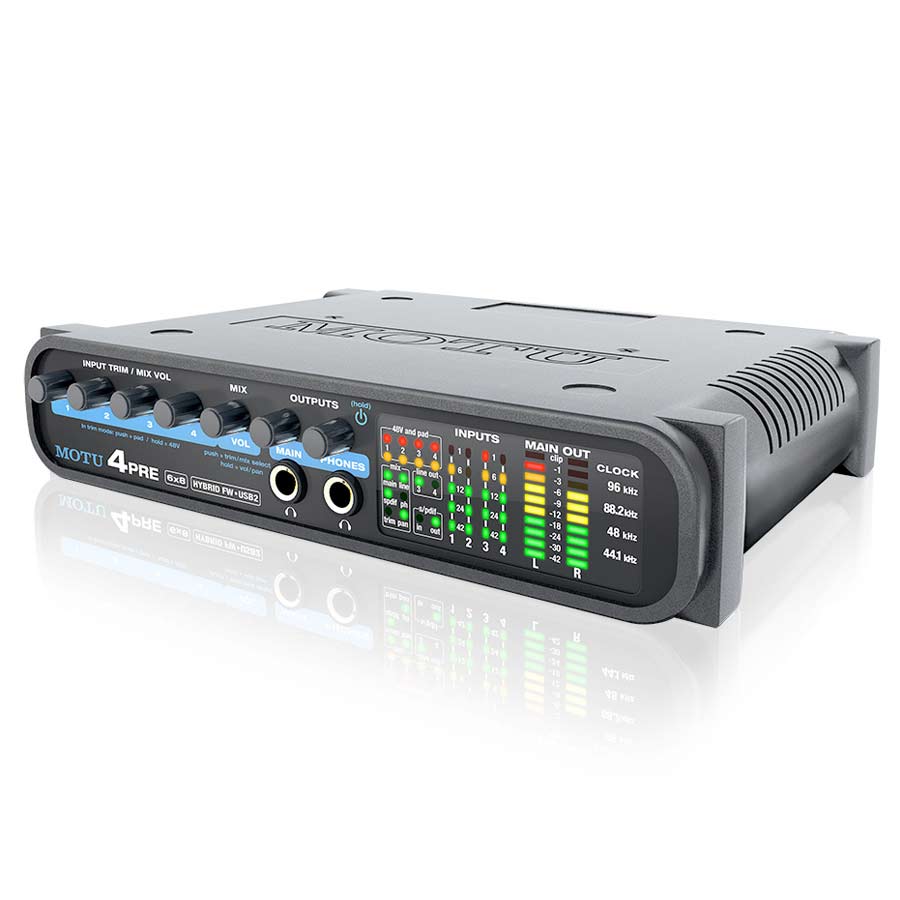 ---
The MOTU 4pre packs four mic inputs into an impressively small half-rack form factor, along with a healthy complement of additional professional-grade audio connections. You can record and mix vocals plus guitar for two musicians simultaneously, mic a drum kit with overheads and close-ups or record lead and background vocals in one take. With an interface this flexible, capable, and great sounding, you'll be ready for any situation your music throws at you.

Record four individual mics, or two stereo pairs:

The 4pre combo mic/guitar inputs are equipped with pristine, transparent preamps and offer individually adjustable 48V phantom power and -20 dB pad. All settings can be adjusted directly on the front panel, or from the 4pre's CueMix software running on your computer. Mic inputs can be operated individually or in stereo pairs, as needed.

Hi-Z guitar inputs deliver true guitar sound:

The 4pre's two guitar jacks provide high-impedance load characteristics suitable for passive and active pickups alike, to deliver proper guitar tone to your host software.

Connect a keyboard or other line input

The 4pre analog inputs are designed to be flexible, so that you can address a wide range of recording situations. The line inputs provide proper level matching for keyboards, analog mixers, effects processors, or other gear with either -10 dB or +4 dB reference level input.

Four analog outputs

Connect a pair of powered studio monitors to the main outs. The separate line outs can be used for a variety of purposes, either mirroring the main outs (perhaps for a 2nd set of studio monitors) or acting as a completely independent output pair (for a separate mix going to a mixing board or stage wedges, for example). Because they can be programmed, the line outs offer tremendous flexibility.

Two headphone jacks

The left-hand phone jack always mirrors the main outs, and the "Main" volume knob controls both. The right-hand phone jack has added flexibility: it can mirror the main outs, with independent volume control, or it can mirror any other 4pre output pair.

Digital transfers made easy

Digital transfers are an essential fact of daily studio life. The 4pre's standard S/PDIF input and output make stereo digital transfers a snap, with optional external clocking and support for sample rates up to 96 kHz.

Analog quality with digital precision

The 4pre preamps deliver clean sound, 60 dB of gain, and adjustments in approximately 1 dB increments using the front-panel trims or the on-screen CueMix software. The gain adjustment itself is smooth because it is analog, but the digital control gives you both precision and the ability to save and recall trim settings. So you get the best of both worlds: analog trim with digital precision and control. Trim is adjusted at the input, before the mixer, so it applies to all mixes. Mix levels are controlled separately from trim, so you never sacrifice sound quality for a balanced mix. The S/PDIF digital inputs can be trimmed, too.

Nothing beats hands-on control of your mix

What makes the 4pre unique? Immediate, hands-on control of your mix using the front-panel knobs and status LEDs. To adjust the volume of an input, just turn its knob. The 4pre lets you control mix volume independently from the input's trim level, so you never have to sacrifice sound quality for a balanced mix.

Dial up a separate mix for each output pair

The 4pre mixer takes signals from its six inputs and mixes them to an output pair, such as the main outs. You control the volume of each input. Better yet, you can adjust input volumes differently for each output pair. In other words, each output pair can have its own unique mix. For example, you might create a balanced mix going to your PA via the main outs, but bring up the guitar for the mix going to your stage monitors via the line outs, so you can easily monitor your guitar sound. You get a separate mix for main outs, line outs, S/PDIF digital out, and phones.

Bring the 4pre to your next gig

Immediate volume adjustments are always within reach, so the 4pre serves as the perfect compact, portable live mixer, with or without a computer. Even without a computer, the 4pre gives you complete control over all four mix busses with direct access to volume, mute and solo for each input.

Use the 4pre as the mixing hub in your personal studio

Back in your personal studio, you can of course use the 4pre to connect your mics, guitars, and other inputs to your computer. Sometimes, however, you just want to play your instruments, without the computer. The 4pre continues to serve as your studio mixer, even when your PC or Mac is turned off.

Eliminate host latency while tracking in the studio

When recording into your computer, host audio software can sometimes introduce a slight delay (latency) in what you hear as you track. You can use the 4pre mixer, instead of monitoring through the software, to completely eliminate this delay.
0
0
MPN: 4pre
UPC: 839128005815

Model: 4Pre

Software Included: Yes

System Compatibility: Mac and Windows

Sampling Rate: 44.1, 48, 88.2, 96kHz

System Requirements: Mac System Requirements * PowerPC G4 CPU 1 GHz or faster (including any Mac with a PowerPC G5 or any Intel processor) * 1 GB RAM; 2 GB or more recommended * Mac OS X version 10.5, 10.6, or 10

Power Requirements: 9-18V DC, 5W, tip + or -FireWire bus powerDC power adapter included, required for stand-alone and USB 2.0 operation

Included Software: * CueMix FX * MOTU SMPTE Console * AudioDesk (Mac only)

Dimensions: 8.5 x 7 x 1.75 inches
---
MOTU
4pre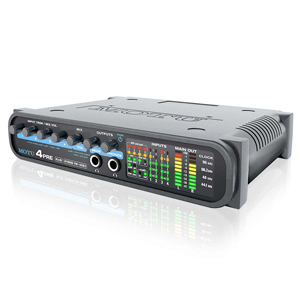 Compact USB 2.0 / Firewire Audio Interface
MPN #: 4pre
UPC #: 839128005815
Regular price: $495 $449.0000 Available from: 8th Street Music Condition: New Available to Order