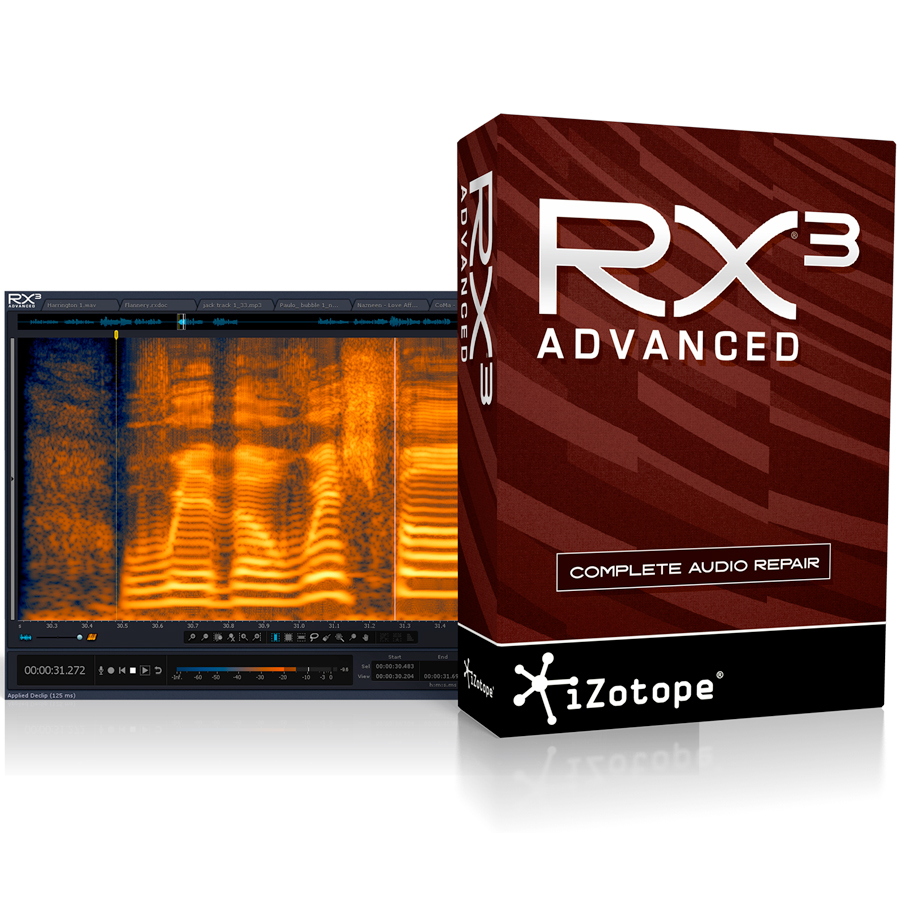 Complete Audio Restoration Software
Product Code 64662
Retail Price
$1199
Sale Price!
$1,099.00
Buy Today and Save $100.00 (8% from Retail)

We're sorry, this product is no longer available.
---
Rescue your audio from the cutting room floor! With remedies for noise, clipping, hum, buzz, crackles, and more, RX 3 is the most robust and best-sounding audio repair toolkit on the market. Used everywhere from Hollywood post production studios to leading sound editing facilities, iZotope RX™ 3 transforms troubled recordings into professional-grade material.

RX 3 Advanced extends the standard version of RX 3 with new, specialized features designed for audio professionals in post production, music production, and mastering. Remove unwanted reverb, sculpt and define dialogue in real time, and much more.

Perfectly suited for audio engineering and recording, post production, archiving, broadcasting, forensics and more, RX 3 delivers cutting-edge tools for treating previously unusable audio. With an intuitive spectral editor and 10+ intelligent modules, RX 3 enables you to fix troubled audio with unprecedented power and precision.

An All-In-One Solution
RX 3 includes everything you need to repair both common and uncommon audio problems, while RX 3 Advanced adds specialized features for audio professionals.

ADV Remove or reduce reverb from vocals, instruments, and more using the revolutionary Dereverb module.

ADV Clean up dialogue on the fly with the Dialogue Denoiser—the new audio standard for real-time dialogue treatment.

ADV Monitor your audio and loudness compliance using Insight™, iZotope's comprehensive metering suite, in your DAW or NLE. A $499 value!

Turn flawed audio into pristine, usable material using Denoise, Declip, Declick & Decrackle, Spectral Repair and more.

Pinpoint problems faster than ever with the Spectrogram and Spectrum Analyzer.

Easily finesse your sound with dedicated audio enhancement modules like EQ, Gain, Channel Operations, and RX 3 Advanced's Time & Pitch.

0 1
MPN: RX3 ADVANCED

Visualize Your Audio Like Never Before

With RX 3's groundbreaking spectral editing paradigm, you can use your eyes and ears to identify and fix troublesome audio.

Visualize audio with the intuitive spectrogram display and discover what your waveform won't show you.

See a spectrogram in action

Select and remove problematic frequencies with precision using drawing tools like Lasso, Brush, Magic Wand, Invert Selection, Invert Selection Frequencies and Select Harmonics.

Replace unwanted sounds and fill gaps in recordings with Spectral Repair, which intelligently resynthesizes audio to restore a seamless listening experience.

Work more intuitively than ever thanks to a completely redesigned interface—clean and approachable for both first-time and previous RX users.

Optimized for Efficiency

RX was redesigned from the ground up to make audio repair fast and easy.

Repair audio with a workflow that suits you, using RX 3 as a standalone application or as plug-ins within your favorite DAW or NLE.

Work up to six times faster than before with new, intelligent DSP and multicore processing in the RX standalone application.

Sleep well knowing you'll never lose an edit again, thanks to the new RX Document format.

Get through projects faster than ever by processing and editing multiple files at once.

Who is it for?
Audio Engineering and Recording

Eliminate the amp hum, equipment hiss and environmental noise that can ruin your recordings.

Fix problems like clipping, audio dropouts and cell phone rings.

ADVRemove unwanted reverb and improve the quality of on-location recordings with the Dereverb tool.

Video Post Production

Save time and reduce the need for ADR by cleaning up clipped, damaged and noisy dialogue with RX 3's simple-to-use tools.

ADV Isolate and reduce troublesome background noise in real time with the Dialogue Denoiser.

ADV Seamlessly match dialogue takes recorded in different environments with Dereverb.

Restoration and Archiving

Restore old mediums such as vinyl, tape and film with precise control over each step of the process.

Streamline your workflow by recording directly into RX 3, making necessary repairs, and exporting with 64-bit SRC™ sampling and MBIT+™ dithering quality.

ADV Repair stereo imbalances and phase issues that can occur during tape restoration with Azimuth Alignment controls.

Broadcasting and Podcasting

Reduce unwanted noise from location recordings and phone interviews.

Remove distortion and signal clip from recordings using RX 3's enhanced declipping processes.

ADV Ensure loudness compliance with international broadcast standards with Insight®, iZotope's enhanced metering suite.

Forensics

Improve the clarity and intelligibility of vocals by removing background noise.

Visually perform edit analyses by using the Spectrogram display.

ADV Keep track of all performed tasks and export a log of your edit history.
---
iZotope
RX 3 Advanced - Digital Download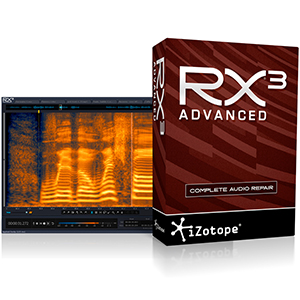 Complete Audio Restoration Software
MPN #: RX3 ADVANCED
UPC #:
Regular price: $1199 $1099.0000 Available from: 8th Street Music Condition: New Out of Stock