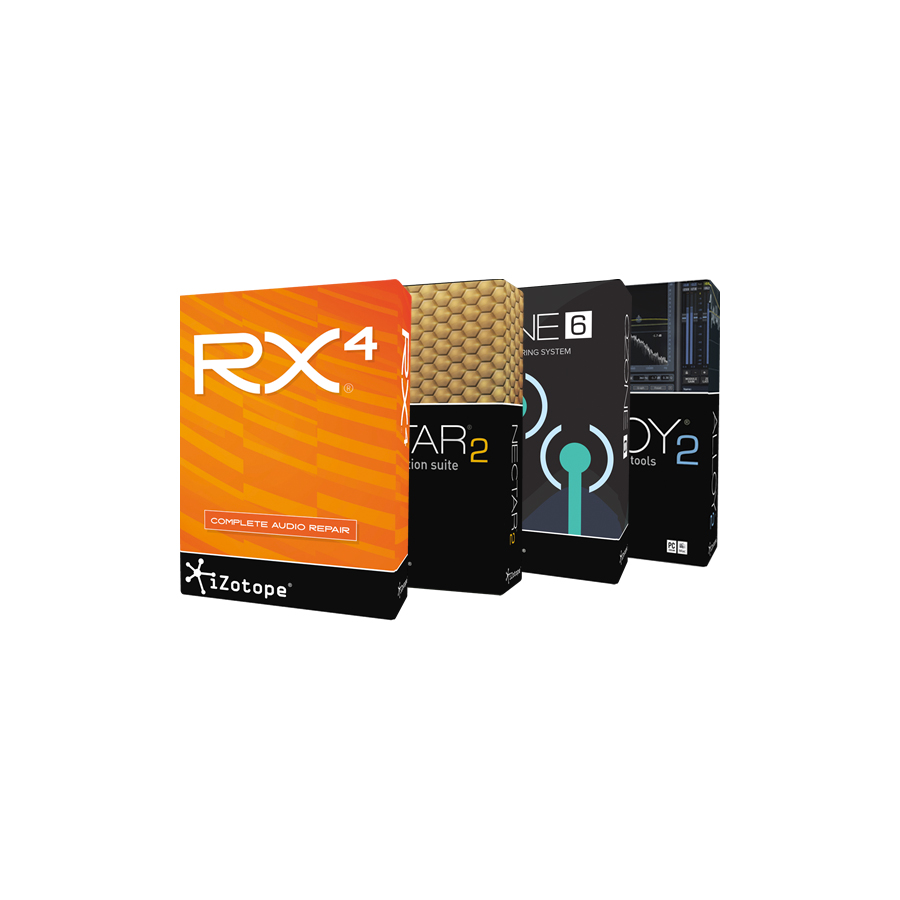 Ideal For Mixing, Mastering, Vocal Production, and Audio Repair (Digital Download Only)
Product Code 64663
Retail Price
$849
Sale Price!
$649.00
Buy Today and Save $200.00 (24% from Retail)

We're sorry, this product is no longer available.
---
iZotope's Studio & Repair bundle includes a full collection of four amazing plug-ins that cover mixing, mastering, vocal production, and even audio repair. iZotope Alloy gives you the essential mixing tools you need, such as an 8-band EQ, a powerful harmonic exciter, a fully loaded dynamics tool, and many other powerhouse processors. Add polish to your vocals with its professional-quality de-esser and make your drums pop with its unique transient shaper. Alloy also comes with over 150 excellent presets and MacroPresets, which make dialing in the perfect sound fast and easy.

The Studio & Repair bundle also includes iZotope Nectar, a complete vocal-processing suite loaded with automatic pitch correction, breath control processing, and many other vocal-specific tools. Nectar's saturation engine lets you add warmth and grit to your vocals, and a focused doubling engine for thickening effects. Nectar even includes a highly music reverb section and a flexible delay section, both specifically geared toward accenting vocals. To get you started, Nectar comes with a huge library of built-in Style presets.

iZotope Ozone is your complete mastering system. Ozone's paragraphic EQ combines 6 bands of adjustable notch filters, high and low shelf filters, with its unique Matching EQ mode. EQ matching let you capture reference spectrum snapshots from material and apply the overall EQ curve to your tracks - perfect for getting a unified sound across multiple tracks. On top of that, Ozone includes a powerful Loudness Maximizer section, multiband dynamics, a multiband harmonic exciter, and tons of other great mastering tools.

iZotope RX 2 is a complete audio repair suite designed to take flawed or damaged audio and polish it up to production standard. This amazing noise reduction plug-in bundle can take audio that sounds far beyond repair and restore it almost instantly. RX 2 includes three main sections: Denoise, which is great for getting rid of background noise, hiss, and buzz; Declip, which can fix both analog and digital waveform decapitation; and Declick & Decrackle, which removes specific transient artifacts, such as clicks and crackles. You also get several other tools for removing and reducing other kinds of noise, as well as a restorative EQ section.

0
1
MPN: STUDIO REPAIR BUNDLE
UPC: 008474928042

Includes 4 powerful plug-in suites

iZotope Alloy gives you powerful mixing tools

iZotope Nectar covers all of your vocal processing needs

iZotope Ozone mastering suite adds professional polish to your finished mixes

iZotope RX 2 fixes damages and flawed audio

RTAS/AudioSuite, AU, and VST compatible plug-in formats

Mac and PC platforms supported

iZotope Alloy Complete Mixing Effects Suite:

6 precision tools for mixing in one integrated system

Load one plug-in for all of the essential EQ, dynamics and sound-shaping effects you need on your tracks and busses. Save custom presets and effect chains to suit any need

Easy to navigate UI with precise controls and extensive visual feedback for setting modules

Zero-latency operation for ease of use in Logic and Pro Tools

User-customizable signal routing with 2 dynamics stages, sidechain mapping and more

Dynamics, Exciter and Transient Shaper have both single and multiband operation, giving you more simplicity or more control depending on the task at hand

Includes a huge range of presets that range from simple and useful EQ and Dynamics configurations to complex chains that use all 6 modules

MacroPresets combine key controls from any combination of Alloy's 6 modules into a custom UI that shows just what you need to see

Sidechaining support for VST, AU, RTAS and DirectX hosts lets you control the Dynamics section from other tracks in your mix. Affect the whole signal or zero in on just the frequency range you want with advanced multiband sidechaining

Crosschaining allows you to trigger the dynamics section with another frequency band of the same input source for never-heard-before compression and gating effects

Powerful workflow tools make your life simpler - the History list lets you go back in time, and the integrated preset editor lets you browse, manage and customize presets easily

System Requirements: Windows (XP, x64, Vista), Mac OS X 10.4 or later, (Universal Binary)

Formats: Pro Tools 7+ (RTAS/ AudioSuite), VST, Audio Units, DirectX, MAS PC

iZotope Nectar Complete Vocal Suite:

11 vocal effects and processors plus pitch correction in one comprehensive plug-in

2 operation modes - basic and advanced - plus 110 preset styles in 12 genres

Automatic and Manual Pitch Correction for quick tuning, hard tuning, and detailed note-by-note graphic editing

Breath Control allows you to dial in or crush out breath noise

Compressors Module packed with enough features to easily stand alone - includes optical, solid-state, and parallel compression modes among others

De-Esser intelligently turns down sibilance for extreme clarity

Saturation engine provides 5 different saturation modes, including Analog, Retro, Tape, Tube, and Warm

Doubler with gain, pan, pitch, and delay controls adds modern thickening effect to up to 4 separate additional voices

EQ with detailed visual feedback - based on iZotope's award-winning multi-band EQ design

Gate lets you clean up the dead space between vocal phrases, wiping out mic bleed or background noise

Limiter includes iZotope's intelligent limiter technology and level histogram display for precise control over the loudness threshold of your track

Delay featuring Digital, Tape, and Analog modes plus fun effects such as modulation and distortion

Reverb with a full set of controls, including a Color parameter fun added versatility

iZotope Ozone 4 Mastering System:

64-bit internal processing chain

Supports up to 192kHz sampling rate

Complete mastering suite in a single plug-in

New mid-side processing in EQ, Dynamics, and Harmonic Exciter

Intelligent Crossover Mode

True Envelope dynamics processing

8-band paragraphic EQ (linear-phase, tube-modeled and matching modes)

Multiband dynamics with compression, limiting, expansion, peak and RMS Detection modes

Multiband harmonic exciter with 3 excitation models

Multiband, frequency-dependent stereo imaging

Mastering reverb with plate and room-modeled algorithms

Intelligent Loudness Maximizer automatically adjusts to transients with sharpness and clarity while boosting the perceived loudness

MBIT+ dithering for psychoacoustically optimized word length reduction

Real-time analysis tools with FFT-based spectrum display and linear, Third-octave, and critical band modes

Correlation and phase meters

Dynamics meters with histogram, dynamics transfer function and gain reduction Meters

Dithering meters including DC offset meter and bit meter

Analog-modeled modes throughout for added warmth

Elegant, highly efficient user interface

Automation support

Superior stability

CPU-efficient

Hyperpreset library

Excellent documentation including extensive mastering and dithering tutorials

iZotope RX 2 Audio Restration Software Suite:

Denoiser smoothing and high frequency enhancement for clean, transparent noise suppression

Freehand Selection with new Lasso, Brush and Magic Wand tools to make surgical edits

Enhanced click identification for improved results

Additional Decrackler algorithm to reduce continuous background crackle from vinyl

Streamlined Batch Processing workflow with multicore support

Precise Delay and Phase Operations for tape restoration

Remove Hum now intelligently identifies the hum frequency for quick suppression

Customizable pre-roll and post-roll times for context when previewing edits

Several fade types in the Gain module

Session support for power failure recovery and ability to undo even after restarting

Workflow and user interface improvements

Standalone application plus a suite of plug-ins (RTAS, AudioSuite, VST, MAS, Audio Unit and DirectX formats)

Complete set of audio repair, restoration and enhancement tools

Denoise removes background noise, hiss, buzz, and hum with natural sounding results

Declip rebuilds distorted audio damaged by analog and digital overloads

Declick & Decrackle eliminate clicks, crackles, pops and digital impulse noise from vinyl records and digital errors

Spectral Repair isolates and eliminates unwanted sounds visually

Remove Hum identifies and notches out the hum and line noise automatically

Detailed spectrogram display to visualize audio for editing

Intuitive audio selection tools includes Brush, Lasso, and Magic Wand

Precise spectrum analyzer incorporates unique automatic peak finding

Batch processing for cleaning several files automatically

Session support allows you to undo processing even after restarting
---
iZotope
Studio and Repair Bundle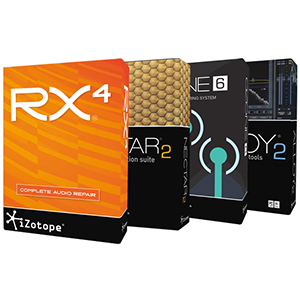 Ideal For Mixing, Mastering, Vocal Production, and Audio Repair (Digital Download Only)
MPN #: STUDIO REPAIR BUNDLE
UPC #: 008474928042
Regular price: $849 $649.0000 Available from: 8th Street Music Condition: New Out of Stock