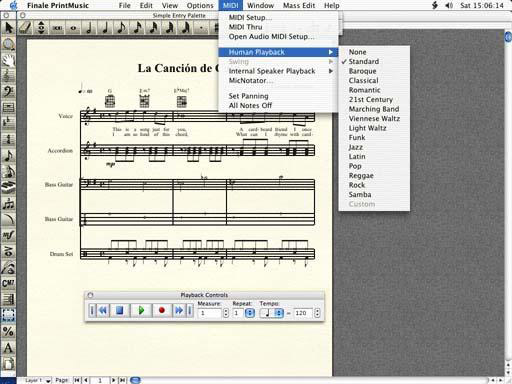 PrintMusic The Easiest, Fastest Way to Create, Play and Print Great Sheet Music
Product Code 6640
Retail Price
$99.95
Sale Price!
$89.95
Buy Today and Save $10.00 (10% from Retail)

Ships free on most orders over 99.95
Click for Details
Click Here For Shipping Options
---
Finale PrintMusic is the fast, easy way to bring your music to life with professional results. From the makers of Finale, the world's leading music notation software, PrintMusic is perfect for songwriters, students, teachers, church musicians, and band leaders.

Get started right away. The Setup Wizard configures key and time signatures, transpositions, pickup measures, and more - instantly. Want an engraved or handwritten look? Select a document style to personalize the appearance of your music.

No matter your musical emphasis (classical, jazz, rock, etc.) Finale PrintMusic music composition software provides high-quality results without the expense of our more comprehensive products, Allegro and Finale 2008. PrintMusic music-making software is geared towards educators, musicians, composers, and others who don't need the advanced engraving capabilities of Finale 2008 or the other advanced features in Allegro.

At such a low cost, no other music composition software provides the number of features and intuitive interface that PrintMusic does, making this the ideal software for most casual composers. When you don't want to pay for features you don't need, but still want professional quality software, PrintMusic is the product for you.
0
0
MPN: 631664
UPC: 606776001540

Getting Started
- Create scores up to 24 staves and print out parts
- Transpose to any key and for any instrument
- Launch Window
- Setting up your score
- Document Styles
- Templates
- Expanded Documentation
- QuickStart Videos – 'How-to' demonstrations right on your screen

Incredible Sound
- Powerful Mixer
- Human Playback: Choose from a variety of musical styles
- Row-Loff™ marching percussion sounds
- Free Software Synthesizer Included

Composing & Arranging
- Band-in-a-Box® Auto Harmonizing
- Drum Groove
- Create Coda Systems
- Intelligent Repeats
- Engraver Tuplets
- Lyrics: unlimited numbers of verses and automatic lyric placement
- Textured Paper
- Macintosh Enhancements
- Percussion notation
- Chord symbols & guitar fretboards
- Automatic note spacing and more
- Multiple Undo - Everyone makes mistakes. This makes it easy to change them

Easy Entry
- Scan music (SmartScore Lite included free of charge)
- Simple Note Entry: Just pick a note and 'click' it on the staff. That's all it takes
- Selection Tool
- Cut/Copy/Paste Improvements
- Guitar and bass tablature
- Download MIDI files and see them notated instantly. Import and export MIDI files
- Import Graphics
- MicNotator® Play the melody from a brass or woodwind instrument directly into your score
- Import and Export Music XML files
- Play your MIDI keyboard and watch your music appear on-screen in real time

Sharing your Music
- Save as Audio File
- Export Graphics
- Connecting to Finale NotePad®: Open PrintMusic files with Finale NotePad for FREE!
- Export MusicXML Files
- Export MIDI Files


System Requirements
- Windows®
- Windows XP/Vista 32-bit
- 800X600 minimum monitor resolution
- CD-ROM drive
- Minimum 256MB RAM recommended
- 200 MB hard drive space required for software and user manual

- Macintosh®
- G4 or higher recommended. OS 10.4 or higher (Mac-Intel or Power PC)
- 800X600 minimum monitor resolution
- CD-ROM drive
- Minimum 256MB RAM recommended
- 246 MB hard drive space required for software and user manual

- Optional
- MIDI interface
- MIDI input and/or playback device
- Printer
- Scanner
- Microphone required for use of MicNotator
---
Make Music
Finale Print Music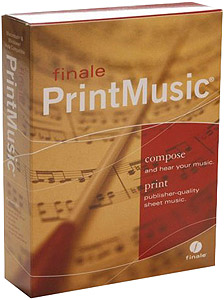 PrintMusic The Easiest, Fastest Way to Create, Play and Print Great Sheet Music
MPN #: 631664
UPC #: 606776001540
Regular price: $99.95 $89.9500 Available from: 8th Street Music Condition: New Available to Order