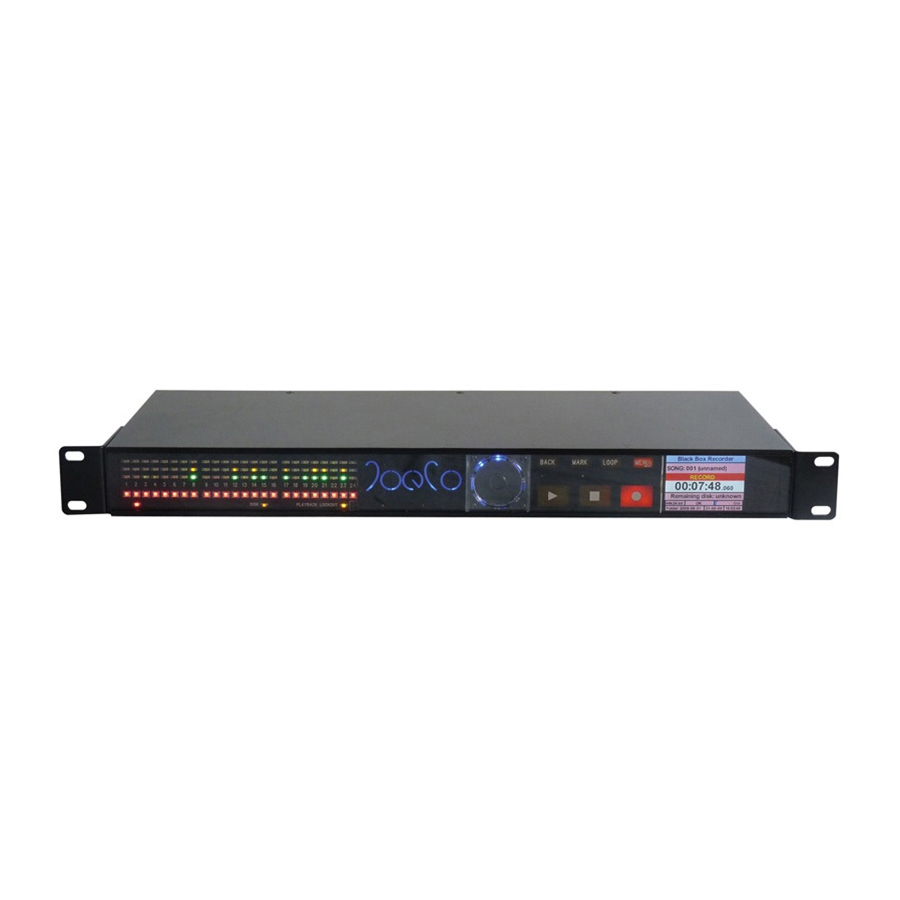 ---
The BLACKBOX RECORDER is the first large-scale multi-channel recorder specifically designed for audio acquisition and capturing live performance. Developed to solve the inherent problems of working with computer-based systems in a live environment, it provides engineers with a computer-free, high-quality solution for live multi-channel audio capture.

Available in both analogue and digital variants, the regular BBR1 BlackBox Recorder can record or replay up to 24 channels of 24bit / 96kHz audio in Broadcast WAV (BWAV) format.The BBR64-MADI and BBR64-DANTE versions of the recorder can record / replay up to 64 channels at standard sample rates, while still retaining the same compact physical dimensions that are a feature of all BlackBox products. (On these systems, higher sample rate recording is accommodated at a reduced track count.) All BlackBox Recorder models now also support the replay of polyphonic wav files, from multiple stereo files up to 24- or even 64-channel PolyWAV files. Mono, stereo and multichannel files can even be used together in the same song massively enhancing the system's flexibility.

Audio is recorded as mono broadcast WAV files to an external USB2 drive. The implementation of JoeCo's iXML plug-in (see Software Options) additionally enables PolyWAV files to be recorded. Using universally accepted file and disk formats on external storage solutions has many advantages when used in the field or on tour. It also eliminates the time normally required to load recordings into a workstation for subsequent mixing and re-purposing, which is a crucial factor in fast turnaround productions. Recorded files can be instantly imported into any Mac- or PC-based Digital Audio Workstation for editing, remixing and re-purposing.

The BlackBox Recorder is designed to be supremely simple to use, requiring just the input and output connections, power and a USB drive before pressing the RECORD button. Its sleek front panel has an intuitive menu-driven user interface, touch sensitive transport controls, data wheel and function buttons. A foot switch input is also provided and can be set up to duplicate the record button function for hands-free operation. A full colour LCD screen and striking LED displays show all the information that's needed in order to know exactly what's happening at any time. A standard computer keyboard can be used to name recordings.

Ease of use is complemented by fully professional control and synchronization facilities, along with a wealth of time-saving features that include virtual soundchecking; disk drive formatting; the ability to create a headphone monitor mix with level and pan on every track; a keyboard interface and Name Manager for creating templates and modifying track or song names, plus a variety of shortcuts for speedily navigating menu options and transport controls. Within the menu structure all key variables can be modified: the sample rate, track arming, use of time code, digital audio clock setup, naming recordings, input and output levels, and setting up loop points. The recorder also offers a range of enhancements for film, TV and broadcast applications including support for 23.98fps time code, 9-pin support for edit controllers, and iXML support.

A number of "fail safe" features ensure secure audio capture at all times, including playback lockout and a "Safe 'n' Sound" record recovery function that enables recorded audio files to be recovered after a sudden accidental loss of power, or forgetting to stop recording before powering off the system.
0
0
MPN: BBR1US

Sample Rates: 44.1kHz, 48kHz, 88.2kHz, 96kHz

Bit depths: 16bit; 24bit

Disk interface: USB2

Format: FAT32

File type: Broadcast WAV (BWAV)

Media: USB2 hard disk (7200rpm recommended), USB2 flash drive - 200x minimum (except for MADI and DANTE systems which have more demanding data rates), SHDC (Class 10 with suitable adapter except MADI and DANTE)

Monitoring: 1 x 1/4" TRS jack socket, headphone mix/solo

Physical: 19" rack mounted 1U

Dimensions: (425mm x 150mm x 44mm)

Weight: < 2.4kg

Control and Synchronization

MIDI: 1 x 5-pin DIN (open loop) – MIDI time code (MTC) and MIDI machine control (MMC) protocol

LTC: 1 x 1/4" TRS jack socket:

Frame rates supported: 30fps, 29.97drop fps, 29.97non-drop fps, 25fps, 24fps, 23.98fps

Machine control: 1 x 9-pin D, SONY PII protocol

Audio clock synchronisation: 2 x RCA sockets AES3 / SPDIF Format, also used for communications to slave units

Footswitch: momentary switch on ring of LTC TRS socket

Keyboard: 1 x mini DIN PS2 connector, Standard 102 key

Power: 9v – 16V dc (< 25W). 2.1mm dc inlet.

PSU supplied

Analogue Inputs:

Levels: -10dBu / +4dBu switchable

Max input level: +22dBu = 0dBFS

A-D conversion: 24bit, 96kHz

106dB S/N, 96dB THD+N (typical A-weighted)

Analogue Outputs:

Levels: -10dBu / +4dBu switchable

Max output level: +22dBu = 0dBFS

D-A conversion: 24bit, 96kHz

106dB S/N, 94dB THD+N (typical A-weighted)
---
Joeco
BBR1-US Blackbox Recorder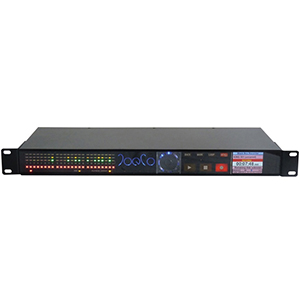 24-track unbalanced Analog I/O Recorder / Player
MPN #: BBR1US
UPC #:
Regular price: $2999 $1995.0000 Available from: 8th Street Music Condition: New Available to Order