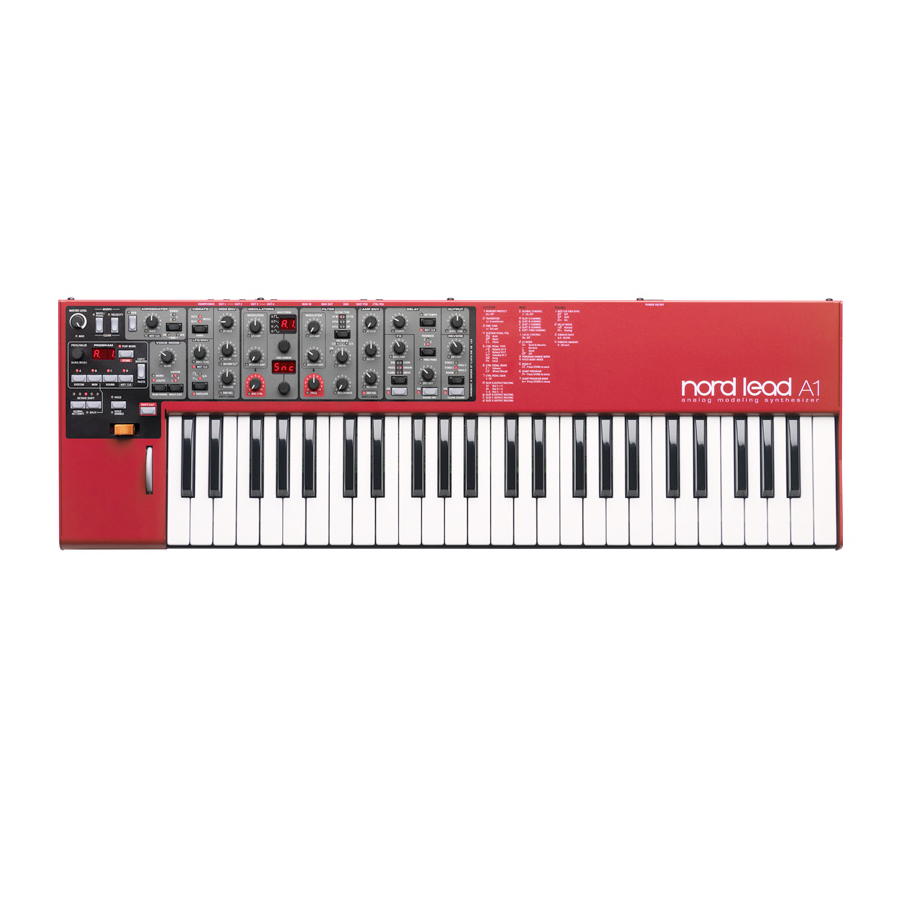 ---
Producing stand-out sounds for live or for the studio, the Lead A1 is ideal for all musical genres. Thanks to its carefully thought-out user interface, the Lead A1 encourages experimentation, allows for far speedier programming than would otherwise be possible, and ultimately delivers sensational sonic results.

Our best-ever analog modeling...
At the heart of the Lead A1 is our new analog modeling engine. Taking our virtual analog synthesis to a new level, this modeling recreates a total analog signal path with uncanny realism, and is capable of immense sonic variety. With 24-voice polyphony and four simultaneous synthesizer parts, the Lead A1 is a true synthesizer powerhouse that goes far beyond the current trend for limited capability analog reissues.

...combined with our most intuitive interface
Fundamental to the design of the Lead A1 is a brand new simple yet sophisticated front panel interface. The design is in fact the result of requests from professional players – even the most experienced programmers - who need to create the perfect sound as quickly as possible for today's live or studio time demands. The Lead A1 allows easy patch creation and experimentation thanks to a new and unique oscillator section, pre-programmed modulation matrix, and simplified ADR envelopes. Dive in and create incredible patches far quicker than would normally be possible with a synthesizer of such power.

Filter Section
The Lead A1's filter section features classic 12 and 24 dB Low Pass, a High Pass and a Band Pass filter, together with stunning emulations of the diode and ladder filters from the legendary Mini and the TB-303 synthesizers. The Lead A1's modeling of these filters capture the true character and response of the originals, allowing supremely flexible and precise sound design. The filters are super-smooth with a warm analog character.

Modulation
Mod Env
The three-stage ADR Modulation Envelope(ADR)is trigged from the keyboard and Envelope can be inverted and controlled by velocity. Thanks to the intuitive design of the front panel it is very easy to see what modulations have been applied and to design incredible sounding patches.

LFO
The Lead A1 features an LFO with a choice of waveforms. The LFO rate can be sync'd to the Lead A1's Master Clock. The LFO can also be used as an additional Modulation Envelope.
Vibrato

A dedicated LFO for Vibrato is always available for use.

Effects Section
The Lead A1's effects section features two stunning brand new analog models of an Ensemble and Chorus, modeled on specific vintage synths and adding classic warmth and analog feel. Alongside these, choose from great-sounding Ring Modulation, Phaser, Flanger or Drive per slot and in addition a separate Delay and Reverb for each slot.

Mod Wheel and Velocity Morph
A classic Nord feature, the Morph function via Mod Wheel, Velocity or pedal, allows you to control multiple parameters of the Lead A1 simultaneously. Morph is exceptionally easy to set-up and use - just hold the Morph button and adjust any desired knob.

Master Clock
The Master Clock function of the Lead A1 allows the LFO, Arpeggiator and Delay to be synchronized, either internally or slaved to external MIDI clock. A Tap Tempo button allows you to easily tap to the tempo of a drummer or to playback tracks.

Arpeggiator
The Lead A1 features four separate Arpeggiators with Up/Down and Random modes and a 4-octave range. Any or all can be sync'd to the Lead A1's master clock.

Splits and Layers
Having four identical, equally powerful synthesizers at once opens breathtaking layering possibilities. The Split-mode gives you two 2 slots on each side of the split. A flexible Hold functionality lets you latch and hold slots independently in the background while playing something else on top.

Four Outputs
The Lead A1 features four independent audio outputs with the ability to route each slot to a different output. Plus control of Pan via the front panel knob is a welcome new addition in the Lead A1.

Sound Manager
The Lead A1 includes the Nord Sound Manager software for OS X and Windows. Sound Manager is a dedicated librarian app which allows easy reorganizing, back-up an transfer of programs.

MIDI Control
The Lead A1 features the convenience of MIDI over USB for use with a sequencer and all of the Lead A1's knobs transmit MIDI Control data.

The Hardware
Like all Nord keyboards the Lead A1 is handmade in Nord's Stockholm factory with incredible attention to detail and quality control. The Fatar® 49-key keybed, all-metal chassis, tactile knobs, and unfaltering emphasis on quality complete a synthesizer designed to last a lifetime.
0
0
MPN: AMS-NORD-LEAD-A-1

Oscillators

Unique Oscillator concept

8 Oscillator Configurations

Pitch, Detune, Shape, Sync, AM, Noise, Dual Osc, FM

Traditional Analog and Digital Waveforms

Modulation

LFO with 5 waveforms

Mod Envelope

LFO as additional ModEnv

Filter

12, 24 dB low-pass filters

High-pass and Band-pass filters

Transistor and diode ladder filter simulations of Mini and TB-303

Effects

Ensemble, Chorus, Phaser, Flanger, Ring Modulator, Drive

Performance

4-part multi-timbral

Master Clock Sync of Arpeggiator, LFO and Delay

Velocity and Mod Wheel Morph

USB MIDI
---
Nord
Lead A1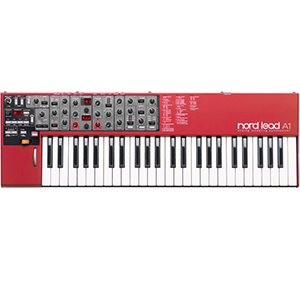 Analog Modeling Synthesizer
MPN #: AMS-NORD-LEAD-A-1
UPC #:
Regular price: $2099.00 $1799.0000 Available from: 8th Street Music Condition: New Available to Order