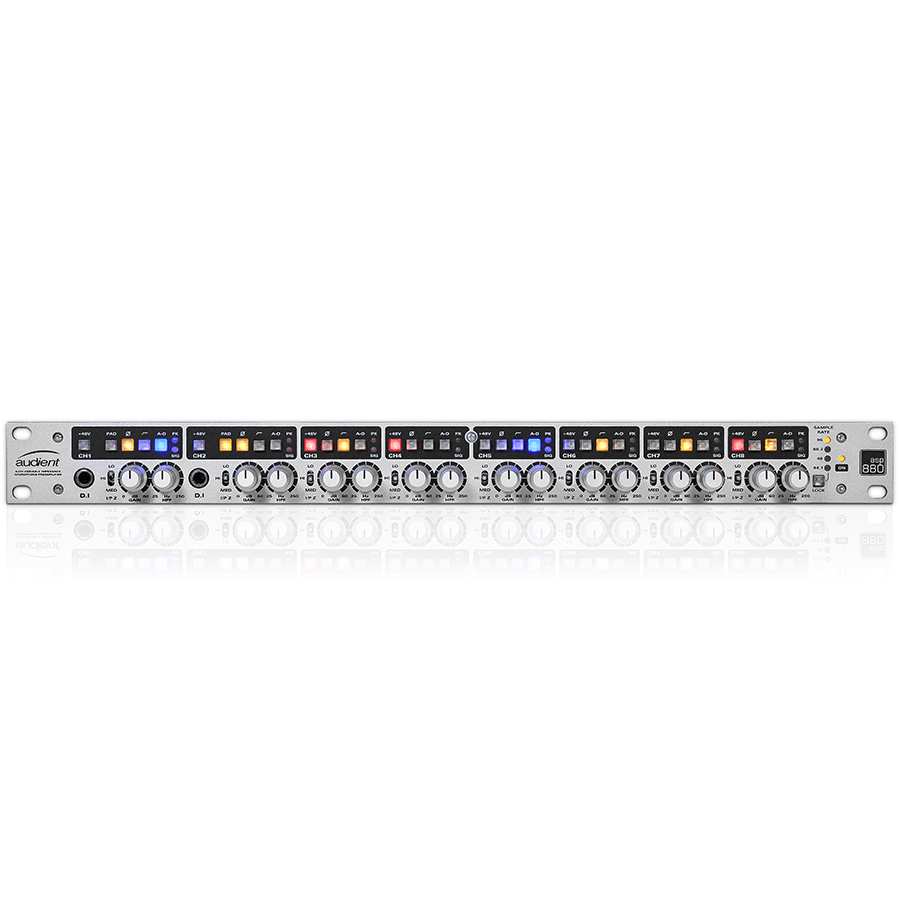 ---
ASP880 is an 8-channel microphone preamplifier & ADC that will transform your sessions into world class recordings, the perfect addition to your set-up. ASP880 provides eight of Audient's renowned console mic pres, pristine converter technology and a versatile feature set that includes Variable Impedance and Variable High Pass Filters. All in a 1RU rack!

Audient's renowned Class-A, console mic pre outshines the competition and gives you the same sonic quality of products costing three or four times the price. Capture the detail and excitement of your audio sources, all with a hint of analogue colouration that will sound stunning on any project!

Developed by design legend David Dearden, our mic pre is used by thousands of professional studios around the world. With its versatile nature and accurate translation, the ASP880 will quickly become your 'go to' mic pre.

ASP880 provides you with the highest grade converters from Burr Brown, the leaders in converter technology. The integral ADC guarantees you will have the best conversion possible.

This isn't just the best converter in a mic pre either, it stands up against dedicated converters too. You can focus on the music and let ASP880 take care of the rest.
0
0
MPN: ASP-880
UPC: 5060374260139

8 Audient Console Mic Pres

All new, Burr Brown AD converter technology

Variable Input Impedance

Variable High Pass Filters

8 Insert points between the mic preamps and AD converters

2 Channels of Class-A Discrete JFET D.I instrument inputs

Digital Outputs - ADAT, AES & S/PDIF

MIC GAIN: -10 to +60dB (-10dB Pad)

LINE GAIN: -16 to +44dB (-10dB Pad)*

PHANTOM POWER: 48v +/-4v @ 10mA/Channel

MIC EIN: <-127.5dBu

CMRR: >80dB @ 100 to 10kHz

MAXIMUM INPUT LEVEL: +22dBu (+32dBu with Pad)

INPUT IMPEDANCE: Mic LO: 220Ω Balanced Mic MED: 1k2Ω Balanced Mic HI:
2k8Ω Balanced Line (All Z): >6kΩ Balanced

FREQUENCY RESPONSE: +/-0.5dB 10Hz to 100kHz

CROSSTALK: <-85dBu @ 1kHz & 10kHz

THD+N @ 0dBu (1kHz): 0.003% (-90.5dBu)

SNR: >90dB

HPF: Sweepable from 25Hz to 250 Hz, 2nd Order (12dB/Octave)

XLR: Pin 2 (Hot), Pin 3 (Cold) & Pin 1 (Shield)

1/4" JACK: TIP (Hot), RING (Cold) & SLEEVE (Shield)

* Line input level at the combi jacks will be affected by the input impedance switch position, this can be used as a second pad control to adjust line input ranges on all channels.

DISCRETE JFET D.I (Channels 1 & 2):

(measured to line outputs / insert send)

D.I GAIN: -10 to +60 dB (-10dB Pad)

MAXIMUM INPUT LEVEL: +16dBu (typical), +22dBu

INPUT IMPEDANCE: 1MegΩ Unbalanced

FREQUENCY RESPONSE: +/-0.5dB 10Hz to 50kHz

THD+N @ 0dBu (1kHz): <0.03% (-70dBu)

SNR: 89dB

1/4" JACK: TIP (Hot) & SLEEVE (Shield)

LINE OUTPUTS (Insert Sends):

MAXIMUM OUTPUT LEVEL:

+27.5dBu

OUTPUT IMPEDANCE:

<100Ω Balanced

ADC LINE INPUTS (Insert Returns):

(measured at optical output under AES-17)


MAXIMUM INPUT LEVEL: +18dBu

DIGITAL REFERENCE LEVEL: 0dBFS = +18dBu

INPUT IMPEDANCE: >10kΩ Balanced

FREQUENCY RESPONSE: +/-0.5dB 10Hz to Fs/2

CROSSTALK: <-80dBu @ 1kHz & 10kHz

THD+N @ -1dBFS (1kHz): <0.002% (-94dB)

THD+N @ -6dBFS (1kHz): <0.002% (-94dB)

DYNAMIC RANGE: 113dB un-weighted

115dB A-weighted

PEAK LED LINEUP: +16dBu (-2dBFS)

SIGNAL LED LINEUP: Variable Brightness from -30dBu to -10dBu (-28dBFS)

DIGITAL i/o:


ADAT 8 CHANNELS SMUX: 44.1 - 96kHz

AES | S/PDIF 8 CHANNELS: 44.1 - 96kHz

CLOCK Internal or External

WORLDCLOCK INPUT 75Ω BNC

Optional 75Ω Termination

POWER SUPPLY:


High stability, low noise internal SMPS

Fanless, quiet operation

Works anywhere in the world without reconfiguring

LINE VOLTAGES: 90 to 264V (a.c)

INTERNAL RAILS: +/-18VDC, +48VDC & +5VDC

FUSE: T1A (1Amp Time Delay)

CONSUMPTION: Maximum 40 Watts

WEIGHT: 4.0kg
---
Audient
ASP880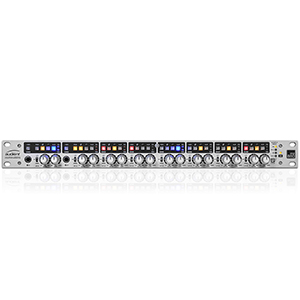 8-Channel Class-A Microphone Preamplifier and ADC
MPN #: ASP-880
UPC #: 5060374260139
Regular price: $1549 $1199.0000 Available from: 8th Street Music Condition: New Available to Order