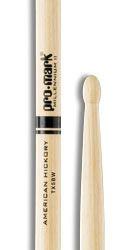 10 Pairs with the 11th Pair FREE
Product Code 7472
Sale Price!
$35.00
We're sorry, this product is no longer available.
---
There's quality control along the entire manufacturing process of our 8th Street drum sticks. At the end of the run, the sticks go through the quality control room, where each one is rolled on steel bars that are eight inches apart. This way each stick is actually seen and handled. After this first roll check, every stick is rolled again, after which each stick can be labeled. Then, in the final packaging process, the sticks are rolled one last time for the final check. All of the testers are drummers, and they tap the sticks on the counter surface and match them for feel, weight, color, and tone. From the cutting to the final bagging process, there is always hands-on quality control—no machines, no computers.
0
0
Choosing the "best" drumstick is a very personal decision. Many drummers have not yet discovered how much better they could play using the correct stick. It's not unusual for
professionals to use 2 or 3 different models or more.
Factors to consider when choosing a drumstick include density, straightness of grain, type of wood, weight, length, diameter, wood or nylon tip, plus the intangibles of balance and "feel". When selecting a stick, look for a good quality hardwood with the grain running uniformly from butt to bead. The kind of wood selected will have a great deal to do with the feel, the balance, the sound and the longevity of the stick. Some drummers prefer the natural sound of wood tips. Others prefer nylon tips for a bright, cymbal sound and longer tip life. Be sure to select a high quality nylon tip for the best sound and service .
Determine the size drumstick that best fits your hand, both in diameter and length. Remember, you're looking for comfort and a stick you can control that also gives you the sound you want. Try several different sizes for comparison before you decide to buy. After you become more experienced, you will probably find a specific brand and a particular model which best suits you for most playing situations.
---
8thstreet
Model 5B drum sticks Wood Tip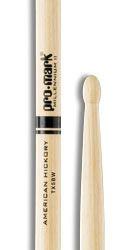 10 Pairs with the 11th Pair FREE
MPN #:
UPC #:
Regular price: $ $35.0000 Available from: 8th Street Music Condition: New Out of Stock