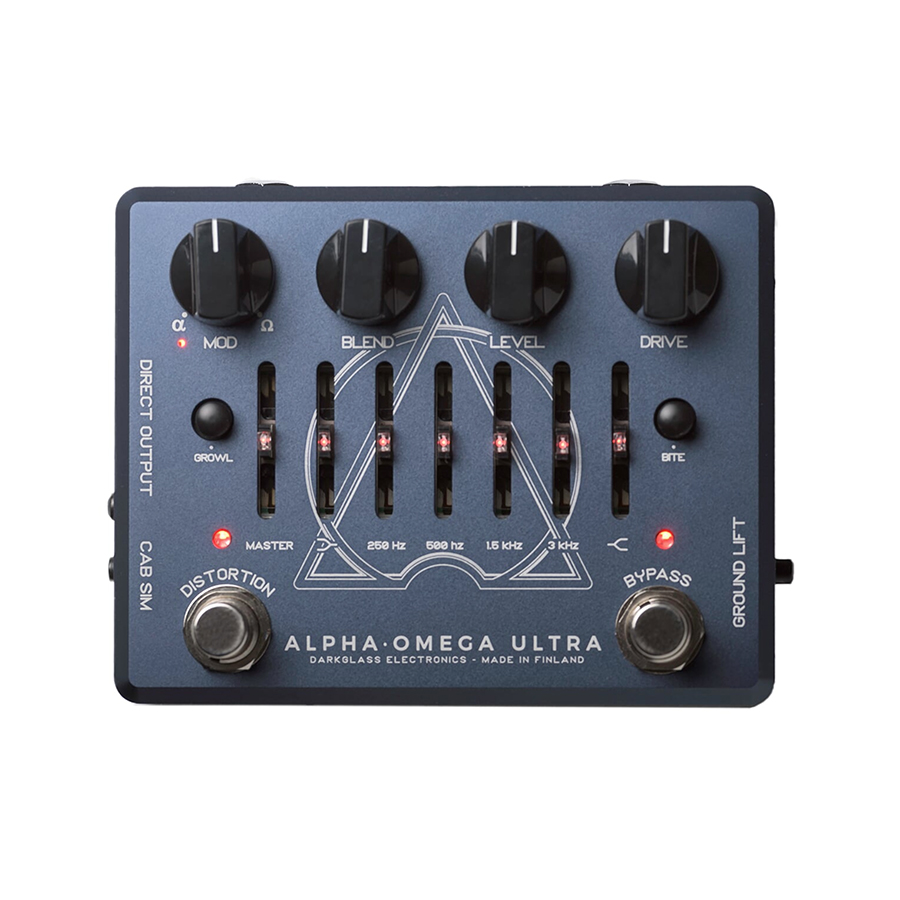 ---
As Technology progresses, so does what devices will be able to do to empower musicians' creativity, and Darkglass' main goal is exactly that: To push the boundaries of what musicians are able to achieve.

Today, we are taking a step into the future with our newest creation. The Alpha·Omega Ultra is the most versatile bass preamplifier we've designed: with its two distinct distortion circuits (Alpha and Omega), extremely high dynamic range, six-band active graphic EQ, dedicated headphone output and balanced direct output with switchable digital impulse-response cabinet emulation make for an incredibly complete tool for the modern bass player.

A cabinet's frequency response is a huge part of modern music production, as raw, distorted direct signals often require it for achieving big, natural tones out of instruments. Impulse Response cabinet emulation has become extremely popular in modern production to uncompromisingly replicate the benefits of real speakers (sonic-size and presence of the full-rig) without any of the drawbacks: having an acoustically treated room (or very, very unhappy neighbors), carrying bulky cabinets and setting up expensive microphones.

And as more and more musicians go direct, the need and benefits of incorporating studio-grade cabinet emulation into our top-of-the-line creations were evident. Now, you can have an uncompromising, ready-to-mix sound with your Alpha·Omega Ultra everywhere you go.

With the Darkglass Alpha·Omega already a successful release in 2017, the Ultra version is meant to be exponentially more versatile with these groundbreaking features.

The Alpha·Omega Ultra's Virtual Cabinet functionality allows you to get a consistent studio-grade setup by incorporating an incredibly accurate representation of your favorite cabinet's character. And since they exist in the digital domain, they can be changed in a matter of seconds via a USB port with the Darkglass Suite -available for both PC and Mac- a free, easy to use platform for experimenting with your favorite cabinet configurations. This feature is fully switchable on the Direct Output and always-on for the headphone output, which gives you the chance to practice silently with an indescribably realistic, full-rig sound.
2
2
MPN: AOUV2
UPC: 6430054580182

Alpha·Omega distortion engines

Bypass and distortion footswitches to use distortion and EQ separately

Six band EQ

± 20dB master volume control

Single user loadable cabinet simulation impulse response

Micro-USB B port to connect to PC/Mac to load a different Virtual Cabinet

3.5mm headphone output with cabinet simulation

Balanced XLR output with switchable cabinet simulation

Aux In

Switchable ground lift

nput impedance: 1M Ohm

Output impedance: 1k Ohm

Power supply: 9V DC center negative (not included)

Current consumption: 110mA


Blend: Mixes the clean and processed signals. The clean signal remains at unity gain while the volume of the overdriven signal is set by the Level knob, allowing for fine mix tuning.

Level: Sets the volume of the overdriven signal.

Drive: Sets the amount of gain in the overdriven signal.

Bite: Boosts High Mids (2.8kHz) for additional presence and definition.

Growl: Shelving Bass Boost for a fatter tone and increased low end saturation.

Mod: Selects or mixes between the two distinct distortion circuits: Alpha is punchy, tight with a lot of definition, whereas Omega is simply brutal and raw. On the Darkglass Suite you can assign footswitch control of the Mod to toggle between Alpha and Omega.

Master: Whereas the Level knob control the output of the overdrive section the Master volume adjusts the overall volume of the unit. Ideal for fine tuning the output on clean mode. It also serves as a DI and headphone volume control. Please note that volume is not affected by this control when the pedal is on bypass.

Bass: Low shelf +-12dB @ 80 Hz

Mid bands: +-10dB @ 250 Hz, 500 Hz, 1.5 kHz, 3 kHz

Treble: High shelf +-12dB @ 5 kHz

Ground lift: Disconnects the signal ground on the Direct Output to break any ground loops. Set this switch to either position that has less noise. The switch does not affect the ¼" output.

Cab Sim: Toggle the cabinet simulation on/off on the Direct Output. This switch completely bypasses all digital circuits and allows you to get a zero latency signal when needed.

Headphones: Alpha·Omega Ultra has an internal stereo headphone amplifier capable of driving a minimum load of 16 ohms from the 3.5mm stereo jack. Use the Master volume control to adjust the level.

USB: A Micro USB B connector allows you to connect the pedal to PC/Mac to load cabinet simulation impulse responses to the pedal and control various other settings.

DIMENSIONS: 125x96x57 mm (4,92x3,77x2,24 in)

WARNING: When the pedal is on bypass the master volume does not affect the headphone volume. In this case, the total volume is adjustable in Darkglass Suite. With sensitive headphones, the bypass volume can be very loud if not adjusted.

The Alpha·Omega Ultra has a current draw of 110mA. Only use a regulated 9V DC adapter with a center-negative plug. Due to ecological reasons, it does not accept batteries. Unregulated power supplies and/or higher voltages may result in suboptimal noise performance and even damage your unit, voiding the warranty
---
Darkglass Electronics
Alpha Omega Ultra V2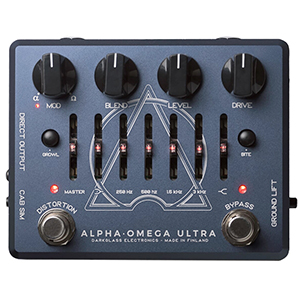 Bass Premp Pedal w/ Aux In
MPN #: AOUV2
UPC #: 6430054580182
Regular price: $499 $449.9900 Available from: 8th Street Music Condition: New Available to Order