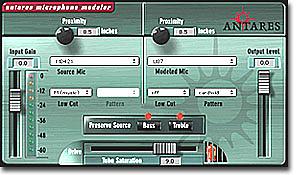 Plug-In Mic Modeler for ProTools TDM
Product Code 7889
Retail Price
$599.00
Sale Price!
$479.00
Buy Today and Save $120.00 (20% from Retail)

We're sorry, this product is no longer available.
---
IF YOU HAVE SPENT ANY TIME LATELY flipping thorough the pages of pro-audio magazines, you've almost certainly noticed the intense focus on microphones. From the proliferation of exotic new mics to the almost cult-like following of certain historical classics, never has the choice been greater. Or the prices higher. A perfect time, in fact, for Antares to introduce our new Microphone Modeler. Using our patented Spectral Shaping Tool (TM) technology, we've created digital models of a wide variety of microphones, from historical classics to modern exotics, as well as a selection of industry-standard workhorses. Simply tell the Microphone Modeler what microphone you are actually using and what microphone you'd like it to sound like. It's as simple as that.

Just Like Being There

Not only do the models reproduce sonic characteristics that make each microphone unique, but they also give you control of each mic's specific options. Does the mic have a low cut filter? If so, it's in the model. Wind screen on or off? Close or far placement? Each option results in the same sonic effect that it would have with the actual modeled mic. And for that final touch of perfection, you can even add some tasty tube saturation. With the Microphone Modeler, you can afford to record every track through a model of the specific mic that will produce the ideal sound you're looking for. Or use it in live performance to get the sound of mics you'd never consider bringing on stage. You can even use it during mixdown to effectively change the mic on an already recorded track. And with the ability to download new models from our web site, the Microphone Modeler will always keep you at the forefront of the microphone art.

Have It Your Way

The Microphone Modeler is available as a plug-in for TDM, MAS Mac VST, RTAS, and DirectX. And for those who prefer a self-contained solution, there's the AMM-1 stand-alone rack-mount processor. And best of all, whichever version you choose, you can expect to pay substantially less than even a single modestly exotic mic.

Mac TDM and RTAS versions compatible with Pro Tools|HD (OS 9 & OS X)
and Pro Tools 6 (OS X).
Proprietary DSP-based acoustic modeling allows any reasonable quality microphone to sound like any of a wide variety of high-end studio mics.
Models reproduce the effects of windscreens, low-cut filters, pattern-dependent frequency response and proximity effects.
Create hybrid mics that combine the bass response of one mic with the treble response of another.
Add a model of classic tube saturation distortion.
Use during mixdown to change the mic on an already recorded track.
Incredibly simple to use -- simply select the mic you're using and the mic you want it to sound like.
Includes an extensive collection of digital models of historical classics, modern exotics, and industry-standard workhorses.
Additional models can be downloaded from the Antares web site.
0
1
Proprietary DSP-based acoustic modeling allows any reasonable quality microphone to sound like any of a wide variety of high-end studio mics
Models reproduce the effects of windscreens, low-cut filters, pattern-dependent frequency response and proximity effects
Create hybrid mics that combine the bass response of one mic with the treble response of another
Add a model of classic tube saturation distortion
Use during mixdown to change the mic on an already recorded track
Incredibly simple to use -- simply select the mic you're using and the mic you want it to sound like
Includes an extensive collection of digital models of historical classics, modern exotics, and industry-standard workhorses
Additional models can be downloaded from the Antares web site

Modeled Microphones

The following is the list of the mics that shipped with the TDM Version 1.0 CD-ROM. We have a lot more in the pipeline and we'll be adding mics to the "New Arrivals" list below as their modeling is completed. If you'd like to see us model a mic that's currently not on the list, email your suggestion to: info@antarestech.com with the words "Mic Suggestion" in the subject line. We can't promise that we'll be able to model every one, but if we see certain mics getting a lot of votes, we'll do our best to have them included.

Please Note: All trademarks appearing below are the property of their respective owners. The following manufacturer names and model designations are used solely to identify the microphones analysed in the development of our digital models and do not in any way imply any association with or endorsement by any of the named manufacturers.

AKG C12A; C414; C414B/ULS Limited Edition Gold; C414B/ULS Modified by Audio Upgrades; 460B/CK61-ULS; D112; C1000S; D790; C3000; C4000B

Alesis AM61

Audio-Technica ATM-11; ATM-31; AT853Rx; AT3525; AT4047/SV; AT4033a/SM; AT4050; AT4055; AT4060

Audix D4; OM2; OM3-xb; OM5

B&K 4007

beyerdynamic M-500 Limited Edition Classic; MC-834; CK-703

Brauner VM1

CAD Equitek E100; Equitek E200; Equitek E350; C400s; VSM1; 95Ni

Coles 4038

Groove Tubes MD1

Earthworks Z30x; TC30K

ElectroVoice N/D357; PL20

Lawson L47MP

Manley Labs Reference Gold

MicroTech Gefell UM 800

Neumann U47; U 87; U 87 70th Anniversary Gold Edition; M 149; TLM 193; KM 184; TLM103

Oktava MC-012; MK-319

RCA BK5A

Rode NT1; NT2; NTV

Royer R-121

Sennheiser MD421; MD441; E609; E835S

Shure Beta 52; Beta 57A; Beta 87A; Beta 98D/S; SM7A; SM57; SM58; SM81; SM98A; KSM32; VP88 Sony C800G; C48; C37P

Telefunken U-47 (Original Tube)

New Arrivals

Here are some newly modeled mics that we've completed since the release of the v1.0 CD-ROM. They're available for download now.

AEA R44C

AKG D1; Solidtube

Audix SCX1; CX111; OM-6; D-1; SCX-one

Behringer Ultravoice XM8500; ECM8000

Beyerdynamic M500

Brauner Valvet

CAD VSM1; VSM-11

Electro-Voice RE55

Neumann U 89i

Oktava MK-219

RCA 77dx; RCA44

Shure Beta 58

Soundelux U95S

Tannoy Large Vintage Ribbon; Small Vintage Ribbon

Ultravoice ECM 8000; XM8500

Coming Soon

Here are some additional mics that we're currently modeling. They'll be available for downloading soon.

AKG C 12 VR; C414 EB; C 535 EB; The Tube

Audio-Technica AT4051; AT813a; ATM25

CAD Equitek E-200

Electro-Voice RE15; RE16; N-D868

Earthworks QTC1

Langevin CR-3A

Marshall MXL 2001P; MXL 2003

Neumann TLM 103; KM 84; U 47 FET

Sennheiser MD 421-II; K6-ME64

Shure SM7; SM98A

Plug-In Mic Modeler for ProTools TDM
---
Antares
Microphone Modeler MAC TDM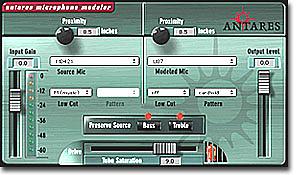 Plug-In Mic Modeler for ProTools TDM
MPN #:
UPC #:
Regular price: $599.00 $479.0000 Available from: 8th Street Music Condition: New Out of Stock