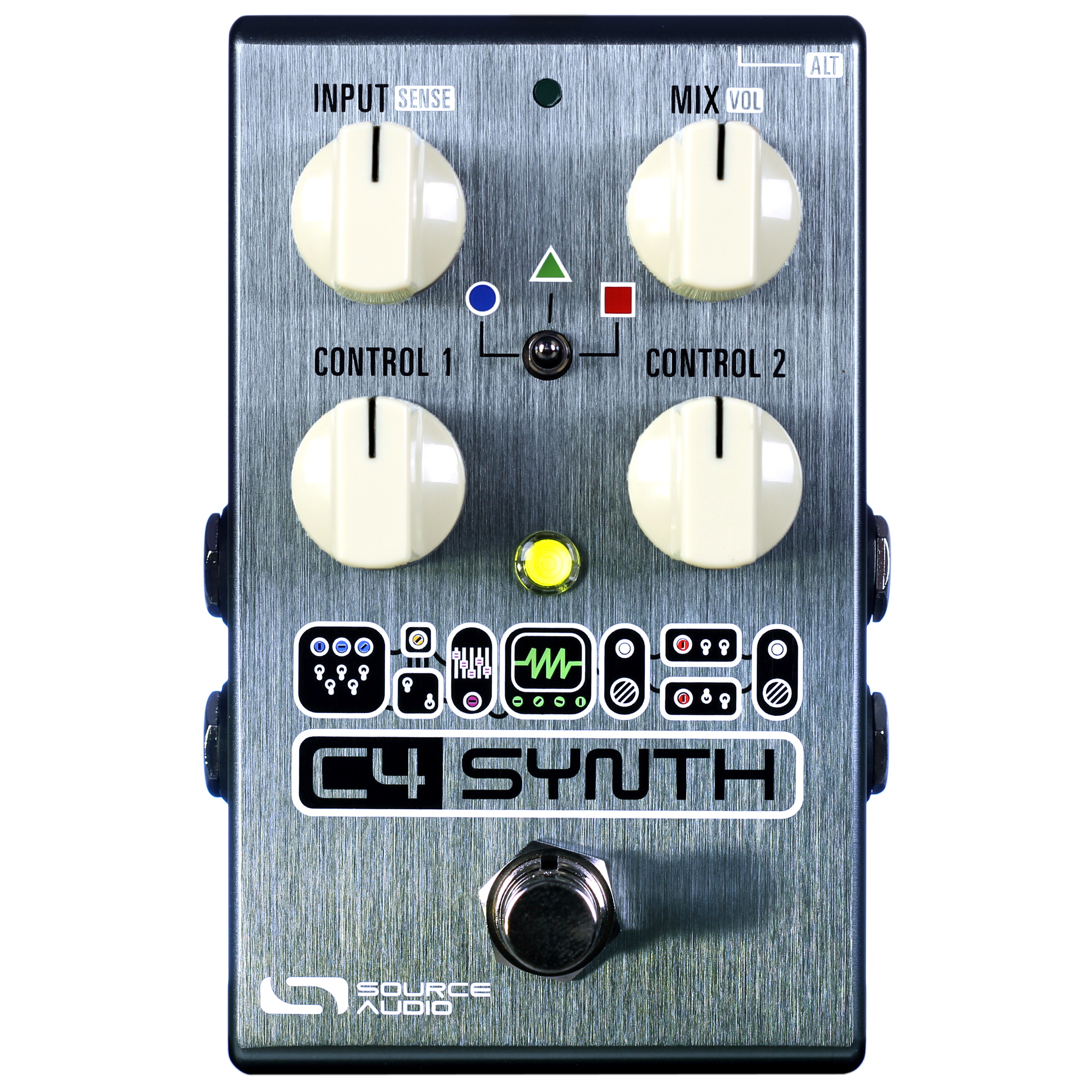 ---
"Synth pedals need lots of different sounds, because personal taste is everything in this space," says Source Audio President Roger Smith. "Most synth pedals have a relatively narrow range of sounds - that is not enough. The C4 has over 120 presets today, and we estimate it will grow to 1000 a month from now. Our innovation with this pedal is not just flexible sound creation tools - more importantly, it is the simple means by which any user can browse and play the library of sounds, burn a handful of favorites directly to the pedal, and then bring them to their next gig in a small, simple to use package. No other synth pedal in history offers this."

Burning presets to the C4 Synth is a straight-forward process. The C4 connects to the Neuro Editor via the pedal's mini USB port or the Neuro Mobile App via the phone's headphone jack and Input 2 on the pedal. Once connected, musicians can easily browse presets on the pedal for testing. Favorite presets can then be saved with a single click to one of C4's six toggle switch positions or 128 MIDI accessible positions. It's a fun process that allows users to create the perfect synth pedal for their needs.

On the surface, the C4 features a simple 4-knob control panel (two of the knobs are dual-function) that includes Input Level, Envelope Sensitivity, Wet/Dry Mix, Master Output Level, and two knobs labeled "Control 1" and "Control 2" that adjust different parameters depending on the preset. The C4 comes pre-loaded with six dynamic synth presets that range from vintage analog to the thoroughly modern. The pedal also includes powerful 56-bit signal processing, a compact anodized aluminum housing, stereo inputs and outputs, and a mini USB port that receives MIDI messages from DAW (digital audio workstation) software as well as external MIDI controllers with USB host support. The C4 can also receive MIDI CC messages when connected to the Neuro Hub (also sold by Source Audio).

For those who wish to explore the deep editing abilities of the C4, the Neuro Desktop Editor and Neuro Mobile App offer a comprehensive set of modular synth inspired sound sculpting tools. The Sound Editor includes four assignable voices, three oscillator wave shapes (sine, square, saw), ten-plus envelope followers, twenty-plus modulating filters, distortion, tremolo, pitch shifting, intelligent harmonization, FM synthesis, two programmable sequencers and more. After dialing in a sound users can either burn the preset directly to any of the pedal's 6 toggle switch positions (and 128 MIDI accessible positions) or publish the preset for other C4 owners to try.

While still developing the C4, Source Audio tried something unique by releasing fifty limited-edition, hand-painted C4 Synths to the public. With nearly no promotion the fifty units sold out in minutes. "We wanted to get the C4 in the hands of some highly motivated users," said Smith. "We knew this especially engaged group would give us some excellent feedback and create a swath of awesome presets for the official release." The result is a large and growing collection of thoroughly compelling user presets.

Reaction to the C4 from this core group of limited-edition owners was outstanding. Simon Francis (bassist for Ellie Goulding & Kylie Minogue) said, "The C4 brings a depth of sound and a responsive feel/tracking that I have not encountered before. Its compact form factor coupled with an editor that deftly balances simplicity with deep sound design possibilities makes this a game changer." Jason Richards (session guitarist and Ableton programmer) said, "The C4 is everything I didn't know I needed in a synth pedal. Finding the perfect synth engine has a been a long search for me, and the intuitive hardware layout with software integration makes this pedal far beyond anything else in that family of gear."
2
2
MPN: SA249
UPC: 890729001583



Six Preset Positions: Use the C4's three-position toggle switch and two preset banks to save six easily accessible presets.

Growing Library of Published Presets: For quick access to a world of great tones, try sampling sounds from a vast collection of published presets created by the Source Audio team and the ever-growing C4 Neuro Community.

Unprecedented Sound Sculpting Options: The powerful Neuro Desktop Editor (Free download for Mac and Windows) and Neuro Mobile App (iOS and Android) offer maximum sound exploration possibilities. Use Neuro's modular synthesizer inspired editor to create custom C4 Synth presets that can be burned directly to the pedal, saved to a private cloud based library or shared publically with other members of the Neuro Community.

Supreme Tracking: If tracking matters to you (and it should), you will be amazed by the lightning quick, imperceptible latency of the C4 Synth.

128 MIDI Accessible Factory Presets – The addition of a third party MIDI controller with USB host provides access to any of the pedal's 128 Factory presets.​

Stereo Inputs and Outputs: Use the Neuro Editor's panning controls to route each Voice to any location in a full stereo spread.

Compact Design – The durable, anodized aluminum housing has a small footprint and sturdy hardware. Dimensions: L: 4.5 in./11.4cm x W: 2.75 in./7cm x H: 2 in./5.1cm (including knobs).

Universal BypassTM – Select either analog buffered or relay based True Bypass.

USB Port - Class compliant USB-MIDI allows the C4 to work as a plug-and-play device with recording software running on Mac and Windows recording software or any third party MIDI controller with USB host. The USB port also offers connectivity to the Neuro Desktop Editor providing access to deep editing possibilities and pedal firmware updates.
​
External Expression and Tap Tempo Control — Use the Control Input jack with the Source Audio Dual Expression Pedal (expression control to multiple parameters) or Tap Switch (adjust LFO rates on the fly).

Includes 9v DC power supply (300mA / Negative Tip)

Includes 1/8" to 1/4" cable for Neuro Mobile App connection.

Power Consumption — 165mA

USB port — Connects to Mac or Windows PC for firmware updates and the forthcoming in-depth effects editing software.

Brushed anodized aluminum housing.

Dimensions: L: 4.5 in./11.4cm x W: 2.75 in./7cm x H: 2 in./5.1cm (including knobs)
---
Source Audio
C4 SYNTH
A Eurorack Modular Synth in a Pedal for Guitar and Bass.
MPN #: SA249
UPC #: 890729001583
Regular price: $299 $249.0000 Available from: 8th Street Music Condition: New Available to Order