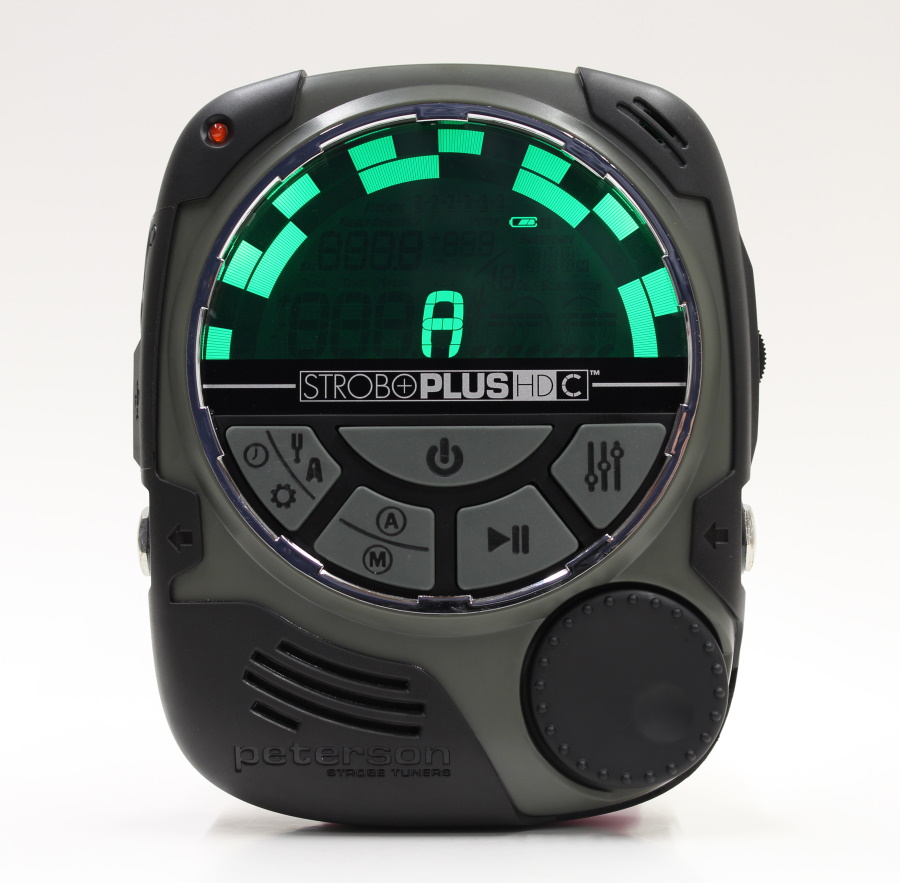 ---
Since 1948, Peterson tuning products have defined the standard in tuning accuracy. The StroboPLUS HDC encompasses decades of tuning authority and technology to deliver the ultimate strobe tuner/metronome combo! The unparalleled 0.1 cent tuning resolution will tune any instrument to an ultra-high degree. Featuring a high-definition, multi-color display with variable color LED backlight, the StroboPLUS HDC display can be seen easily across the stage, bench, studio or classroom. Over 200 exclusive Sweetened Tunings® and Guided Tunings on-board accommodate a variety of instruments and musical genres. The included, highly configurable metronome features precise beat matching 0.1 QPM ( Quarter Notes per Minute ) adjustability, ultra-wide tempo range, advanced subdivisions, accent patterns and polyrhythms and can also import tempo maps. The StroboPLUS HDC is the perfect tuning, ear training and rhythm tool all in one package!

The StroboPLUS HDC's Virtual Strobe display is DIRECTLY driven by the input signal. That means you'll see the attack, sustain, and the decay of the note being tuned - all in real-time.

Its speed of movement is in direct correlation to the distance from the target pitch and the display doesn't exhibit the often found jerky motion found in needle or LED-based tuners.

You can literally watch the strobe bands settle as you pull that note into the target pitch!

The StroboPLUS HDC includes the most innovative and versatile metronome as a standard feature.

Hundreds of subdivision combinations, accent patterns, polyrhythms, and user-imagined tempo maps are at your disposal.

Tactile feedback is also available with the use of an optional BodyBeat Vibe Clip.

The StroboPLUS HDC comes with over 180 factory preset Sweetened Tunings that cover a wide variety of electric and acoustic instruments. Sweetened Tunings address the specific inharmonicities of the selected instruments to optimize their tuning.

Also included standard are a collection of guided tunings that include popular drop, alternate, artist-specific, and standard string number tunings.

Native compatibility with Peterson Connect allows users to configure and update their StroboPLUS HDC for a personal tuning experience.

The Peterson Connect application for Google Chrome, Microsoft Edge (Windows/OS X) and Chromium browsers provides a simple method to configure and customize your StroboPLUS HDC. Create your own sweeteners, navigate the user tuning trading post, or arrange preset tunings before the gig.

Tempo Maps can also be loaded to the StroboPLUS HDC via Peterson Connect for practicing musical scores - complete with tempo changes!

Peterson Connect is also the hub for updating firmware ensuring that it remains up-to-date with any future software upgrades.
0
0
MPN: 403885
UPC: 805265500643

Power Supply: USB Wall Charger (Not Inc.)

Note Range: C0 - A#8

Note Selection: Automatic Or Manual

Firmware Updateable: Yes

Set Timer / Stop Watch: Yes

Tempo Range: 10-280 Quarter Notes per Minute

Tempo Increment: 0.1 Quarter Notes per Minute

Tempo / Rhythm Maps: 10 Locations

Accent Patterns: Over 50

Subdivisions: Over 100

Beats Per Measure: 1-19

Beat Values: 2, 4, 8, 16

Polyrhythms: Element 1 / Element 2 ( 1 - 19 each )

Peterson Connect Compatible: Yes

Form Factor: Desktop / Benchtop

Accuracy: 0.1 Cents

Display Type: Variable Backlight Color LCD

Display Resolution: 512 Segments ( 256 per row )

Construction: ABS Plastic

Product Dimensions LxWxH: 5.5" x 4.25" x 1.5"

Product Weight: 0.66 lbs

USB Port: Yes

USB Type: Micro

Battery Type: Lithium Ion (Included)

Power: AC ( USB ) 5V 500 mA

Built-In Microphone: Yes

Built-In Speaker: Yes

Volume Control: Yes

Headphone Jack: Yes

Metronome: Included

Inputs: 1/4" Mono

Outputs: 1/4" Mono (thru), 3.5mm Headphone, Vibe Clip

Tone Generator: Yes (C1 - G9)

Concert A Range: 390Hz to 490Hz

Global Cent Offset Range: +/- 50 cents

Transposition Range: -6 to +5

Frequency Response Range: 16.35Hz - 7302Hz

Warranty: 2 years

Sweetened Tunings: 219

User Presets: Tuner - Unlimited / Metronome 100

Historic Temperaments: Yes (See List Above)
---
Peterson
StroboPLUS HDC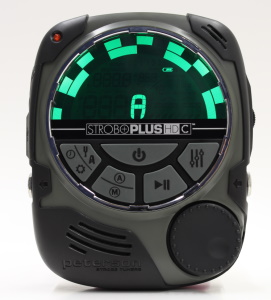 Compact Strobe Tuner / Metronome & Timer
MPN #: 403885
UPC #: 805265500643
Regular price: $249.99 $179.9900 Available from: 8th Street Music Condition: New Available to Order