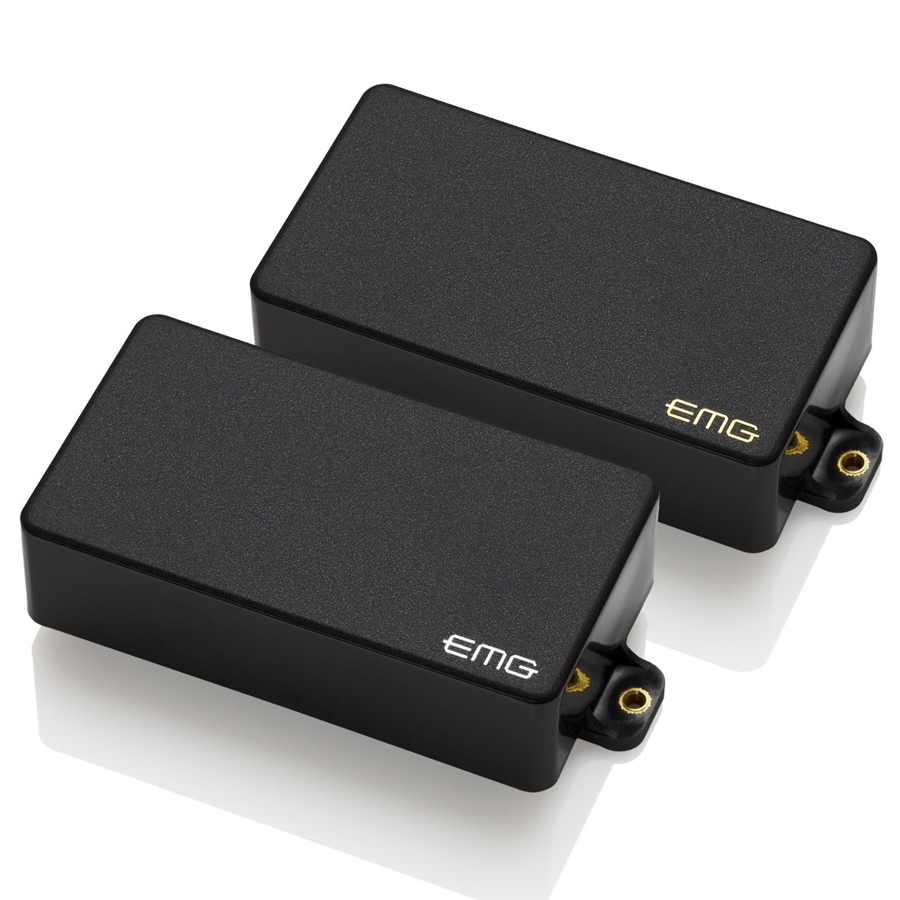 Zakk Wylde Humbucker Pickup Set
Product Code 20957
Retail Price
$279 99
Sale Price!
$199.00


We're sorry, this product is no longer available.
---
EMG had great response to their Pro Series systems, which are pre-assembled setups as used by certain big-name players. But some players don't use Strat-style guitars. Now, EMG is proud to recognize Zakk Wylde, whose blistering sound is powered by EMG, with their first artist system for rear mounted electronics. The EMG-ZW is a combination of the EMG-81 and EMG-85 Humbucking Pickups in a system designed to retro-fit into Les Paul guitars, or for that matter any 2 humbucking pickup guitar. It comes complete with everything you need for installation in a late model Gibson Les Paul including Long shaft pots, battery clip, output jack and easy to follow instructions. Sorry, the bullseye paint job is not included!

EMG Humbuckers unite a number of crucial EMG innovations in the search for a voice that delivers both classic tones and the benefits of modern technology. Each of these pickups includes an integral preamp (an EMG first) which virtually eliminates hum and noise while simultaneously reducing shock hazard to the player. Low impedance design maintains your tone as you change the volume settings at the guitar and preserves your high frequencies even with a long cord.
0
0
MPN: EMG-ZW SET LS
UPC: 654330213809

EMG's proprietary Impedence Modeling™ and Dual Resonant™ technologies allow for precise tailoring of frequency response and resonance yielding a variety of highly tuned and tweaked tones. Another EMG exclusive, the Lo-Flux™ magnetic design enhances harmonics and sustain. We tailor the materials and geometry of the magnets to spread the magnetic field evenly across the strings for a balanced sound.

The EMG-85 was developed as a replacement for EMG's original EMG-58. They still manufacture the EMG-58 on occasion (via their Custom Shop), but the newer EMG-85 is different than the original 58. Both models have characteristics that are admirable, but the 85 won out in the end.

EMG-85
Although the EMG-85 has more measurable output than the 81 its frequency response and string interface are different. The 85 uses two Alnico magnet loaded coils with a wide aperture to maintain a beefy low end and a fatter top end. It's a perfect choice as a rhythm pickup in combination with an 81 in the bridge, which is the same pickup combination used by Zakk Wylde.

The midrange has better definition and doesn't get foggy or muddy in the rhythm position either. Steve Lukather uses the 85 as his lead pickup in the bridge position of his Ernie Ball Signature "Luke" model. It has loads of output and isn't muddy.

The 85 has a natural tone that works great as a rhythm and blues pickup. It appeared on the later Guild® Bluesbird™ (designed by George Gruhn) model which was a favorite of blues player Buddy Guy for years. The EMG-85 works best if you like the natural distortion that comes from overdriving the front end of your amp. Under any conditions it responds accurately to your technique.

EMG-81
The 81 was actually developed in 1979 along with the EMG-58. Like most EMG's, it wasn't heavily advertised until 1981. The EMG-81 has the familiar U-shaped humbucking structure but replaces the pole pieces with steel bars and a smaller ceramic magnet. It has become the choice for metal and extreme players alike, Kirk Hammett from Metallica and Kerry King of Slayer to name only two.

Distortion during lead passages is consistent, sustain is long and the breakup fades smoothly. The ceramic magnet in combination with wide aperture steel poles lend a quick attack but the tone stays nice and fat at the same time. Perfect if you're the only guitarist in the band, and need to switch from rhythm to lead and still keep the band moving. Another great thing about the EMG-81 is it's quiet. If you're playing at really high gain the last thing you need is noise.



EMG-85 Specifications

Logo Color: Gold
Resonant Frequency: 2.55 kHz
RMS Output Voltage: 1.25
Peak Output Voltage: 1.75
Output Noise: -89 dBV
Output Impedance: 10kOhms
Current @ 9V: 80 Microamps
Battery Life: 3000 Hours
EMG-81 Specifications

Logo Color: Silver
Resonant Frequency: 2.25 kHz
RMS Output Voltage: 1.25
Peak Output Voltage: 1.75
Output Noise: -91dBV
Output Impedance: 10kOhm
Current @ 9V: 80 Microamps
Battery Life: 3000 Hours

---
EMG
EMG-ZW Set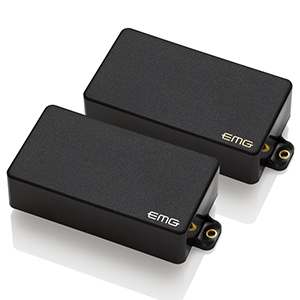 Zakk Wylde Humbucker Pickup Set
MPN #: EMG-ZW SET LS
UPC #: 654330213809
Regular price: $279 99 $199.0000 Available from: 8th Street Music Condition: New Out of Stock