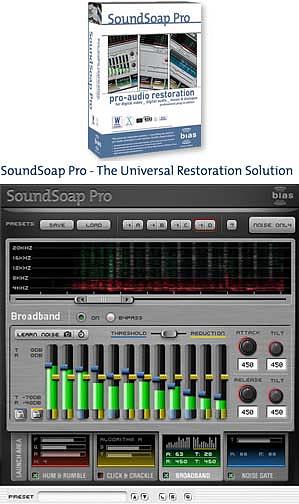 ---
Bias SoundSoap Pro Restoration Plugin for (Macintosh and Windows)
BIAS SOUNDSOAP PRO - a New high-end audio restoration solution for Mac OS X and Windows XP features multi-band noise reduction; click, crackle & hum removal; plus noise gate - all integrated into a single plug-in.

Whether you're archiving from vinyl, transferring studio and live analog recordings, performing forensic audio analysis, or battling a noisy recording environment, SoundSoap Pro scrubs away problems — leaving nothing behind but sparkling clean results.

SoundSoap Pro offers unparalleled noise reduction and audio restoration — with a minimum of tweaking, and greatly reduced chances of undesirable sonic artifacts. Competing high-end solutions may do a decent job, but are typically complex, costly, and cumbersome — in some cases forcing you to tweak hundreds of controls before you can get close to your desired results.

SoundSoap Pro combines, it all in a single plug-in, with a unique, fully integrated interface so you're only one click away from a complete arsenal of tools.

SoundSoap Pro — it'll leave your tracks sparkling. Without taking you to the cleaners.
1
1
UPC: 667100008949

Fastest, most advanced noise reduction & audio restoration solution available
Compatible with most plug-in hosts from Adobe, BIAS, Cakewalk, Digidesign, Emagic, MOTU, Sonic Foundry and others
Supports VST, RTAS, DirectX & Audio Units plug-in formats
Mac OS X & Windows XP compatible
Unsurpassed combination of performance, speed, & control -- all with minimal unwanted sonic artifacts
Integrated approach offers four noise reduction & audio restoration tools in a single plug-in; interface suggests order of operations to achieve optimal results
Total store/recall of all parameters
ABCD Compare function offers instant comparison of up to four different settings
Hum & Rumble tool effectively eliminates buzzing & hum from RFI, EMI & other sources; 20 - 500 Hz w/Q (Hum & Rumble), and up to 10 harmonics (Hum); also reduces low-frequency & subsonic rumble
Click & Crackle tool is ideal for digital transfers of vinyl records; also a great problem solver for pops & other brief, transient problems
Broadband provides deep, sonically transparent elimination or suppression of tape hiss, tire noise, wind, HVAC noise, fluorescent lighting noise & other continuous broadband problems; operates across 512 distinct audio bands (controlled by 12 Threshold & reduction sliders with grouping capability); also features attack, release, & tilt knobs for greater control
Noise Gate effectively silences noise that falls between desired program material; also useful for creating a variety of extreme special effects
Real-time spectrogram provides constant, global visual monitoring of spectral noise; color coding lets users discern problem areas & make required adjustments, while listening to & watching the immediate results
"Noise Only" button allows the user to hear, on a global level, only what is being removed
Bypass function bypasses processing either globally or for each tool
Thumbnail view shows each tool's parameters with a minimum of screen real estate

SYSTEM REQUIREMENTS

Macintosh
• G4 or G5 desktop Apple Macintosh or PowerBook (>500MHz processor recommended)
• Macintosh OS 10.2 minimum
• Compatible RTAS, AU or VST host application

Windows
• Pentium III or Pentium IV desktop or laptop (>800mhz processor recommended)
• Windows XP Home or Professional
• Compatible RTAS, DirectX or VST host application

Both
• 128MB RAM minimum
• 20MB available disk space
• Free USB Port
---
Bias
SoundSoap Pro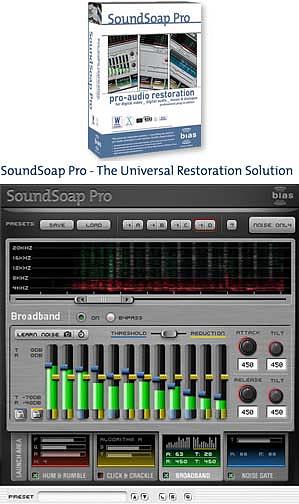 Restoration Plugin for (Mac & Windows)
MPN #:
UPC #: 667100008949
Regular price: $599 $399.0000 Available from: 8th Street Music Condition: New Available to Order