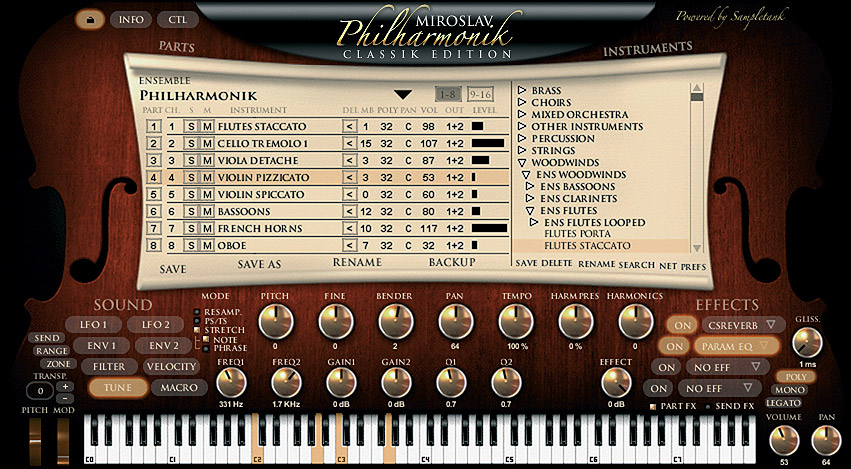 ---
A complete and full-featured orchestral virtual instrument covering solo instruments and ensembles. With 250 orchestral sounds covering the entire orchestra in 1.5GB of samples, Miroslav Philharmonik CE is one of the best sounding orchestra sound modules at a price that is affordable for any musician.

Miroslav's sounds have a musicality and playability rarely found in orchestral sample collections. There has never been a body of work that has captured the same depth and beauty of real players putting feeling and emotion into the samples like this collection captured by Miroslav. A highly accomplished musician (one of the founding members of the band Weather Report), Miroslav knew how to bring the most musical aspects of the instruments and players together in a sample collection.

Beautifully sampled in the historic Dvorák Symphony Hall with true spatial positioning. Because Miroslav sampled the orchestral ensembles in their correct spatial acoustic positioning within the Dvorák Symphony Hall in Prague, one of the best sounding halls in the world, the sounds fit together when layering or multi tracking like a high-quality classical music recording. This gives the sounds of Miroslav Philharmonik an especially rare acoustic quality and realism that is unmatched in the sample world.

Now anyone can afford the sound of a best-seller. Since its introduction in 2005, Miroslav Philharmonik has been a best-selling orchestral sound module in the retail musical instruments market. For the first time, a selection of this award-winning material is available at a price that any musician can afford. Miroslav Philharmonik CE offers almost the same instrument range as the full-version product, but with fewer articulations and performance patches, at a much lower price. This makes Miroslav Philharmonik CE ideal for users that approach an orchestra module for the first time and are more interested in having the entire orchestral sound range than making the complex, articulated, orchestrations that are possible with the full version.
1
1
MPN: MP-PLUG-CLS-IN
UPC: 8025813227033

- The Miroslav Philharmonik's plug-in is based on an enhanced version of the SampleTank workstation architecture, offering 16 multi-timbral parts, with full control over the tempo and pitch of the sounds.
- Each of the 16 multi-timbral parts can be loaded by selecting one of more than 250 orchestral instruments included in Philharmonik. All of the instruments can be easily found in neatly organized folders within the browser window.
- Miroslav Philarmonik's multi-timbral parts can also be saved as combi ensembles, allowing you to load an entire orchestral set with one click.
- Each part also offers 4 insert effects, which can be selected among 20 high-quality classical-oriented effects, for creative sound design and arrangements.
- Additionally, each part also offers up to 50 sound shaping controls, for maximum flexibility over sound sculpture.
- Exclusively, Miroslav Philharmonik also offers a master effects section with individual parts' send capability. These can also be selected among the 20 built-in effects.
- Another unique Miroslav Philharmonik feature is the inclusion of a high-quality master reverb in its list of 20 effects, with an easy to use version of IK's new CSR, Classik Studio Reverb.
- Also included are IK's other award-winning effects, like the warmth of the analog EQ and compressors derived from T-RackS and AmpliTube. These included effects are perfect for obtaining that smooth orchestra sound.
- Miroslav Philharmonik also includes other features that have made SampleTank the industry-standard sound workstation, including a search function, full MIDI controls of the parameters, zone editing, multiple outputs and more.

- 16 part multitimbral sample-based orchestral workstation
- 250 sounds totaling 1.5GB of samples
- 20 Classic DSP effects
- 4 Insert effects instrument
- 4 Master effects with separate sends
- Hi-quality master reverb derived from CSR
- Multiple synth engines including STRETCH™ and Pitch-Shift/Time-Stretch
- Zone feature for accurate single sample editing
- Full MIDI control of performance parameters
- Part preset and Combi preset customization features
- 256 notes polyphony
- Available as a VST, RTAS, AU plug-in (as well as a standalone application) for Mac OS X and Windows from the same box

System Requirements

Power PC based Macintosh®
- Minimal: 866 MHz G4 processor, 512 MB of RAM, Mac OS X 10.4 or later.
- Suggested: dual 1.25 GHz G4 or G5 processor, 1 GB of RAM, Mac OS X 10.4 or later.
- Supported Plug-in formats: AU, VST, RTAS.
- Miroslav Philharmonik CE RTAS requires ProTools 7.0 or later.

Intel based Macintosh®
- Minimal: 1.5 GHz Intel Core Solo processor, 512 MB of RAM, Mac OS X 10.4.4 or later.
- Suggested: 1.66 GHz Intel Core Duo processor, 1 GB of RAM, Mac OS X 10.4.4 or later.
- Supported Plug-in formats: AU, VST, RTAS.

Windows®
- Minimal: Pentium 1 GHz / Athlon XP 1.33 GHz, 512 MB of RAM, Windows XP.
- Suggested: Pentium 2.4 GHz / Athlon XP 1.33 GHz, 1 GB of RAM, Windows XP.
- Supported Plug-in formats: DXi, VST, RTAS.
- Miroslav Philharmonik CE RTAS requires ProTools 7.0 or later.
---
Ik Multimedia
Miroslav Philharmonik Orchestra and Choir - Classik Edition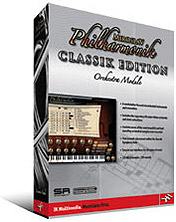 Orchestra and Choir Workstation Software
MPN #: MP-PLUG-CLS-IN
UPC #: 8025813227033
Regular price: $199.99 $159.9900 Available from: 8th Street Music Condition: New Available to Order