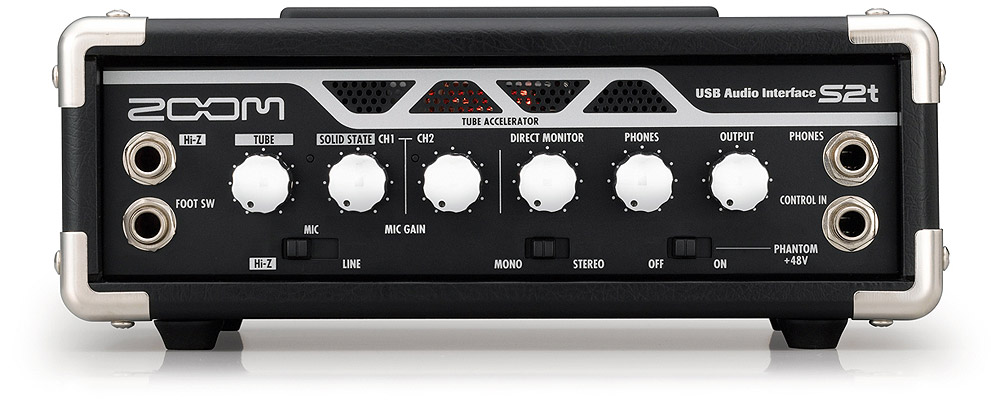 ---
The ZFX Stack Pack - USB Audio Interface and Guitar Modeling Software - puts a virtual music store full of amps, cabs, and effects just a mouse click away. The guitar wizards at ZOOM designed the ZFX Stack Pack to be the entry point for all the music that you want to record and gives guitarists, bassists, and recording engineer/songwriters the tools to create ultimate tone solutions with an simple to use software/hardware setup and "dead-on" amp, cabinet, and special effects modeling.

Incredibly easy and fun to use, ZOOM ZFX combines sophisticated amp modeling software with a custom designed Hi-Z guitar input section with a 12AX7 classic guitar preamp tube. That allows the guitar player to blend the clarity of solid-state sound with the natural compression and saturation of a vacuum tube for a warm, organic tone that only comes from natural tube harmonics.

Also on board is a full blown, stereo USB audio interface featuring two combo balanced XLR - 1/4" inputs (with 48V phantom power for use with studio condenser microphones) to record vocals, acoustic instruments, keyboards, or drums (electronic or acoustic) . The ZFX Interface, combined with CUBASE LE 4 DAW recording software (included) and your computer, you are ready to record just about ANYTHING that you can drag or carry into the studio.

But, electronic wizardly aside, it's all going to come down to the sound. With 12 classic guitar amps, 5 amazing bass amps, 16 cabinets, 4 types of recording mics and 41 stompbox effects, the tone possibilities are virtually limitless. And with drag-and-drop simplicity, you can choose any combination of amplifier, cabinet and effects while positioning the mic anywhere in the room, giving you complete control over your sound.

Zoom's newly developed modeling algorithms use precise analysis of impulse response and frequency response to perfectly emulate the sonic characteristics of tubes and transistors found on classic amps. And Zoom duplicated all the internal circuit processes as well, so you can tweak your tone in exactly the same way as the knobs and switches on the actual amp. For even more tone control, you can move the accurately modeled condenser and dynamic mics to any position: close miking for a grittier sound, or off-cabinet miking for more room ambience.

With its intuitive user interface you are in control the moment that you plug in. Zoom has made ZFX easy to setup and change while you play so changing amp settings, cabinet layout, mic type and position, and rearranging the stompbox effects is simple with our unique drag-and-drop operation. You can alter your setup quickly and hear the changes in real time so you can get the right sound right away without having to switch from edit to play modes.

Begin with its easy-to-read catalog view of all the models available and double-click to bring up detailed descriptions to find just the right component for your desired tone. Adding or changing amps is easy via drag-and-drop.

More than 300 tone presets are included, offering a wealth of amp, cabinet, mic and effects setting combinations. Choose from vintage rock tones, country, jazz and blues to ultra modern or heavy metal setups with a double-click of your mouse. And Zoom also pre-programmed 50 specific artist sounds from rock, jazz, blues and heavy metal.

With ZFX, you have complete control over the mic position within the recording booth. Whether you want a tight, gritty sound from the center of the speaker cone, a smooth sound from the edge of the cone or more room ambiance by pulling the mic away from the cabinet, you can get the setting you want.

Click and drag your mouse to tweak the switches and knobs on each stomp box. Zoom in on an effect by double-clicking on it. By inserting tools such as a splitter or mixer, you can place multiple amps for even more flexible routing.

The built-in chromatic tuner lets you quickly tune at any time. Special tunings are on-board and you can drop tune by a semitone or two as well.

The S2t USB audio interface is specifically designed for the needs of guitarists. With a cool, amp head design, the compact S2t looks great on your desktop. Connect guitars, basses, vocal mics or keyboards and get high quality, 24-bit/48 kHz recording resolution. And since it's USB bus powered, an external power supply is not necessary.

The FP02 expression pedal or FS01 footswitch can be connected to the S2t, giving access to additional controller functions. (Available separately.)

INCLUDED WITH ZFX: Cubase LE 4 is a powerful DAW music production system (PC/MAC) that can handle recording, editing, and mixing tasks both for audio and for MIDI. It incorporates the same audio engine as the multi-award winning, higher-level version Cubase 4, and is ideal as an entry into computer-based music production. VST plug-in support means that you can get started right away, creating amazing tones to record your guitar or bass using ZFX. AND FOR A LIMITED TIME GUITAR RIG LE modeling software IS INCLUDED FREE in the ZOOM ZFX package.
1
1
MPN: ZFX
UPC: 4515260007653

- GUITAR AMPS: 12 guitar amplifiers made famous throughout 50 years of rock history
- BASS AMPS: 5 bass amplifiers for classic bass tones
- CABINETS: 16 cabinets to be used in any combination you need
- MICROPHONES: 4 professional recording mic models found in every studio microphone locker
- STOMP EFFECTS: 41 stompbox effects to add depth and color to your sound
- USB interface with 12AX7 tube, 2 x XLR inputs, and phantom power
- Cubase LE recording software included

System Requirements:
- Windows XP (SP2) / Windows Vista
- Intel Pentium 4 1.4GHz / AMD Athlon 64 or better
- 512MB RAM minimum (1GB or more recommended)
- 1024 x 768 monitor resolution or more
- USB 1.1 or 2.0 compatible port
- Supported Plug-in format: VST
---
Zoom
ZFX Stack Package (PC Only)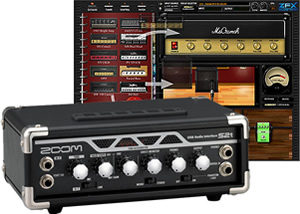 Guitar Modeling Software with USB Interface
MPN #: ZFX
UPC #: 4515260007653
Regular price: $324.99 $129.0000 Available from: 8th Street Music Condition: New Available to Order