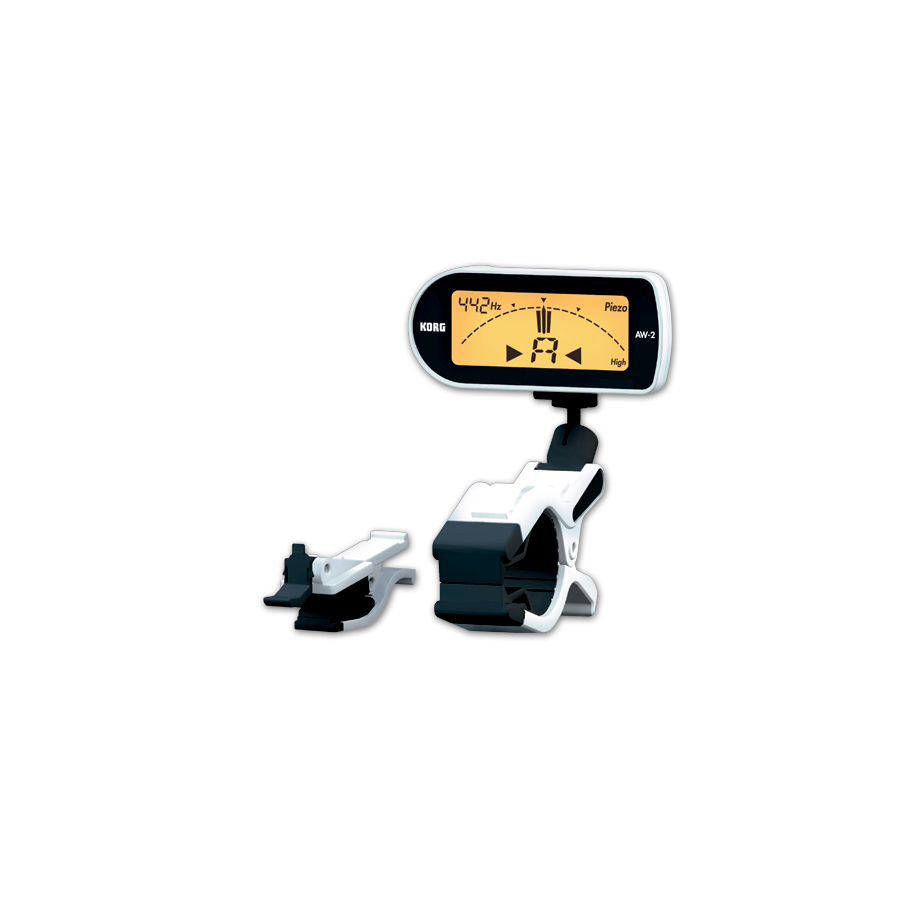 ---
Acoustic musicians can now monitor their pitch as they play! The AW-2 simply clips on to your instrument, where the backlit display can be positioned for easy viewing. The piezo sensor ensures accurate tuning, even in a noisy environment.

While clip-on tuners offer convenience to every player, Korg's AW-2 Chromatic Tuner provides the swift and accurate results that today's musician's demand. The needle-style metering and large backlit display provide the ultimate in functional, high-visibility. Using an articulate mounting system, the entire display section can be quickly positioned for easy viewing. With the AW-2 Chromatic Tuner you'll be ready for stress-free tuning in any situation.

Double ball joint allows multi-angle adjustment for greatly enhanced flexibility
The tuner display section and the clip section of this chromatic tuner are connected by a double ball joint that provides a broader range of left/right/up/down movement, dramatically increasing the range of adjustment. The AW-2 clip-on tuner makes it easy to adjust the display section for easy viewing, allowing you to tune in a natural position.

Backlight ensures excellent visibility even on a dark stage
The amount of light available to a performer varies greatly. Dim locations such as a stage or orchestra pit, glaring outdoor sunlight, evening dusk, or nighttime illumination are often far from ideal. The AW-2's backlit meter provides three illumination modes: Off mode for brightly lit locations, Soft mode for somewhat dim locations where you want to conserve battery power, and Auto mode for bright illumination in locations of poor visibility. This ensures that you'll be able to tune perfectly under any conditions. In addition, Auto mode automatically switches to the lower brightness of Soft mode when there has been no sound input or button operation for approximately ten seconds, preventing unnecessary battery consumption. Attention has been paid to numerous details to ensure ideal tuning, such as a large display font and a meter that clearly indicates the pitch discrepancy.

Korg's proprietary clip design boasts a stable fit
The AW-2's clip section is a proprietary Korg design in which the opening angle and jaw angle of the clip has been carefully calculated to securely fit a variety of instruments. It boasts a greatly improved fit with your instrument, allowing natural tuning that will not interfere with your performance. This makes the AW-2 an ideal chromatic tuner.

AW-2 includes two clips for use with a variety of wind or string instruments
The sweet spot that will pick up the sound most effectively varies between instruments - the neck or bell of a wind instrument, or the head or tailpiece of a string instrument --- and the shape of the attachment location differs accordingly. The AW-2 Chromatic Tuner comes with two clips (one large, one small), so you can choose depending on your situation or preference. The large clip is ideal for various wind instruments or string instruments, and the small clip is perfect for use on the thin bell region of a trumpet or trombone.
0
0
MPN: AW2WH

Clip-on chromatic tuner that attaches directly to any wind, brass, or string instrument.

Now available in both White (AW-2WH) and Black (AW-2).

Double ball-joint allows multi-angle positioning with far greater mobility for the display section.

Internal backlight ensures excellent visibility even on a dimly lit stage.

Energy-saving Auto mode automatically switches to the low-power Soft mode when no sound is present.

Korg's proprietary clip-on design safely fits a variety of instruments and makes this an ideal chromatic tuner.

Select either the internal mic or the piezo sensor for optimum response.

Markings indicate pure major third and minor third intervals for beautiful, authentic consonance.

Meter Reverse function allows intuitive tuning from any viewing angle.

Calibration function accommodates a variety of concert pitches.

Auto Power Off function maximizes the battery life, even if you forget to turn the chromatic tuner off.

Memory Backup function.

Scale: 12-note equal temperament

Detection Range: A0 (27.50 Hz)-C8 (4186 Hz)

Precision: +/-1 cent

Reference pitch: 410...480 Hz (1 Hz steps)

Dimensions: 2.28" (W) x 1.02"(D) x 0.50" (H) (AW2 only)

Weight: AW2 0.61 oz. (including battery), Clip 0.62 oz. (large),0.13 oz. (small), 0.45 oz. (clip)

Battery life: approximately 150/75/20 hours (backlight: unlit/soft/auto, tuner continuously operating, A4 input)

Included items: CR2032 lithium battery (3V) for checking operation, Instrument clip
* Appearance and specifications are subject to change without notice.
---
Korg
AW2 White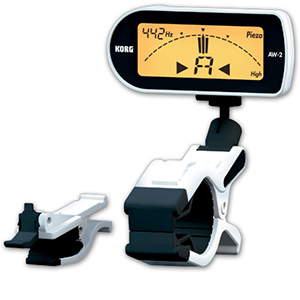 Backlit Clip-on Chromatic Tuner For Band & Orchestra
MPN #: AW2WH
UPC #:
Regular price: $75 $29.9900 Available from: 8th Street Music Condition: New Available to Order