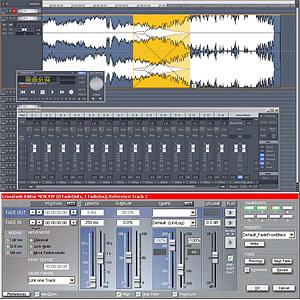 ---
Sequoia is a digital PC audio workstation software for professional use in media production, post-production, broadcasting and for mastering.

The ideal targeted applications are stereo and multi-track editing for classical, video, radio and film productions, interview and dialog editing,and surround mastering in stereo, DolbyT 5.1 and ProLogic. Sequoia is characterised by the following:

The workstation software often requires no special DSP or audio hardware to be employed, but works natively on the host computer's CPU. It is therefore a flexible application for a comparatively low-priced purchase. Due to the high compatibility of the system compared to existing hardware solutions, complex editing systems can also easily be realized.

Apart from the excellent recording und editing tools from Samplitude, Sequoia offers outstanding cutting and cross-fade functions such as Source destination cutting and high-quality cross-fade editor. This-permits real-time access to almost all fade details and has a user interface developed by big-name sound engineers familiar with modern sound studio requirements. Sequoia can be networked for administrative multi-user enterprises. It comes with professional service, customer-orientated development, as well as free support for registered users.

Due to its enormous flexibility and stability, it is already successfully employed by prominent studios and broadcasters such as BBC, WDR and MDR. Optional software extensions for tape mastering and a high-quality, ergonomic restoration module integrated in the program is likewise available.
0
0
4 Point Cut and crossfade editor

Apart from the excellent recording und editing tools, Sequoia offers outstanding cutting and cross-fade functions such as Source destination cutting, excellent marker setups and a high-quality cross-fade editor that permits real-time access to almost all fade details and has a user interface developed by big-name sound engineers familiar with modern sound studio requirements.

Sequoia can be networked for administrative multi-user enterprises.
It comes with professional service, customer-orientated development,
as well as free support for registered users.



Complete nativ - no DSP hardware necessary

Sequoia is a purely natively conceived program independent of proprietary audio hardware that can be integrated just as well with powerful audio workstations comprising dozens of inputs and outputs as with notebooks containing motherboard audio chips or USB audio solutions.

With MME, ASIO* and WDM Sequoia supports all the most relevant driver models.

This solution is not only far less expensive than conventional DSP hardware, but also offers users the flexibility of using their preferred audio solutions. Interviews, for example, can be cut and pre-produced on a notebook before final cutting on the studio system. The complex effects capabilities combined with the number of tracks available would usually only be available on DSP hardware systems at substantially higher prices.

Sequoia profits from the rapid development of CPUs and PC systems. In contrast to relatively static DSP hardware systems (with cost-intensive generation cycles), Sequoia always offers unbelievable dynamics at a very reasonable price.



Crystal clear sound and POW-r Dithering

One of the strongest features of Sequoia is absolute sound neutrality comparable to high-end consoles. The sound always remains full and transparent while retaining depth. Highly developed digital algorithms, absolute phase stability and constant use of floating point computation ensures that the sound keeps positive sound nuances – even after the most intensive digital editing. Key features: transparency, neutrality, retaining of transience and spatiality, optimum signal form retention during editing.
Also in version 7 is a high-quality dither algorithm, POW r. Developed and patented by the POW r Consortium, it works on a psycho-acoustic basis to reduce word lengths of 20, 24 or 32 bits to the standardized 16 bit CD format. POW r retains a very high degree of perceptible signal dynamics while keeping noise levels down to an absolute minimum.




Virtual – non-destructive - editing

Almost all editing on can be done virtually without changing the original recordings destructively and irreparably. Key features: crossfades, cuts and the complete effect pallet. Even Red Book compatible CDs can be created without destructive intermediate steps or bouncing from the arrangement.

Even the normalization of complete recordings (which for the file concerned must usually be taken into account) can be done in Sequoia in a non-destructive manner. The advantage of this function is to save time ( the result can be heard immediately) and absolute editing freedom. Each step and each setting can later be changed and cancelled at will.

Object-oriented working methods: By offering extensive possibilities for working on samples directly in real-time, Sequoia advances the idea of mixer-supported editing of entire tracks. Activated audio tracks can be cut into as many objects as desired. Each object can be edited to include customized fades and effects (such as Equalizer, Timestretching, Pitchshifting or plug-ins). The edit is virtual and can be changed at any time without touching the raw material. Sequoia has object level AUX sends, familiar linear phase effects mastering and a variable signal flow.




High-class effects equipment

The effects equipment permits complete production -- from Mixing to mastering. The equipment includes a 4-band equalizer, several dynamic processors, Timestretching, Pitchshifting, Reverb and Delay, phase linear high-end effects mastering (e.g. multi-band compressor, multi-band stereo enhancer, FFT filter with over 30,000 bands). There is also a Denoiser using the fingerprint method and a Dehisser for real-time noise suppression. Further high-quality restoration plug-ins are optionally available.

New and unique are the performance-optimized space simulator based on the folding principle in real-time, and enhanced Timestretching / Pitchshifting algorithms. You can now optimize voice with formant correction ( e.g. for editing critical vocal recordings).

Further features: unlimited routable busses and AUX send busses, support of VST and DirectX plug-ins, flexible routing of all integrated and plug-in effects. Plus latency compensation in the entire effects path, including busses and AUX busses.





Features


Exclusive Sequoia features:

- Enhanced Broadcast Wave Support (e.g. automatic coding history) with BWF Timestamp
- DDP 2.0 support (planned)
- Extensive marker setup
- Seemless Algorithmix sound restoration plug-in integration (e.g. Descratcher Pro)
- Networkable, administrator functions
- Source destination cutting

Crossfade Editor:
- Crossfade editing (symmetrical and asymmetrical)
- Various modi for shifting fades and audio material (independently or as groups)
- Settable increments for shifting and nudging
- Editing during playback (with immediate acoustic control of all parameters)
- Simple automatic controllers ( e.g. for fade lengths, overlaps, curve shapes and volumes)
- Preset mechanism for administration of prefabricated and self-made fades
- Full undo functionality for safe testing and comparison
- A wide range of fade curves included (e.g. Lin. Cos. Root, Cosine, exp., log quadr.)
- Import possibilities for your own fade curves by point list


Further Features (as with other professional MAGIX audio software)

- real-time room simulator based on high performance convolution sampling reverbs)
- new high-quality real-time resampling algorithms e.g. for recording or real-time sample rate modification within objects
- batch processing of offline editing and file conversion
- enhanced 24 bit file support for recording and destructive editing (including up to 32 bit format)
- constant real-time editing with at least 32 bit floating point
- complete non-destructive or destructive non-linear editing
- audio resolution up to 32 bit /192 kHz (improved 192-kHz support in Version 7)
- integrated CD authoring, Red Book-compatible
- supports any audio hardware with ASIO 2.0™*, MME or WDM drivers
- enhanced 24 bit file and AES31 support
- supported audio formats: WAV, AIFF, MP3, Windows Media Audio, Real Audio, Quicktime, MPG, OGG Vorbis
- CD Track Marker Manager
- VST effects support
- plug-in latency compensation for the entire signal path
- import audio CD Tracks
- DAT Marker support
- POW-r dithering
- Comparisonics™ sound material color display
- 5.1 Surround Sound Mastering
- project backups on CD
- screen sets
- optimized user help with quicker navigation
- unlimited undo / redo with undo history
- user-defined shortcuts
- record directly into compressed formats such as MP3
- supports and converts stereo and dual-mono files
- numerous effects plug-ins
- phase linear mastering effects (e.g. FFT filter with 32,000 bands)
- optimization for Pentium III/IV processors
- context menus
- synchronization of MTC and SMPTE / LTC Time Code as master or slave with JamSync
- MMC support
- VST instruments support
- MIDI recording and editing (Piano roll editor, Listen editor)
- Videolink, optional video capturing and editing program available


Editing:
- Edit while record
- precise sample editing on the arrange level
- real-time Timestretching and Pitchshifting
- comprehensive cutting, shifting and grouping functionality
- quick real-time waveform display, including "steady head"
- Multi-edit tool for simultaneous marking, shifting, trimming and editing
- video display in separate window and as a key frame track
- Integrated destructive sample editor
- real-time and offline effects on the object level
- high-quality marker and range functionality
- sample-precise automation
- Project overlapping cut and copy functionality as well as drag & drop options
- user interface modification for concrete applications
- direct integration and editing of obscure and compressed audio formats without conversion
- Media Link video and MIDI file integration
- offline effects for single audio objects: Amplitude / Normalization, EQ, FFT EQ, Dynamics, Declipping, Denoising, Resampling / Timestretching, Room Simulator
- hardware-independent audio scrubbing
- Comparisonics search for similar sounds within an audio file

Mixing:
- integrated mixer, surround-capable
- real-time effects for each channel: 4 band EQ, Dynamics, Reverb / Delay
- DirectX and. VST* plug-in inserts for each channel and master
- VST2 instrument support
- real-time effects in the master section: Advanced Dynamics, Multi-band Dynamics,
multi-band stereo spread, Dehisser, FFT filter
- configurable effects sequencing
- free group function for all parameters
- mixer settings and views storable as presets
- offline mixdown function in a variety of formats (incl. MP3)
- record monitoring function for effects
- Pan Law, stereo enhancement and phase turning in every mixer track
- automation curve recording direct from the mixer
- high-resolution analyzer, level display and correlation analyzer
- presets and clipboard function for all effects and plug-ins
- total recall of all parameters (snapshot-setup)

CD Authoring:
- quick Track Start / Stop creation, pauses and sub-indices with markers in the arranger
- Red-Book-compatible
- Disc at once
- CD Text support
- complete PQ editing as well as import & export
- UPC/EAN code support
- copy protection, pre-emphasis and ISRC code per track
- marker and index manager for numerical entry of indices and tracks
- over 100 CD burners supported

Optional:
- Sequoia only: special integration of restoration plug-ins (e.g. Algorithmix Descratcher Pro)
- video recording / editing / conversion

*ASIO and VST are trademarks of Steinberg Media Technologies AG

OBYS
---
Magix
Sequoia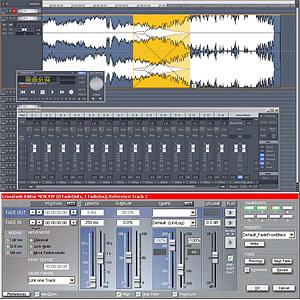 State of the Art Digital Audio Broadcast Software
MPN #:
UPC #:
Regular price: $3395.00 $2995.0000 Available from: 8th Street Music Condition: New Available to Order