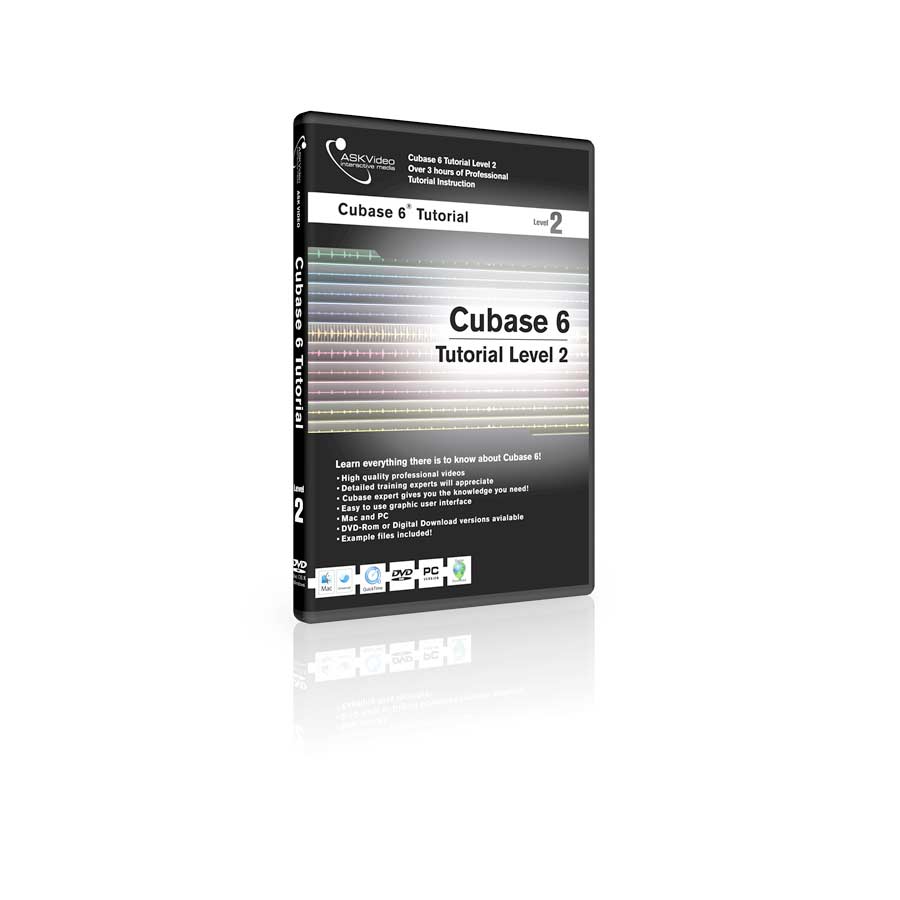 3+ hours of DVD training on Cubase 6 for Mac & PC
Item # 64343
Retail Price
$49.99
Sale Price!
$29.95
Buy Today and Save $20.04 (40% from Retail)

In Stock
Ships free on most orders over 99.95
Click for Details
Click Here For Shipping Options
---
In Level 2 of this 4 part series we're going to dive right into the advanced features, including the all-new Midi Command Console and the ground-breaking technology of VST Expression. Make sure you've seen level 1 so that you have a good foundation of the basics. We'll cover more of the new Cubase 6 features and take an in-depth look at the endless possibilities of VariAudio. Editing Audio, Scoring, and Automation are just a few of the many advanced features we will be exploring in detail over the course of Level 2.

If you're new to Cubase or want some help getting accustomed to the latest version, then this tutorial is perfect. It's also great for advanced users who are unfamiliar with the newer layout and controls. This tutorial is the perfect companion purchase with a copy of Cubase!! It's the next best thing to having the expert right there beside you. After answering literally thousands of tech support calls, Cubase Addict Jeff Pilley can save you hours of frustration by smoothly guiding you through the program, in a step by step, easy to follow style.
1
1
MPN: CUB6L2
UPC: 628351001004

42 Videos.

Over 3 hours of professional instruction.

Extremely high quality tutorial videos.

Easy to use interface.

Made for Cubase 6 but also great for Nuendo and previous version of Cubase.

Mac OS X & Windows compatible.

Cubase 6 Tutorial Level 2 Content:

42 high quality professional videos

Fades and Crossfades

Events/Parts Sample Editor

Key Editor 1

Key Editor 2

Key Editor 3

Midi Command console

Edit in Place

VST Expression

Drum Editor 1

Drum Editor 2

Drum Editor 3

Advanced Audio Editing 1

Advanced Audio Editing 2

Playback Toggle

Effect Channels

Group Channels

Advanced Mixing 1

Advanced Mixing 2

Advanced Mixing 3

Advanced EQ

Effects

Side Chain

Instruments

Score Editor 1

Score Editor 2

Score Editor 3

Inspector 1

Inspector 2

Advanced Folder Tracks

Advanced Markers

Advanced Track Presets

VariAudio 1

VariAudio 2

VariAudio 2

Groove Agent One 1

Groove Agent One 2

Punch In/Out

MIDI Monitor

MediaBay 1

MediaBay 2

Automation 1

Automation 2

System Compatibility:

This product includes QuickTime 7.x Mac/PC which is required for video playback. DVD-Rom drive required for Mac/PC DVD-ROM. Registration/Authorization required - Online (Internet) or Offline (phone or email) - up to 3 computers. Minimum screen resolution 1024 x 768. Recommended resolution 1280x800.

PC:Windows XP/Vista/7, 3GHz Processor or faster, 2GB RAM. MME or DirectSound Sound Card.

MAC:OS X v10.5 or higher, Intel 2GHz processor or higher, 2GB RAM, Sound Card.
---
Related Gear
Item # 69149

Description
Professional Monitor Headphones

$169.00 View Details

Item # g25

Description
Gift Certificate (may be purchased in multiple amounts)

$25.00 View Details
Ask Video
Cubase 6 Tutorial DVD Level 2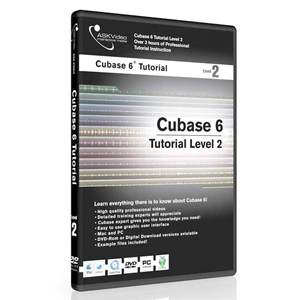 3+ hours of DVD training on Cubase 6 for Mac & PC
MPN #: CUB6L2
UPC #: 628351001004
Regular price: $49.99 $29.9500 Available from: 8th Street Music Condition: New Available to Order