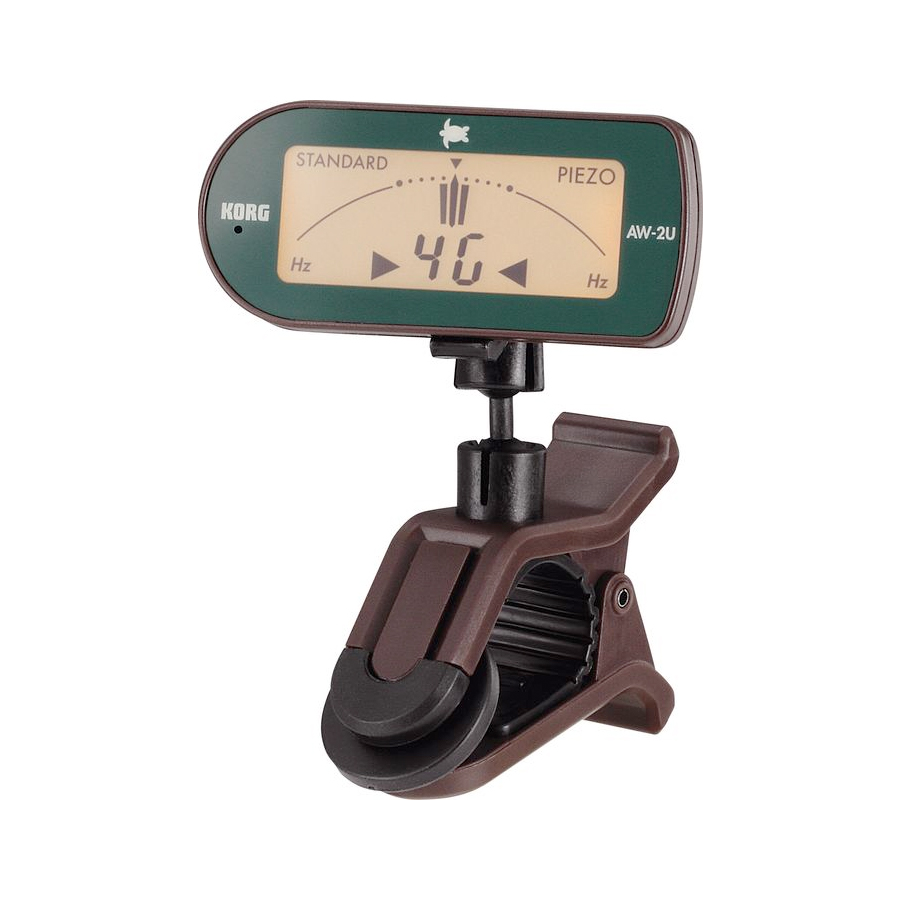 Pro Clip On Ukulele Tuner
Product Code 66521
Retail Price
$65
Sale Price!
$34.99
Buy Today and Save $30.01 (46% from Retail)

We're sorry, this product is no longer available.
---
The AW-2U, a dedicated ukulele tuner, joins the AW-2 and AW-2G series of clip-on tuners that have achieved enormous popularity for their unbeatable convenience, their high accuracy, extremely high visibility, and for the quality and value that musicians have come to expect from Korg. The AW-2U ukulele tuner provides easy and accurate tuning for all types of ukuleles, from the popular four-stringed soprano ukulele to the eight-stringed baritone ukulele, in a convenient clip-on form. The AW-2U is a must-have item for everyone who loves Hawaiian music, from the beginner to the advanced ukulele player.

Ideal for every type of ukulele
First choose the ukulele size, either Standard or Baritone. Now select the number of strings – 4 string or 6-8 string. With these two settings, The AW-2U is ready to accurately tune all four sizes of ukulele (soprano, concert, tenor, and baritone) with any type of stringing, whether it's the standard four-string instrument, or a six- or eight-stringed ukulele. Combining the Standard and 6-8 String settings provides access to Low-G tuning, for enjoying solo performances over a wide range of pitches. With the display showing the string name and note name in large characters, the AW-2U is an ideal first tuner for the beginning ukulele player, as well as for the seasoned professional.

Easy tuning dexterity
Simply attach the AW-2U directly to the headstock of the ukulele and you're ready to tune. With no wasted motions, you'll be able to tune smoothly and accurately. This clip-type tuner is designed to work with ukulele heads over a range of thicknesses. One side of the clip has an interior pad whose angle is adjustable, ensuring a stable fit. The display is connected to the clip using a double ball joint that provides a broad range of movement – left, right, up or down – providing the maximum in freedom of adjustability. This way, the performer can adjust the display to the perfect angle, and continue to tune in a natural position.

Multi-mode backlight for superb visibility
Blazing sunlight, evening twilight, nighttime illumination – a performer can be asked to play under a variety of lighting situations. That's why Korg equipped the AW-2U with a backlit meter that can be set to one of three modes.

OFF: Turns the backlighting off in bright conditions with good visibility.
SOFT: Offers a battery-saving soft illumination for low-brightness situations.
AUTO:Provides strong backlighting for high visibility in low-light environments.
Auto mode also switches down to the soft mode to conserve battery life if there has been no audio activity or buttons pressed for about 10 seconds.

So regardless of your performing situation, you're ensured of reliable viewing and perfect tuning.

Solid tuner functions
Light-weight and ultra-compact the AW-2U provides a solid set of basic tuning functions. Unlike the built-in microphone, the internal piezo sensor picks up vibrations directly from the instrument, allowing you to tune even when there are other sounds around you. If desired, you can switch to tuning via the built-in mic; you can even attach the tuner to a mic stand. The AW-2U is powered by a widely available CR2032 lithium battery, giving you an amazing 150 hours of operation with the backlight turned off. Auto Power-Off and Memory Backup functions are also provided.
0
0
MPN: AW2U
UPC: 4959112078543

Four modes support tuning every type of ukulele.

String name and note name are automatically detected and clearly displayed.

Clip size and shape is ideally suited for mounting on the ukulele's headstock.

Double ball joint mount allows the display to be positioned for optimal viewing.

Built-in backlight ensures excellent visibility even at night or in dim conditions.

Two backlight modes: Soft mode for low-illumination; Auto mode for high brightness.

Automatically switches to Soft mode to conserve batteries, when no sound is present.

Select the internal mic, or a piezo sensor that detects the vibrations of the instrument.

Auto Power Off prevents the battery from running down when the power is left on.

Memory Backup function.


Scale: 12-note equal temperament

Range (sine wave)

STANDARD: LG (196.00Hz) – HC (523.25Hz)

BARITONE: 4D (146.83Hz) – HG (392.00Hz)
Precision: +/-1 cent

Dimensions (W x D x H): 58 x 26 x 12.6 mm/2.28" x 1.02" x 0.50"" (Meter Body only)

Weight: Meter Body: 17.4 g/0.61 oz. (including battery), Clip: 12.7 g/0.45 oz.

Battery Life (approx.): Backlighting OFF: 150 Hours, Backlighting SOFT: 75 hours, Backlighting AUTO: 20 hours (Tuner continuously operating, A4 input)

Included items: CR2032 lithium battery (3V) for checking operation & Instrument clip


---
Korg
AW-2U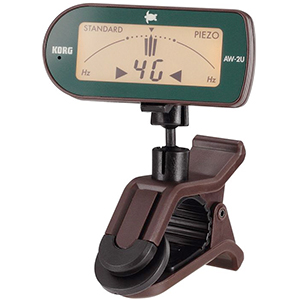 Pro Clip On Ukulele Tuner
MPN #: AW2U
UPC #: 4959112078543
Regular price: $65 $34.9900 Available from: 8th Street Music Condition: New Out of Stock