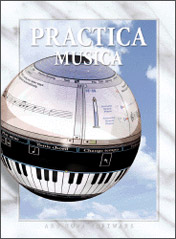 ---
Whether you need to practice your sight reading skills, improve your ear training abilities, or just learn the fundamental principles of music theory, Practica Musica allows you to do it all. With the release of version 5 and its associated new features, Practica Musica is now, more than ever, the most complete music education package available for music theory and ear training.

This award-winning music training software includes more than 80 theory and ear training activities, each allowing students to focus on specific skills, such as rhythm tapping, interval recognition, chord spelling, polyphonic dictation, and more.

Best of all, Practica Musica allows students to work at their own pace, providing interactive feedback and tracking user progress until mastery of each concept is achieved!
1
1
MPN: AN-PM-H
UPC: 884088645779

Practica Musica currently features more than 80 activities, many of them specifically designed to accompany the software's new digital textbook "Exploring Theory Onscreen". Difficulty levels range from beginning to advanced. Here is a list of many activities included with Practica Musica:

- Pitch Matching
- Pitch Reading
- Rhythm Matching
- Rhythm Reading
- 2 Part Rhythm Reading
- Pitch & Rhythm Reading
- Interval Playing
- Interval Spelling
- Interval Ear Training
- Scales and Key Signatures
- Spelling Scales
- Scale Ear Training
- Chord Playing
- Chord Spelling
- Chord Ear Training
- Chord Progression Ear Training
- Pitch Dictation
- Rhythm Dictation
- Pitch & Rhythm Dictation
- Melody Writing
- 2 Part Pitch Dictation
- 4 Part Pitch Dictation
- Hearing Altered Chords
- Progressive Dictation
- Visual Chords
- Visual Intervals
- Building Intervals
- Interval Series
- Speed Intervals
- Active Listening
- Real Transposition
- Tonal Transposition
- You-choose Scales
- You-choose Intervals
- You-choose Chords
- Composition Tools
- 2 & 4 Part Writing Tools
- Vertical Reading
- Dictation with Chords
- Atonal Dictation
- Non-Harmonic Tones
- Modal Melodies
- Pitch Errors
- Transposed Pitch Reading
- Reading in Keys
- Rounds
- 4 Part Writing Tools
- Chorale Writing
- Shaping Melody
- Reading Syncopation
- Reading Triplets
- Tonics
- Building Triads
- Recognizing Sevenths
- Tonal Sequencing
- Playable Textbook Examples

Additional Beginning Activities:
- The Keyboard
- Wholestep and Halfstep
- Octaves
- Reading Treble Clef
- Reading Bass Clef
- Reading Accidentals
- Placing Barlines
- Lines and Spaces
- Meter Examples
- Single Pitches
- Transcribe Alto Clef
- Recognizing Triads
- Recognizing Primary Chords (in a progression)
---
Ars Nova
Practica Musica 6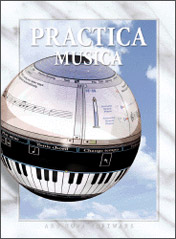 Virtual Tutor Music Education Software
MPN #: AN-PM-H
UPC #: 884088645779
Regular price: $125 $89.9900 Available from: 8th Street Music Condition: New Available to Order