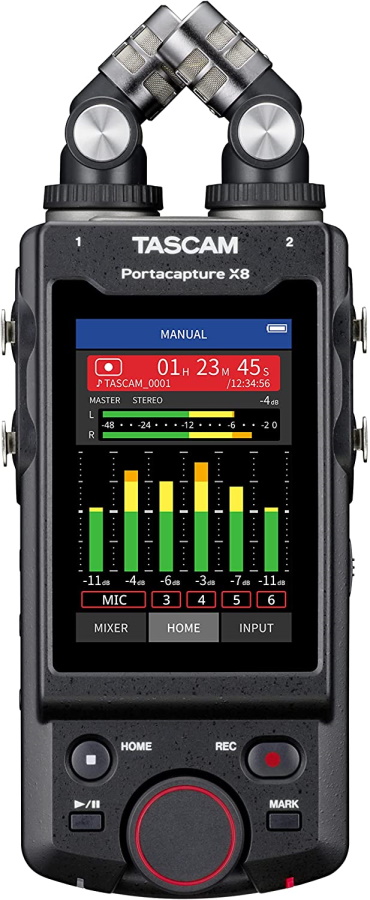 ---
With its large touchscreen, 32-bit float resolution to avoid clipping, and tailored modes for music, field, podcast, and voice recording applications, the Tascam Portacapture X8 portable handheld multitrack recorder makes it incredibly easy to capture up to six tracks of detailed, high-resolution audio for common production scenarios. Its detachable condenser mics can be set for a wide or tight stereo image, and may be used simultaneously with the mic/line combo inputs. Equally adept as a handheld device or when used in stand- or camera-mounted setups, the Portacapture X8 can handle anything from sampling sessions and interviews to podcasts, live concerts, and multi-mic setups.

Flexible powering methods—batteries, USB bus power, or an AC adapter—make the Portacapture X8 well suited to on-the-go recording, all-day video shoots, and computer-based audio production. Need to patch in external mics or an outboard mixer? The Portacapture X8's four balanced combo XLR-1/4" inputs accommodate mic- or line-level signals and can supply phantom power if needed. Whether you use the built-in mics or an external source, selectable modes such as dual recording, low-cut filtering, limiting, gating, and auto level give you options for achieving a clean, undistorted recording. Separate line and headphone outputs are provided for real-time monitoring while recording to a camera.
Touchscreen User Interface
Rather than requiring manual configuration to accommodate different scenarios, the Portacapture X8 offers presets that optimize the recorder for common applications such as basic multitrack recording, podcasts, music, voice (interviews, vlog, etc.), field recordings, ASMR, and more. The "Launcher" system makes these readily accessible via the large 3.5" color touchscreen.
Detachable Condenser Microphones
The Portacapture X8's detachable 14.6mm large-diaphragm condenser microphones empower you with crisp stereo capture, even without external mics. Both mics can be detached/attached to form A-B or X/Y mic configurations. Use the A-B position (capsules facing outward) to produce a wide stereo image, or switch to the X-Y position (capsules facing inward) if you need a tighter stereo field with a strong center presence and fewer phase differences.

When the mics are not connected, input jacks 1 and 2 can be used to bring in lavalier mics with 3.5mm TRS plugs, even if they need plug-in power.
Four Combo XLR-1/4" Mic/Line Inputs with Phantom Power
Four Neutrik XLR-1/4" TRS combo jacks support mic- and line-level sources, allowing you to record external microphones or balanced outputs from a mixer or FOH console. With switchable 24 or 48V phantom power, the HDDA (High-Definition Discrete Architecture) mic preamps can serve a variety of microphones such as dynamic or condenser types. Using the onboard microphones, you can capture the ambient sound of an audience while recording direct from an external console, which is ideal for live performances. Additionally, there is a 3.5mm mic input that can supply plug-in power for lavalier mics or compact shotgun mics, and a 3.5mm camera input for monitoring the return from a DSLR.
High-Resolution Capture
The Portacapture X8 can record in BWF-compliant WAV format at up to 192 kHz / 32-bit float resolution, and it supports multitrack recording up to eight tracks (six inputs plus a stereo mix). Also, dual recording mode enables each track to be recorded in a different file format.

With premium dual A/D converters and 32-bit floating point recording technology, the X8 achieves a wide dynamic range, avoids clipping, and allows the audio level to be increased or decreased later without deteriorating the signal-to-noise ratio.
Supports microSD Cards up to 512GB
To maximize compactness and portability, the Portacapture X8 records directly to media cards (available separately). microSD, microSDHC, and microSDXC cards (up to 512GB capacity) are supported for long recording times, even at high audio resolutions.
3.5mm Line and Headphone Outputs
When you want to record to your camera and the Portacapture X8, just connect the 3.5mm camera/line output from the Portacapture X8 into your camera's input. A separate 3.5mm output is provided to allow critical listening through headphones without disconnecting the camera feed. Quick monitor checks can be done through the Portacapture X8's built-in mono speaker.
USB Microphone and Audio Interface Functionality
Equipped with a USB Type-C port, the Portacapture X8 can be connected to your computer for real-time bidirectional audio routing and streaming. Utilizing plug-and-go driverless functionality, the Portacapture X8 can be used as a USB microphone or as an 8-in/2-out audio interface for your favorite audio software. For convenient file transfers, the Portacapture X8 can function as a card reader when connected via USB.
Powered via AA Batteries, USB, or AC Adapter
Using the four included AA alkaline batteries, you can power the Portacapture X8 no matter where you are. For long-duration sessions that require extended recording time, the Portacapture X8 may be powered via a USB connection to a computer or mobile battery, or through the Tascam PS-P520U AC adapter (available separately).
Ideal for Handheld or Camera-/Tripod-Mounted Use
Designed for optimal portability, the Portacapture X8 is both compact and light. The streamlined body lends itself to comfortable use when held in the hand. Utilize the 1/4"-20 threaded hole on the underside of the Portacapture X8 to mount it on a mic stand or tripod for stable, stationary positioning. Or attach the X8 directly to your camera via its integrated cold shoe mount.
Built-In Level Modes and Signal Processing Enhance Audio Quality
Enhance the sonic impact of your audio with the Portacapture X8's built-in level modes and signal processing. Engage automatic level control to increase or decrease the recording volume when the input sound is too quiet or loud, and switch on the compressor and limiter to compress the signal before it reaches the point of distortion.

Mitigate wind noise and low-frequency rumble by selecting the low-cut filter, and cut background noise between performances with the noise gate. Reverb is also available for situations that call for some extra ambience.
Tone Generator for Synchronizing Files
An internal tone generator makes it easy to synchronize files recorded on the Portacapture X8 and your camera. When the Portacapture X8 is connected to a camera, use the slate tone function to send an audible tone to the camera and the Portacapture X8. The resulting tones can be used as guides when synchronizing your files in video editing software.
Supports Wireless Remote Control
Wireless control from a smartphone or tablet can be done using the separately available AK-BT1 Bluetooth dongle. Using the AK-BT1, timecode sync is also possible.
3
3
MPN: PortacaptureX8
UPC: 043774035007

Form Factor Handheld Recorder

Primary Use Applications Audio-for-Video, Music
Recording, Podcasting

Number of Tracks 8 (6 Inputs + Stereo Mix)

Number of Input Channels 6

Max Sample Rate/Resolution 192 kHz / 32-Bit (PCM)

Microphone Interchangeable Cardioid Condenser Stereo
Pair, A/B or X/Y Configurations

Number of Mic Preamps 6

Built-In Speaker Yes, 0.4 W Mono

Display 3.5" / 8.9 cm Color LCD Touchscreen

Memory Card Support microSD (64 MB to 2 GB)
microSDHC (2 GB to 32 GB)
SDXC (48 GB to 512 GB)

Special Features Metronome, Remote Control Capable,
Tuner

Audio File Formats Recording:
BWF, MP3

Sample Rates WAV:
44 / 48 / 96 / 192 kHz

MP3:
44 / 48 kHz

Bit Depth 16 / 24 / 32-Bit

Bit Rates 128 to 320 kb/s

Signal Processing & FX Auto Gain, Compressor,
Limiter, Low-Cut Filter, Reverb

Timecode Support Yes

Recording Time MP3 320 kb/s:

6 Hrs 56 Mins per GB (Stereo)

WAV 44.1 kHz/16-Bit:

1 Hr 34 Mins per GB (Stereo)

WAV 96 kHz/24-Bit:

28 Mins per GB (Stereo)
WAV 192 kHz/24-Bit:

14 Mins per GB (Stereo)

Analog I/O 2 x 1/8" / 3.5 mm TRS Female Unbalanced Mic
Input 4 x Combo XLR-1/4" TRS Female Balanced Line/Mic
Input (Lockable)
1 x 1/8" / 3.5 mm TRS Female Unbalanced Camera Input
1 x 1/8" / 3.5 mm TRS Female Unbalanced Camera/Line Output
1 x 1/8" / 3.5 mm TRS Female Unbalanced Headphone Output

Phantom Power +24 / 48 V, Selectable On/Off (Selectable on Individual Inputs)

Plug-In Power Yes

Host Connection 1 x USB Type-C (USB 2.0)

Audio Interface Capability Multi-Track

Bluetooth Bluetooth 5.0 (Remote)

Frequency Response Mic/Line Inputs:

20 Hz to 20 kHz +0/-0.3 dB (at 48 kHz)

20 Hz to 60 kHz +0/-2.5 dB (at 192 kHz)

Max Input Level 1/8" / 3.5 mm Mic Inputs:
+1 dBV
1/8" / 3.5 mm Line Inputs:
+10 dBV

Mic Inputs:
+2 dBu

Line Inputs:
+24 dBu

Max Output Level Line Outputs:
+6 dBV

Headphone Output Power 45 mW per Channel into 32 Ohms

Impedance 1/8" / 3.5 mm Inputs:
≥85 Kilohms (Mic Level)
≥8.5 Kilohms (Line Level)

Mic Inputs:
≥2.2 Kilohms (Balanced)

Line Inputs:
≥9 Kilohms (Balanced)

Line Outputs:
200 Ohms

SNR 1/8" / 3.5 mm Mic Inputs:
101 dBA

Mic/Line Inputs:
102 dBA

THD+N Mic Inputs:
0.005%

Mic/Line Inputs:
0.006%
0.008%

Power Options Battery, USB Bus Power, AC/DC Power Adapter

Battery Type 4 x AA (Included)

Approximate Battery Life 11 Hours (AA Alkaline, 2
Channels, Phantom Off, Recording)

9.5 Hours (AA NiMH, 2 Channels, Phantom Off, Recording)

18 Hours (AA Lithium-Ion, 2 Channels, Phantom Off, Recording)

AC/DC Power Adapter VDC Not Included

Included Accessories Batteries, Microphone

Mounting Options 1/4"-20 Female, Shoe Mount (Bottom)

Operating Temperature 32 to 104°F / 0 to 40°C

Dimensions 3.3 x 8.1 x 1.6" / 83 x 205.6 x 41.5 mm

Weight 13.4 oz / 381 g (without Batteries)
16.6 oz / 472 g (with Batteries)
---
Tascam
Portacapture X8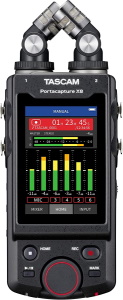 6-Input / 6-Track Handheld Adaptive Multitrack Recorder
MPN #: PortacaptureX8
UPC #: 043774035007
Regular price: $599.99 $399.9900 Available from: 8th Street Music Condition: New Available to Order